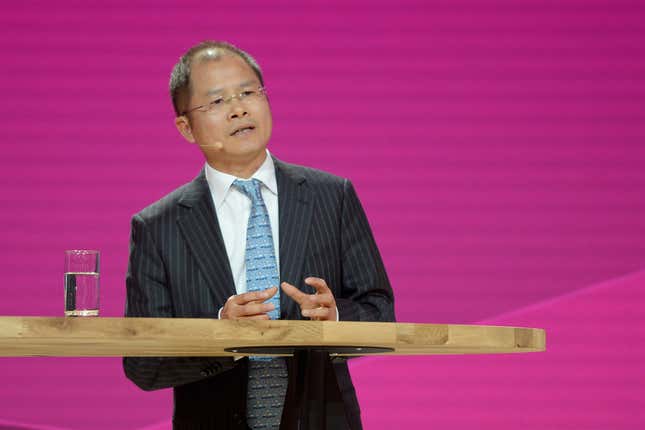 Chinese telecommunications giant Huawei reported its largest annual decline in profit on Friday (March 31), citing China's strict pandemic restrictions and rising commodity prices for its drop in sales. The company pegged last year's profit at 35.6 billion yuan ($5.18 billion), marking a staggering 69% year-on-year decline.
Ben Emons Part 2: The Fed, Apple shares
It is the second straight annual dip in profit—following a 28.5% decline in 2021—and the largest decline in profit since 2011, when Huawei announced a 54% decline in sales.

"In 2022, a challenging external environment and non-market factors continued to take a toll on Huawei's operations," Eric Xu, rotating chairman at Huawei, said in a press release. "In the midst of this storm, we kept racing ahead, doing everything in our power to maintain business continuity and serve our customers."

The decline is somewhat skewed by Huawei's 2021 sale of the Honor smartphone brand for 100 billion yuan ($15.2 billion). The massive one-time bump in profits inflates 2021's year-over-year comparison.

How American technology sanctions are affecting Huawei
Conspicuously missing from Huawei's shareholder report (pdf) was how American trade policies affected the company's bottom line, but the aggressive US controls on how Chinese firms can use American technology have certainly hampered the company's attempts to expand globally.

In 2019, the tech giant was prevented from using Android—Google's mega-popular mobile operating system—in smartphones, forcing the company to develop its own operating system, HarmonyOS.

The US also banned Huawei from its 5G networks after alleging the equipment could be used by China for spying. Australia, Japan, and the United Kingdom have also banned Huawei from accessing their 5G networks.

Additionally, Huawei's smartphone production has been stymied by a new American policy, passed in May 2020, requiring foreign chip manufacturers using American technology to acquire a permit before they can sell to Chinese companies like Huawei.

The US Commerce Department said that the new rule was meant to "strategically target Huawei's acquisition of semiconductors that are the direct product of certain U.S. software and technology."
Quotable:
"Plum blossoms tend to grow sweeter from a harsh winter's freeze. Today, Huawei is like a plum blossom." – Rotating CEO Eric Xu said, arguing that Huawei has the tools to weather external industry pressures.
What does Huawei make?
📱Smartphones: Huawei has been one of the world's largest producers of smartphone devices in recent years, although sales have fallen since the company was banned from using Google's Android.
☁️Mobile networks: The firm is the world's largest provider of telecommunications equipment, and was among the first companies to roll out 5G networks and produce 5G capable chips.

💻Computers: Huawei has a line of laptops, dubbed the MateBook, which runs on the Windows operating system. The company has tried to market it as a high-end competitor to Apple MacBooks.

🏭Semiconductors: The company recently announced it had jointly developed semiconductor technology alongside other Chinese firms after 2020 US sanctions cut off Huawei from American semiconductor technology.

🤖Artificial intelligence: Huawei has positioned itself as an industry leader in AI research, developing deep-learning algorithms and marketing AI processors called the Ascend series.
Related stories
🇷🇺Putin is strengthening the yuan's role as Russia's foreign currency of choice

🇨🇳Chinese spies charged with trying to thwart Huawei investigation
🇮🇳How will India's ban on inexpensive Chinese smartphones play out?