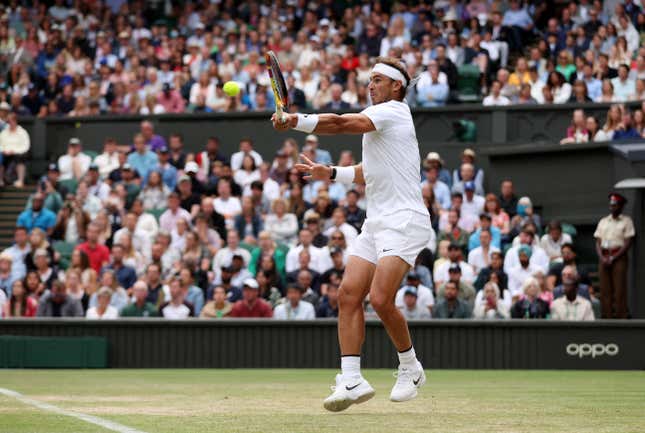 Forget about the fake AI crowds that were used during live matches of the English Premier League over the pandemic period, generative AI commentary is now coming full-swing to sports commentary. Tennis is the first sport to trial the technology.

IBM is working with the All England Club to launch a new feature that leverages generative AI to produce tennis commentary for all video highlights during the Wimbledon tournament, which is held between July 3 and July 16. The commentary will be powered by IBM's AI and data platform Watsonx, and will include captions in highlight videos. To experience the technology, users will be required to visit the Wimbledon website on desktop or download the app on their smartphones.
In a press release on June 21, IBM's marketing and commercial director Usama Al-Qassab said the innovation will "help fans gain even more insight into the singles draw and access commentary on a wider variety of matches."
Later this year, the company plans to introduce the IBM AI Draw Analysis, which it calls "the first statistic of its kind in tennis." It will use AI to predict the chances of individual players of reaching the final in the singles draw.
A player's draw favorability, IBM says, will be indicated with a rating along a scale, based on factors including the player's match-ups against potential future opponents, and how the player's position in the draw compares to competitors. The technology will analyze over 100,000 data points from every shot played across the tournament.
Quotable:
"This new insight will help tennis fans to uncover anomalies and potential surprises in the singles draw, which would not be apparent by looking only at the players' ranking," —IBM press release, June 21.   
Tennis and AI technology
AI has already been used to improve decision-making processes during tennis matches. The Hawk-Eye AI and 3D camera technology, for instance, employs electronic line calling systems to determine whether a ball is in or out, within 3.6 millimeters of accuracy.
Researchers at Stanford University are also working on a machine learning tennis simulation model where algorithms learn about the typical strategies and shot patterns of each player and recreate them in a match-like setting. It can also tell how the match outcome would have been, had a single shot landed in a different location.