Back in 2009, India was still far from becoming a global startup hub. The founders of India's (now) most-funded internet startup, Flipkart, were only selling books online, and the country was nowhere on the radar of global players like Amazon.
But Piyush Shah took the plunge.
Giving up his cushy job as an assistant vice-president at Deutsche Bank, he chose to join a young team in Bengaluru (then Bangalore) that was working on SMS-based search at the time.
This company of around 100 employees had been in business for around two years. Shah was to head its strategic initiatives, beginning with the development of a mobile phone-based payments solution that was launched in 2011. This launch was the beginning of its transformation into the more advanced sphere, advertising on mobile phones, which is its core business today.
"None of the co-founders had a telecom background. Neither did I," Shah recalls. But when he met InMobi founder and CEO Naveen Tiwari in Mumbai, he was sold nevertheless.
"The fact that they (InMobi's founders) were building a product company from India was reason enough," he told Quartz. "What drew me was the audacity of the vision—something very large and very world-class."
Even though that project didn't work out, over the last eight years, Shah, now the chief product officer, put in place some key initiatives at InMobi, including its biggest cash cow: performance advertising.
Early days
The day Shah first walked into InMobi's office in Bengaluru was the last time he wore formals to work. "I used to wear business suits at Deutsche, but now all I wear are jeans. I now struggle to find a pair of trousers in my wardrobe," he said.
But a wardrobe makeover was just the beginning. "Just three months after joining InMobi, I was in the heart of Silicon Valley in a room filled with some of the biggest investors in the world. I was pitching my idea to them. I had never imagined doing something like that," he said.
His first assignment was to create and head a team to build Smartpay, a solution that helped app developers, game companies, and content providers make money.
Two years on, in May 2011, InMobi launched SmartPay. "At the time, even Google had just started thinking of payments and did not have their own payments solution. Facebook had nothing in the space," he recalls.
Shah had hired top engineering talent from companies like Amazon, Yahoo, and Google for SmartPay—some of these engineers have been instrumental in building InMobi's tech backbone.
Smartpay itself had a short life, though.
For soon after its launch, Google and Apple banned third-party payment solutions from their operating systems. "We took the hard call, shut the division down, and pivoted the team to something else. We did explore a wallet model back then, but it never happened," Shah said.
The focus shifted to strengthening and deepening InMobi's developer relations. Till then, it was only helping clients run ads on apps and make money.
Then, in 2012, he was called on to create InMobi's future jackpot.
The cash cow
During an offsite that year, InMobi's leadership decided to diversify into performance advertising: the ability of a mobile advertiser to get users to download various apps.
"This was 2012, when the iPhone and Android platforms were still pretty new, and the first set of apps were getting popular. Customers across domains like gaming, social networks, chat, music, etc, wanted to acquire tens of millions of customers in different countries. We offered them the right solution and that was the first wave of huge growth for InMobi," Shah said.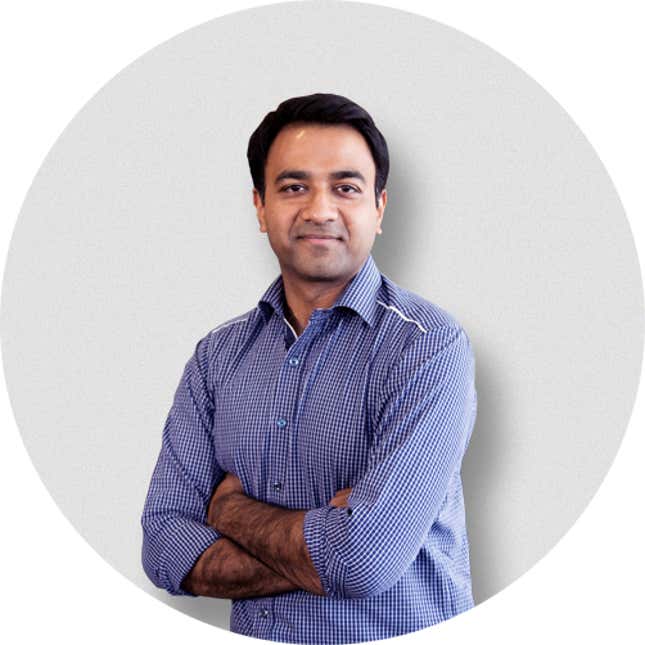 As general manager, he took the business towards revenues of over $100 million within just two years. "Even now, performance advertising is InMobi's cash cow. It generates around two-thirds of its revenue," he said. The company, however, refused to disclose any numbers. Though, as per a source-based report in The Times of India newspaper, InMobi earned over $300 million in 2016.
Making money
InMobi is among a handful of profitable Indian tech startups. It managed this feat despite competition from American giants like Facebook and Google.
Shah believes there's a reason why the company will continue to give the biggies a run for their money. "We have always been mobile(phone)-first. All our solutions have been built with a focus on mobile (phones). That has given us a lot of knowledge and expertise in a unique way and so we have grown uniquely in the app ecosystem," he said. "While Google and Facebook are strong, too, the mobile-only focus brings with it an added domain expertise and domain knowledge for us."
The company has also built "pockets of resilience" by going after geographies that are not the competitors' strongholds. China, for instance.
In any case, as far as Shah is concerned, the geography of his ambition is massive. "Startups give us an open canvas," he said. And InMobi is that dream canvas.