Uttar Pradesh is an Indian state nestled in the northern part of the country. It's a little under 100,000 square miles, less than 8% of the overall area of India. It's also home to 200 million people, making it India's most populous state by far, as well as the biggest state inside a country in the world.
Uttar Pradesh's population is so large it's more comparable to the other largest countries in the world. As data scientist Aron Strandberg shows, every country in Africa, Europe, and South America has fewer people than Uttar Pradesh.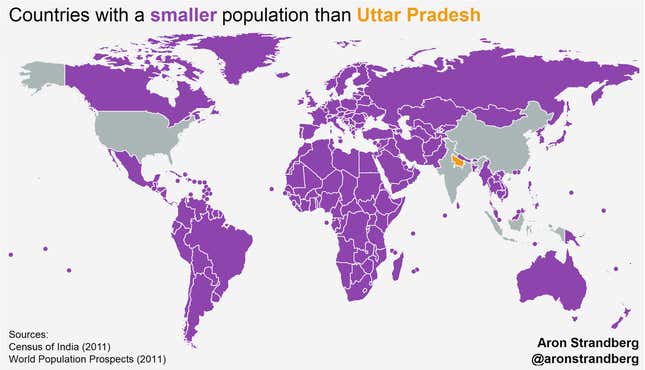 If Uttar Pradesh were a country, it would be big, poor, and unhealthy.
A big country
Uttar Pradesh is home to more people than Pakistan and Bangladesh, some of the most densely populated countries in South Asia. (Uttar Pradesh's 2017 population estimate assumes that the state grew at the same pace from 2001 to 2011, which may be slightly exaggerated.)
What's more, of the most populous countries, only one, Nigeria, has a population that's growing faster than Uttar Pradesh's.
A poor country 
Uttar Pradesh would be among the poorest countries in the world, and easily the poorest compared with the 10 most populous countries.
Among Indian states, it is the second poorest. More than a quarter (pdf) of the state's residents (60 million people) live below the poverty level. Progress reducing poverty in the state has moved slower than the rest of the country.
An unhealthy country
Citizens of Uttar Pradesh would have the lowest life expectancy of most other large countries, according to stats from the World Bank and India Economic Survey.
Since 2000, Uttar Pradesh's population has boomed while its public health centres have dwindled. More have died from cancer, tuberculosis, and typhoid (pdf) in Uttar Pradesh than anywhere else in India. Close to half of its mothers give birth at home, two-thirds without medical supervision. The maternal mortality rate in Uttar Pradesh is the second-highest in India.
Uttar Pradesh's economic weakness and poor health are somewhat obscured by India's relatively robust overall economic growth, driven by its large urban centres (none of which are in Uttar Pradesh). Delhi, Chennai, Mumbai, Hyderabad, and Kolkata are projected to be some of the fastest growing cities, in terms of GDP, in Asia over the next five years.
We welcome your comments at ideas.india@qz.com.