In 2001, foreign secretary Robin Cook declared chicken tikka masala as Britain's national dish, putting a stamp of official approval to the country's first foray into the exotic foods aisle—the curry. While the past 16 years have seen curry remain something of a staple, the industry propping it up has fallen on hard times. Faced with a pronounced staffing shortage, as well as rising costs, some experts have predicted that a third of the UK's estimated 17,000 curry houses could face closure over the next decade. That's something for a sector that employs over 100,000 people and contributes over £4 billion to the British exchequer.
Around 90% of curry houses in the UK are owned by British Bangladeshis, largely hailing from the northeastern city of Sylhet. With second-generation migrants increasingly unwilling to enter the family trade, restaurants have been reliant on sourcing skilled labour from back home. But this has become increasingly difficult with the Home Office's attempts to bring down net migration. As of April 2016, restaurants face a £2,000 fee on importing skilled labour, as well as a work permits scheme that imposes a salary threshold of £29,750, including rent and accommodation.
For most restaurateurs, this is simply not realistic.
Oli Khan, celebrity chef and vice president of the Bangladesh Caterers Association (BCA), the industry's largest trade body, is one of them. At the Spice Rouge, his curry house in Stevenage in Hertfordshire, Khan pays his chefs between £18,000 and £25,000. In early 2016, when Khan and BCA faced a staffing crisis, they responded to overtures of help from an unlikely source: the Leave Campaign of the Brexit Referendum, which canvased in favour of the UK's departure from the European Union.
"There were very mixed messages going through to the public during the time of the referendum. A lot of people were confused—even me," Khan said. "They came to us—the Mayor of London, Boris Johnson, and cabinet minister Priti Patel. And they said to us, 'There is your opportunity. If we come out of the European Union, then where do we have to go—the Commonwealth countries.'" With the prospect of a more favourable immigration policy towards chefs coming from the Indian subcontinent, the BCA lent its support to the Leave Campaign. Patel went so far as to announce a national "Save the British Curry Day" before the vote in June 2016.
Under the conservative government of prime minister Theresa May, though, reforms have not been forthcoming. And with immigration controls as stringent as ever, the irony that Patel was formerly the minister for employment—which gave her the remit to lower the salary threshold for skilled chefs if she pleased—is not lost on anyone. As Mustafa Kamal Yakub, the president of the BCA, remarked, "A lot of people say she's left the crime scene." Meanwhile, calls for a Vindaloo Visa—allowing chefs into the UK on short-term visas—made by the likes of Vince Cabel, leader of the Liberal Democrats Party, have been falling on deaf ears.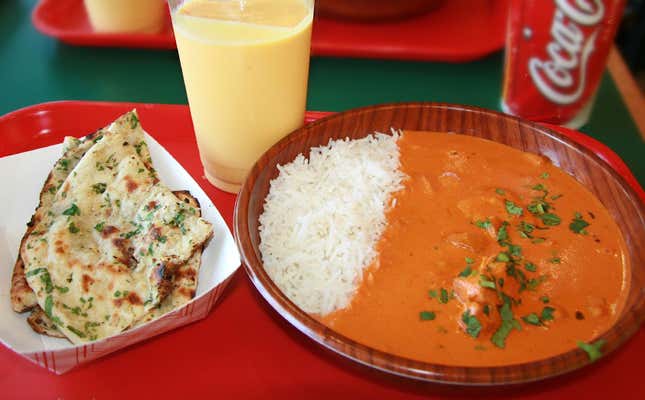 'It's my livelihood'
It's in London that restaurateurs like Abdul Ahad, proprietor of Bricklane's City Spice, are hit the hardest. "I work seven days a week, just to keep the place going," he said. "Because it's my livelihood, and I love it passionately… But this trade has almost collapsed. There are only 11 restaurants out of 45 left here because of the staffing crisis."
Ahad's restaurant is located on the corner of Brick Lane's much-diminished curry thoroughfare. Formerly a sari shop, its previous owner converted it into a curry house in the early 1980s when the trade began to pick up. Having grown up around the corner in the centre of London's Banglatown, Ahad purchased the establishment 11 years ago. Lately, things have taken a turn for the worse. "The whole of the catering industry is in decline due to the staffing crisis," he said. "Especially London, the rents are going up, as are the overheads."
In order to sustain their output, businesses like City Spice are often forced to take skilled labour wherever they can find it. If this labour doesn't have the correct documentation, restaurants can find themselves saddled with a fine of £20,000. "The border forces are raiding local business every week," said Ahad. During a raid on Brick Lane a while back, "they went in, closed the business off, and made a big scene of it". Eight months ago, he found himself in the same position when a longtime employee's visa expired—"There was nothing I could do about it. They have the right to walk into any premises without a warrant. In 2016 they changed the law. Before that, they had to get warrants."
Actually, under the Immigration Bill of 2016, officers still need to obtain either written consent from the owner of an establishment, a letter from the assistant director of their agency, or a warrant. Nonetheless, Ahad's assertion points to the increased use of scare tactics by the UK's border forces, which disproportionately target the UK's south Asian community. Statistics leaked from the Home Office show that restaurants and takeaways are frequent targets of workplace raids and that Indians, Pakistanis, and Bangladeshis make up 75% of those arrested.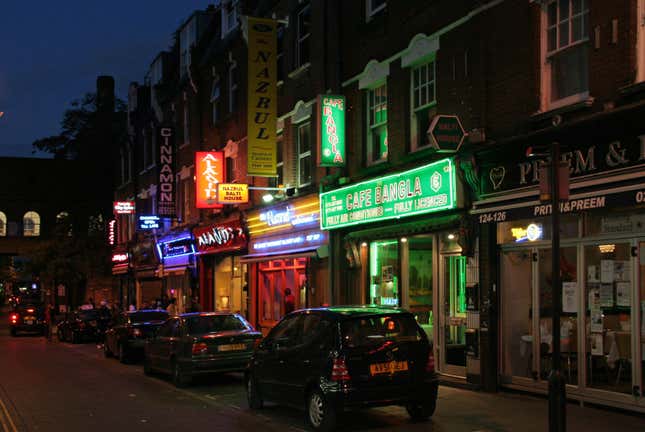 Under the scanner
While cases like Ahad's often go unnoticed, alarm bells went off when Tayyabs—one of London's favourite Punjabi restaurants— was forced to shut in August for employing "illegal workers." The restaurant, which is now paying fines in excess of £95,000, had been a pillar of south Asian cuisine since 1973. According to Ahad, as well as the BCA, many of these alleged illegals have been in the country for years, but have not been granted work permits by the Home Office. "This was never an issue four or five years ago, but lately it's become (one)," he said.
He's not wrong: according to information from a Freedom of Information request submitted by The Times, there were 14,000 arrests made of illegal immigrants in 2015, compared to 7,500 in 2011. Even restaurateurs trading more authentic Indian fare at upscale establishments have commented on this state of affairs.
Asma Khan opened Darjeeling Kitchen after hosting a supper club for a number of years at her South Kensington home. Serving a mix of Muslim Rajput staples alongside Calcutta Mughlai food she grew up eating with her mother, Khan's restaurant boasts an all-female kitchen. And while she has never experienced a raid, the underlying hostility behind them is palpable. "It's a vigilante, almost police state when it comes to immigrants."
To her, the cynicism behind the Leave Campaign's handling of the BCA is not surprising. "They were misled. What they were offered—that they would all be allowed to get their chefs in—was completely untrue. And everybody who made that promise knew they were lying."
Khan may not suffer the same personnel deficit in the Kitchen as others, but as the British government moves forward with Brexit, she is feeling the crunch. With transportation costs pegged to the dollar and the pound's precipitous slump since the referendum, the costs of imported ingredients and foodstuffs from Europe and India have skyrocketed. This would perhaps not have meant much to the average takeaway a while back. "Twenty-five years ago, everything was frozen and the selection was so constricted," said Ahad. "Coriander was unheard of." But as the British public has become more widely travelled, and more discerning, curry houses have had to up the ante, importing fresh spices and produce from the subcontinent.
While the BCA is keen to stress that curry houses have attempted to adapt with time, Asma Khan still sees some of their attitudes as retrograde. This is particularly the case when it comes to the staffing crisis. She has a solution, though—"I think they should start hiring women. Because all of these men who are in the kitchen and who are restaurant owners, who is cooking for them?" Given the slew of awards Khan has racked up at the BCA's annual gala, it would appear industry leaders are beginning to listen.
Cyrus Todiwala, former executive chef of the Taj group and current owner of Cafe Spice Namaste in Whitechapel, is among them. "There is a very vital point there," he said. "Because where do we, male chefs, look to for inspiration? Our mothers, mothers-in-law, aunts, or whomever we grew up with." Todiwala does not see this as an end-all solution to the staffing crisis due to the demands placed upon women in more traditional households, but he does see an enormous opportunity where upskilling is concerned. "This is a huge untapped resource that could be used to train the next generation of chefs."
This point is even more pertinent given Todiwala has personally witnessed successive governments fail to plug the skills gap in his sector. Having opened the UK's first Asian and Oriental School of Catering in 2000, he saw government funding diverted in a matter of years towards inner-city farming. Needless to say, the school had to close.
He advised the migration advisory council for years, advocating that they reform the work permit commission, but was met with opposition on the grounds that the Asian sector does not involve itself in training. The Home Office has remained steadfast with this line: "We want to nurture more home-grown talent and encourage young people in this country who want to pursue a skilled career. This means the restaurant sector offering training to attract and recruit resident workers to meet their staffing needs." MPs have also echoed this sentiment, with James Brokenshire, former minister for security and immigration, stating in a letter that "the restaurant industry, like others, needs to move away from an unsustainable reliance on migrant workers". But with funding for Todiwala's scheme having been pulled over a decade ago, and in the wake of another botched scheme that saw £1.75 million squandered in an undersubscribed and subsequently shuttered series of curry Colleges, exactly how this is possible remains unclear.
In spite of the array of challenges facing the British curry house, Todiwala is adamant that as an institution, it is here to stay. "The curry houses that can keep delivering a product will survive, and they will survive because there is a market for them. They are the mainstay of what the British public has always wanted." But with the government's failure to invest in proper training schemes for Asian chefs, as well as their refusal to loosen visa controls, "they will suffer," he observes.
What's more, upskilling by themselves, or through the means Asma Khan suggests, will take time. Meanwhile, people's livelihoods are at stake. "I thank the people who run this country, but at least give us the tools we need to survive," said Ahad. "Until we train people here, at least let people be around on short-term visas—one or two years (and) then they go back. I am sure most of the government eats chicken tikka masala. Where would they go if we didn't exist?"
This post first appeared on Scroll.in. We welcome your comments at ideas.india@qz.com.