India's growing hunger for online video streaming has set a world record.
Hotstar, the country's largest video streaming platform, has said that it has topped the global record for the highest number of concurrent viewers for a single event by an online broadcaster.
On April 10, viewership for the Indian Premier League (IPL) match between the Chennai Super Kings and the Kolkata Knight Riders peaked at 5.5 million, the company told Quartz.
Hotstar's mobile app and website are streaming the ongoing 60-day professional T-20 cricket league, IPL, with commentary and a ticker scroll in six languages: Hindi, English, Tamil, Telugu, Bengali, and Kannada.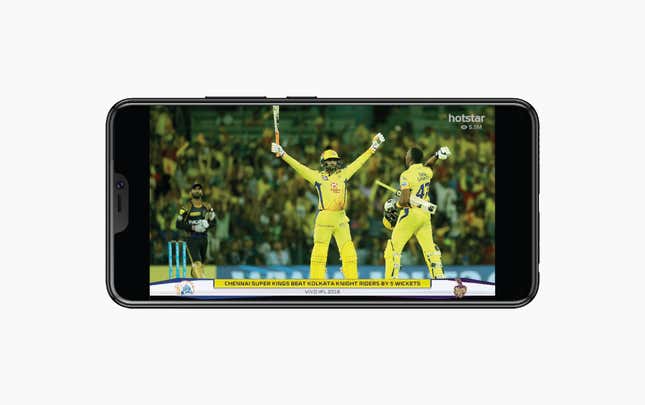 Hotstar's record beats the earlier one of 4.6 million concurrent viewers for the inauguration ceremony of US president Donald Trump in January 2017.
"Crossing five million on a live sporting event is like breaking the 10-second barrier in the 100-metre dash," Hotstar CEO Ajit Mohan said. "We are proud that we are the first to get here."
Online video streaming has gained traction in India in recent years thanks to inexpensive smartphones and falling mobile data charges. In 2017, consumption rose almost five times, with smaller cities (with a population between 100,000 and one million) seeing a 4.3 times jump year-on-year and metros expanding 3.5 times.
Indians spend an average of around 4.5 hours a day accessing the internet on their smartphones, about 37% more than the time spent watching TV, according to a research report released in February.
While several international players, such as Netflix and Amazon's Prime Video, are investing in India by bringing more local content to their platforms, homegrown Hotstar is way ahead of rivals in terms of monthly active subscribers. Hotstar was launched in February 2015 by television network Star India.