It's finally official! Walmart is acquiring Flipkart.
The world's largest retailer will acquire a 77% stake in the Bengaluru-based e-commerce company for $16 billion (Rs1 lakh crore) in its biggest acquisition ever, Walmart said in a release today (May 09).
"India is one of the most attractive retail markets in the world, given its size and growth rate, and our investment is an opportunity to partner with the company that is leading transformation of e-commerce in the market," Doug McMillon, Walmart's president and chief executive officer, said. "…we look forward to working with Flipkart to grow in this critical market."
Walmart and Flipkart will maintain their distinct brands and operating structures with the intention that the Indian company will eventually transition into a publicly-listed, majority-owned subsidiary of the US retailer.
Most of Flipkart's earlier investors, including Softbank, will exit, while co-founder Binny Bansal, Tencent Holdings, Tiger Global, and Microsoft Corp will remain on board. There was no mention of Sachin Bansal, Flipkart's other co-founder. "The final make-up of the board has yet to be determined, but it will also include independent members," Walmart said in the statement. "The board will work to maintain Flipkart's core values and entrepreneurial spirit, while ensuring it has strategic and competitive advantages."
Amazon was also reportedly in the fray to acquire Flipkart and went far enough to offer a "breakup fee" of up to $2 billion to prove its seriousness. A breakup fee is a penalty set during the process of takeover agreements to be paid if the target backs out of the deal.
However, Walmart managed to seal the deal, and is now in a position to take the fight to Amazon in India's e-commerce market, which is estimated to grow over 13 times to $200 billion by 2026.
"With the investment, Flipkart will leverage Walmart's omnichannel retail expertise, grocery and general merchandise supply-chain knowledge and financial strength, while Flipkart's talent, technology, customer insights and agile and innovative culture will benefit Walmart," the release said.
A giant leap
The deal marks a significant milestone for Flipkart.
What started in 2007 as an online bookstore operating out of the Bansal duo's two-bedroom apartment in Bengaluru, is now the most-valued new-age internet company in the country with around 30,000 employees. It is also one of the highest-funded private companies in the world, which has given a giant like Amazon a tough time in India over the last five years.
An internet business worth billions and backed by marquee investors like Softbank, Tiger Global, DST Global, and Accel Partners, among many others, Flipkart helped break India's image as just the world's back office.
In the fiscal year ended March 31, Flipkart had net sales of $4.6 billion, over 50% higher than the previous year, Walmart said. Its gross merchandise value (GMV, or the total value of goods sold from its platform) was $7.5 billion during the period.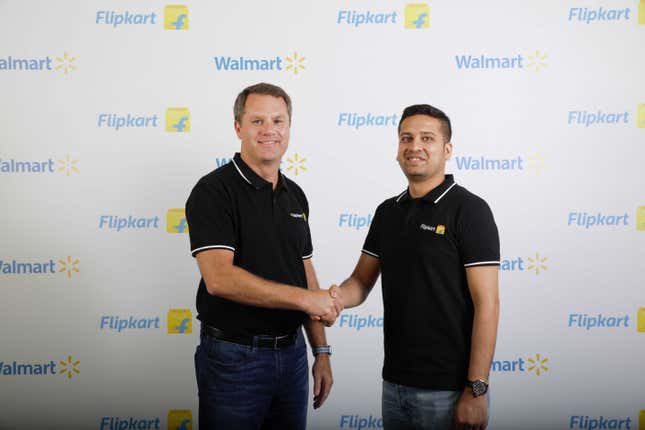 "This (Walmart's) investment is of immense importance for India and will help fuel our ambition to deepen our connection with buyers and sellers and to create the next wave of retail in India," Binny Bansal, Flipkart's group chief executive officer, said. "Walmart is the ideal partner for the next phase of our journey, and we look forward to working together in the years ahead to bring our strengths and learnings in retail and e-commerce to the fore."
Let the battle begin
Following this deal, the Indian e-commerce space will now become a battlefield for two American behemoths: Walmart and Amazon.
The two companies have been fiercely competing against each other in the US, including by acquiring smaller players. Flipkart's acquisition is widely considered to be an extension of that battle.
"In the US, Walmart is the only formidable competitor left for Amazon. Walmart has been growing its e-commerce operations a lot and Amazon has been increasing its footprint with physical stores," Kartik Hosanagar, a professor of technology and digital business at the University of Pennsylvania's Wharton School, told Quartz last week.
"Walmart's looming investment in Flipkart reflects that. Walmart is fighting Amazon and Alibaba in China through its partnership with JD. I suspect something similar will happen in India through a partnership with Flipkart," he added.