On Sundays, Vishal would usually play cricket with his friends. But on Sept. 09, the 20-year-old had to give it a miss—and never returned.
"His supervisor said there was some urgent work," Angad, Vishal's older brother (members of the family are known only by their first names), told Quartz.
For two months, the sewage tanks in the basement of the sprawling 30-acre DLF Capital Greens in West Delhi had been emitting a revolting stink. Residents of the "exotic residential heaven," as the residential complex describes itself, couldn't bear the stench anymore.
So, that afternoon, the maintenance company they worked for sent Vishal and five others inside three of these tanks, without any protective gear as usual.
While the tanks were over 15 feet deep, the sewage inside reached up to their knees. A small opening on the roof was the only way in or out, with just one wooden ladder for all three sewers.
The six workers split into pairs, carrying with them nothing but rods and floor-wipers. Vishal and Pradeep Sharma entered the first tank before the ladder was pulled out for the other pairs.
Half-an-hour later, Vishal and Sharma were thirsty and nauseous.
"Vishal said, 'You go have water first,'" says Sharma, a lanky 21-year-old.
He called out for the ladder, and someone from the other two pairs, which were yet to enter the tanks, lowered it for him. After they left with the ladder to enter the tanks assigned to them, Vishal was alone, with no way out.
However, Sharma found that the basement premises had apparently run out of drinking water. They were three floors below the ground, and his Capri pants were soaked in sewage, so he didn't venture too far and returned thirsty.
When he peeked inside the tank, he found Vishal choking at the bottom.
Panicking, he used the building's closed-circuit phone to call the building's technical staff. They arrived five minutes later and pulled Vishal up using ropes and straps, and shouldered him into an ambulance that had no oxygen system.
The hospital was just around two kilometres away, and Sharma hoped the worst was over. But Vishal died around 5pm. 
Unknown to Sharma, his four other colleagues—Sarfaraz, Pankaj, Raja, and Umesh (only first names have been recorded)—too, had in the meantime succumbed inside the tanks after inhaling the toxic fumes.
Vishal's autopsy noted his "whole body and scalp hair (were) smeared with mud" and "dirty frothy fluid squeezed out on pressing (his) lung sections."
National crisis
Besides Vishal and his friends, six others have reportedly died working in sewers across India in September alone. Around 300 manual scavengers had died in 2017.
Despite laws against it, manual scavenging—handling untreated human excreta without mechanical equipment—is ubiquitous in India. An inter-ministerial task force set up by the government of India earlier this year counted up to 53,236 people still involved in the practice. This number itself is presumed to be a fraction of the real one as only a fifth of all districts in the country participated in the exercise.
In any case, those working off the records are many more. For instance, Vishal and his colleagues who died on Sept. 09 were also not officially manual scavengers, but maintenance workers, employed by a registered company.
Manual scavenging also fits in with India's age-old Hindu caste hierarchy, wherein most of those traditionally involved in the profession are Dalits, a set of communities deemed untouchable until the practice was banned in 1955.
"Women usually clean dry toilets, men and women clean excrement from open defecation sites, gutters, and drains, and men are called upon to do the more physically demanding work of cleaning sewers and septic tanks," says a 2014 Human Rights Watch report.
Vishal was a Pasi, a Dalit. Other such jobs taken up by these groups include the handling of animal carcasses, cremation of human bodies, and tanning of animal hides.
Sewage work, in particular, is often lethal. Like Vishal and his co-workers, most of those involved in it lack training and mostly perform their jobs without any safety equipment, and under extremely hazardous working conditions.
The result is that the already depressed living conditions of their families worsen following the death of the main breadwinners.
Pain and justice
In their small house in Nangloi, a neglected neighbourhood in the western part of the Indian capital, Vishal's mother has been on glucose drips since his death.
The house, built on a 100-square-feet plot, is split three-ways among relatives. Outside, men sit on their haunches or on a few plastic chairs. The only woman who is standing with them is Vishal's 26-year-old sister Satya.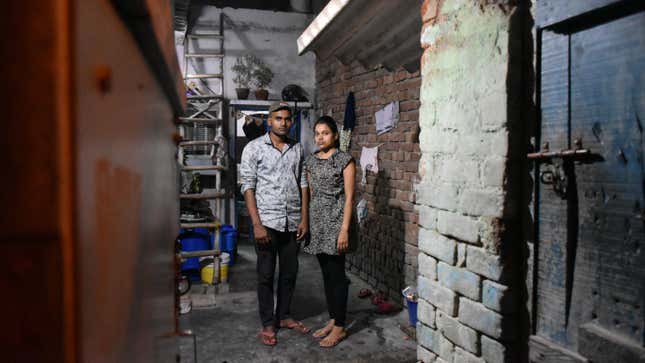 "My father can no longer work full-time after diabetes harmed his eyesight. We had been dipping into the money saved for my marriage," she says. "Vishal used to tell me, Didi, your wedding is my responsibility."
On his monthly salary of Rs12,000, Vishal was the family's main pillar. Satya has a masters in commerce but hasn't found a job yet. Vishal's older brother Angad is studying to qualify for a government job.
The local Delhi government has awarded a compensation of Rs10 lakh to Vishal's kin, as required by law. But the family says it wants justice more than money.
Police officials have filed a complaint, since employing someone for manual scavenging invokes imprisonment of up to two years and a fine of Rs2 lakh.
But fixing culpability is a long-drawn process in India.
DLF, India's largest private developer, washed its hands off. "The operations of all maintenance services of the building was outsourced to JLL," said a company spokesperson.
JLL India had a similar defence. "While the investigation is ongoing, what we can share as a clarification is that JLL, as permitted by the contract with our client, subcontracted the operation and maintenance of the plant to Unnati Engineering & Contractors," the real estate services firm said in a statement.
So the police have arrested Unnati's director and supervisor, as well as a JLL employee in charge of the plant. But Vishal's family want DLF prosecuted.
"Unnati are the small guys," Satya says. "My brother died cleaning DLF's excrements, not Unnati's."
Bezwada Wilson, national convenor of Safai Karmachari Andolan, a group advocating for rights of manual scavengers, agrees. "Why would have they gone inside if the plant was mechanised? This was a septic tank."
For his part, Sharma, the lone survivor, has quit the job—and the profession. This time, he says, he wants something as far away from sewers as possible. After all, it was his survival—and not the death of his colleagues—that was the accident.