Rahul Gandhi is killing it on Twitter.
Between January and April 2018, the median count of Gandhi's retweets was consistently higher than the median retweet counts of prime minister Narendra Modi, as well as other prominent Indian politicians, according to a new study by the University of Michigan. In the study, assistant professor Joyojeet Pal and doctoral candidate Lia Bozart used Twitter's API to mine tweets from 274 Indian political accounts and analyse them, looking closely at politicians' use of non-English languages.
This success is despite the fact that the Congress party president's Twitter following, at only 7.6 million, is dwarfed by Modi's 44 million followers. The Indian prime minister is the second most followed head of state on the micro-blogging platform after US president Donald Trump and by far the most followed world leader on Facebook.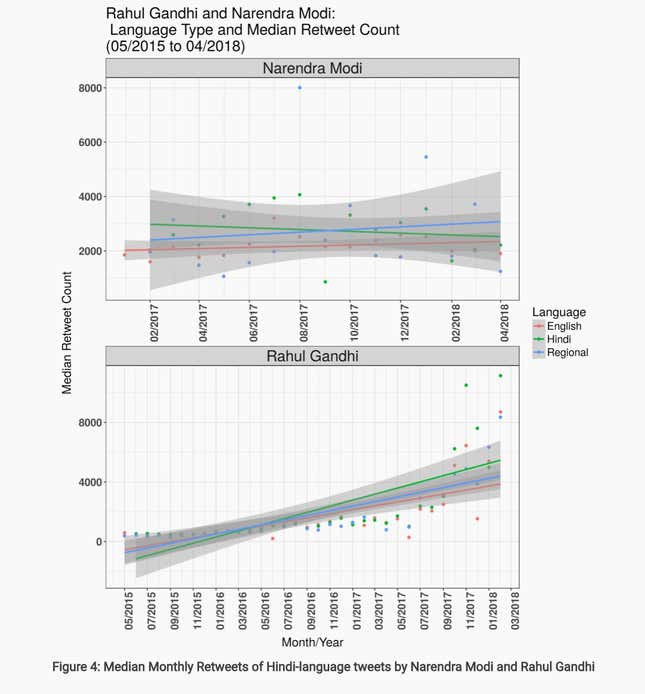 The Michigan study attributed Gandhi's success to his Hindi tweets, which often deploy "an aggressive style of confrontation" through rhyme, sarcasm, and rhetorical flourish. "While the retweeting of Modi's messages is relatively flat, and consistently higher pre-2017," the authors wrote in the Economic and Political Weekly journal, "the phase of more attacking messaging and particularly the use of Hindi, appears to have much better throughput for Rahul Gandhi."
One of Gandhi's tweets from last October, for example, comments on the goods and services tax (GST), floated by the previous Congress-led regime, but implemented by Modi's Bharatiya Janata Party (BJP)-led government. Gandhi's tweet cheekily argued that while Congress's GST was a "Genuine Simple Tax," Modi's was a "Gabbar Singh Tax"—referring to a Bollywood villain with a cult following.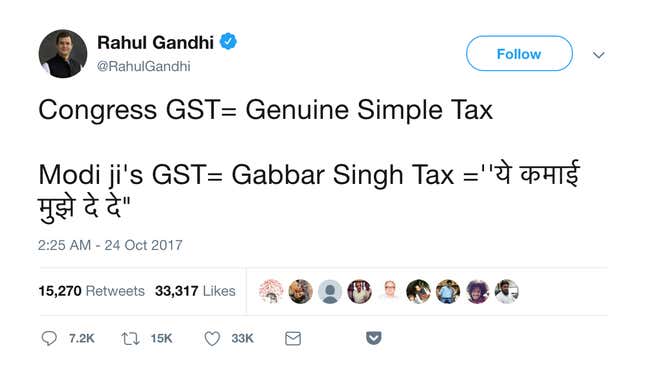 The rise of Hindi on Twitter
The study's findings point to a broader increase in the use of non-English languages, particularly Hindi, on Twitter by politicians across party lines. This seems to be paying off: Hindi tweets have gotten more traction since the end of 2016 than tweets in other languages.
Non-Hindi regional languages, the study found, do not perform as well as Hindi or English tweets—though politicians are also tweeting in them more often than they did earlier.
Between October 2013 and April 2018, up to 73.7% of Modi's tweets were in English. Gandhi has used English even less—68% of the time—since he got on Twitter in April 2015. The study found a wide spread in the amount of English that politicians choose to use. "Unelected politicians like P Chidambaram, Subramanian Swamy, and Kiran Bedi," the researchers said, "have a higher proportion of English language tweets, whereas Sushil Modi, Raghubar Das, or Yogi Adityanath actively use social media as a means of outreach to the press and citizenry by using more regional languages."
Yogi Adityanath, the chief minister of Uttar Pradesh—India's largest state, and part of the "Hindi heartland"—is a BJP firebrand known to espouse hardline Hindu views. Only 8% of his tweets are in English.
The BJP's strong social-media dominance is known to have been a contributor to its success in the 2014 general election. It has proved important in other polls since then, including the crucial 2017 Uttar Pradesh assembly election. Modi may even view social media as a more effective manner of engaging with Indians than more conventional ones—he has not held a single press conference since coming to power in 2014. 
Back in 2014, Twitter was far less important to ground-level political campaigning than Facebook and WhatsApp, and this remains the case. Earlier in March, Modi told BJP members of parliament that they must get at least 300,000 likes on their Facebook pages, and "IT cells" for political parties continue to circulate political messaging on WhatsApp. Twitter, meanwhile, was the province of "urban, English-speaking elites," as the Michigan study describes. 
While politicians may increasingly be using non-English languages to woo wider audiences on Twitter, compared to Facebook and WhatsApp, the microblogging site remains much more of an elite echo chamber.