Narendra Modi's term as prime minister has been contentious to say the least. Fans have applauded his "India First" initiatives for the economy while critics have condemned his stoic silence on rising nationalist vigilantism and religious fissures in the country. Be it for the cheers or for the insults, Modi has become the most celebrated leader of his time on Facebook.
The Indian prime minister has more than 40 million followers on his personal Narendra Modi page and 13 million on his institutional page, Prime Minister's Office (PMO) India, a February 2017 report by global public relations and communications firm Burson-Marsteller found. The study titled "World Leaders on Facebook" assessed 590 pages representing 169 governments in 2016.
Rounding off the top five are newly-sworn in US president Donald Trump, whose term is already under a cloud over the anti-immigrant discourse, Queen Rania of Jordan, and controversial Turkish president Recep Tayyip Erdogan, who made headlines in mid-2016 for a crack down on the plotters of an attempted coup against his government.
At 169 million interactions—likes, comments, and shares—in 2016, Modi beat them all. The image of him photographing a tiger during a safari "attracted the most 'surprise' reactions with 7,162 'wow' emojis," the report noted. Cambodian prime minister Samdech Hun Sen was a distant second with 58 million interactions. The now archived @ObamaWhiteHouse page is in third place with 36 million.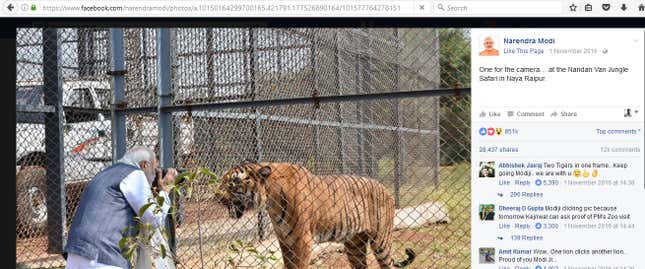 Despite former US president Barack Obama's low interaction rate, he was a trailblazer on Facebook. While still a senator from Illinois in 2007, he pioneered the practice of maintaining Facebook pages. Last year, when Burson-Marsteller released the first edition of this study, Obama trumped others with the most number of page likes at 46 million. By the time he had left office this January, he'd overshadowed all world leaders with 54 million followers on his personal page.
In the Asia-Pacific region, "Indian government leaders, including the president, the prime minister, and the foreign minister dominate the rankings," the report notes, attributing this to the size of the country's population. Yet, politicians' active and charismatic online personas play a part, too. For instance, external affairs minister Sushma Swaraj has come to be a torchbearer of conducting diplomacy on Twitter—for better or for worse.