A few years ago, while backpacking through the country, a college dropout spotted the untapped opportunity in organising India's neighbourhood hotels. Earlier this week, his enterprise turned into a $5 billion venture.
On Sept. 25, OYO Rooms, the hotel chain and room aggregator founded by Ritesh Agarwal in 2013 after pursuing his wanderlust, announced that it had secured $1 billion (Rs7,200 crore) in fresh funding. The capital infusion was led by existing investors SoftBank Vision Fund, Sequoia Capital, and Lightspeed Venture Partners. The three have already pumped in $800 million with a promise to invest $200 million more.
The funding makes OYO India's latest unicorn—private startups valued at over $1 billion—and the second-most valuable after One97 Communications, digital payments app Paytm's parent company that in August sold a $356 million stake to Warren Buffett's Berkshire Hathaway. (E-commerce marketplace Flipkart used to top the unicorns leaderboard, until it was sold to US retailer Walmart for $16 billion in May this year.)
"I am ecstatic for OYO as this is a massive moment for them and because of OYO, for the Indian startup ecosystem. The 6X markup to OYO's previous round valuation vindicates our position that the best is yet to come—from OYO and from Indian startups," said Anirudh Damani, managing Partner at Artha Venture Fund and an angel investor in OYO.
This week's investment comes close on the heels of OYO spreading its footprint beyond India—to China, Malaysia, Nepal, and the UK—in the last year. "With this additional funding, we plan to rapidly scale our business in these countries, while continuing to invest further in technology and talent," said Agarwal, the founder and CEO of OYO.
A massive chunk ($600 million) of the fresh funds will go towards the hotel chain's operations in China—home to a giant $44 billion hotels industry.
Diversifying from its humble beginnings as a budget hotel chain, Oravel Stays—the entity that owns and operates the OYO brand—now also houses other brands like Oyo Home, Oyo Townhouse and Palette Resorts that cater to the higher-end segments of the market. The brand has clearly gone the distance in the last five years.
OYO's beginnings 
With the launch of OYO in May 2013, Agarwal aimed to disrupt India's hotels sector, a market worth less than $7 billion back then. (By 2020, it is poised to reach $13 billion.)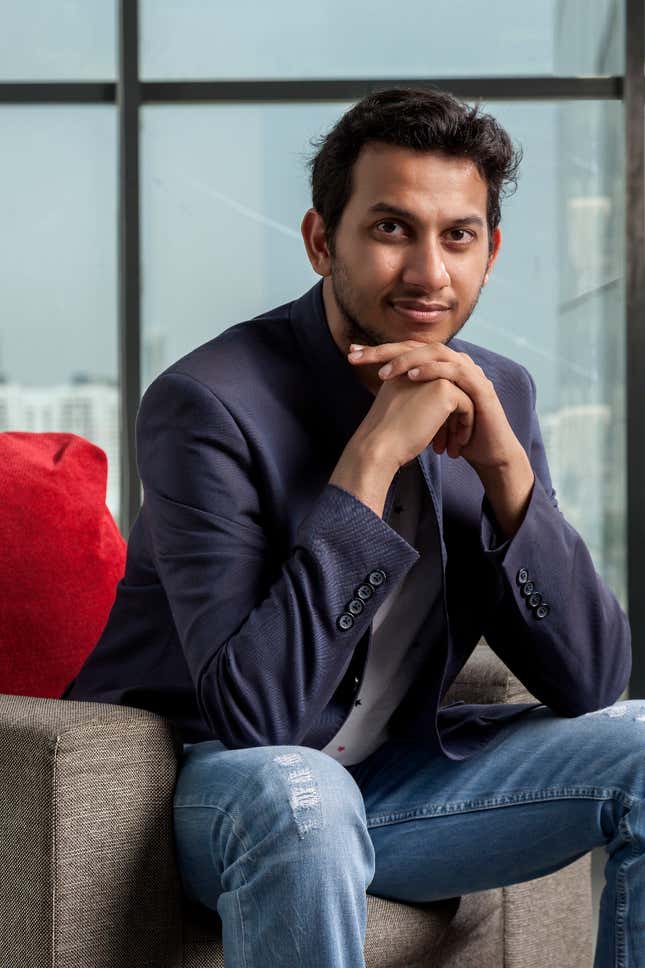 After discovering the dire standards of budget hotels in India during his travels, Agarwal had decided he would start an Airbnb-inspired online home stay service to bring more reliability and predictability to the travel experience.
The same year as the company's founding, Agarwal was selected for the "20 under 20" Thiel Fellowship in 2013. He is the only Indian to be chosen for the prestigious two-year programme designed by Peter Thiel, the founder of PayPal, where fellows receive $100,000 and mentorship from tech entrepreneurs, investors and scientists in Silicon Valley.
Soon, the startup pivoted away from Airbnb's model given the lack of serviceable homes and apartments in India. Instead, it became a marketplace for low-budget hotels, aggregating rooms from all over the country on its platform and monitoring their standards on a host of parameters from cleanliness to WiFi availability and room service.
The hotel chain now has over 125,000 rooms in India and claims it is witnessing a 3X growth in transactions year-on-year in the country. OYO's rooms start at $25 a night and the company earns a 25% commission from hotel owners for the bookings done on its platform.
Two-thirds of the top line in India comes from repeat customers. It is even valued higher than the Taj group of hotels and EIH, which runs the Oberoi hotels chain.
Experts, though, remain somewhat sceptical about the firm's upward trajectory, despite the firm being an investment magnet (OYO has so far raised $1.8 billion, including from the latest funding round this week).
"It's too early to say OYO is a success as market valuation isn't a good indicator these days of the real worth of a startup," warns Yugal Joshi, vice-president of Texas-based consulting and research firm Everest Group.
Plus, the company hasn't always been a poster boy for startups.
Bad press
Two years after starting operations, an article in the Mint newspaper smudged Agarwal's celebrated reputation. The 2015 investigation exposed his unethical business dealings at Oravel Stays. He apparently told many lies, big and small, such as claiming his 2011 book, The Encyclopaedia of Indian Engineering Colleges, was a bestseller when it sold just over a thousand copies and not paying employees to having a messy fallout with a former co-founder.
Even this year hasn't been controversy-free for the company. After calling off an acquisition deal with budget hotel aggregator Zo Rooms last year, OYO waged a courtroom battle against the company over data theft that spilled over into this year. In April, OYO made headlines for trying to poach talent from rivals FabHotels and Treebo.
A month later, an OYO employee in Gurugram was booked for allegedly raping a guest. Earlier in September, an American blogger shared a horrifying account of being sexually harassed by staff at an OYO property in Paharganj, Delhi.
But the bad press won't bring about Oyo's downfall, analysts feel.
"Anyone who's tried to think differently and attempted creating large enterprises has faced bad press. (Mark) Zuckerberg, Elon Musk, Steve Jobs, Bill Gates—so I think he's in august company," said Ankur Nigam, a partner at KPMG. "Outside in, I don't think it's fair to judge whether he's a good leader.  What you can see though is that he's managed to build a $5 billion company and nothing succeeds like success."
IT trade body The National Association of Software and Services Companies (Nasscom) chief Debjani Ghosh seconds Nigam.
And the jury's still out on Agarwal. "I was listening to Ritesh at an event in Bangalore and he appeared to remain rooted and still lost sleep over firing employees," said Nigam. "It's got to be a combination of all of these things that would go on to contribute towards such a success."
Marching on
Despite the hurdles, OYO has broadened its horizons beyond India and even beyond hotels. Its next big challenge appears to be China.
The opportunity is big, especially in mainland China. "(The hospitality market in) China would be twice the size of India i.e. in excess of a $1 trillion market," KPMG's Nigam said. "That said, the penetration is still low and they have 4 rooms per 1,000 people as compared to 10 rooms in the UK and 20 in the US.  So despite a large market already, there's headroom for growth." Tourist spending in China already tops $500 billion and will reach a whopping $1.2 trillion by 2020
But it will face stiff competition. "(It) has to go up against Jin Jiang, the world's fifth largest hospitality company," said Anindya Ghose, the Heinz Riehl professor of business at New York University's Stern school of business. "There is also Airbnb and their big rival, Tujia."
Still, ten months after its China stint began, OYO China has created a presence in 171 cities with over 87,000 rooms. Luckily, the company has a godfather there—China Lodging Group (renamed Huazhu Group in June 2018), the multi-billion-dollar hotel management firm that pumped in $10 million into OYO in September 2017. "The investment and guidance of China Lodgings is helping it (OYO)," says Everest Group's Joshi.
Diversification is also a priority for the company. In early 2017, it launched OYO Townhouse, a hotel-community hotspot-cafe-shopping destination fused under one roof. Some months on, OYO began adding vacant homes to its network, sprucing up people's dormant properties and managing them in exchange for a cut from the revenues.
More recently, the company forayed into India's $40 billion wedding management industry with the Weddingz.in acquisition to breathe new life into a "fragmented, low-yield, broken customer service" banquet and venue management business, Maninder Gulati, OYO's chief of strategy, told Quartz.
Behind the burgeoning growth is the company's use of technology to streamline its products for customers, employees and property owners. An app helps manage visibility, bookings sales channels, customer requests, housekeeping, finances; another one allows asset owners to have complete visibility of cash flows, business performance, pricing, customer reviews and recommendations; and so on.
Currently, OYO employs 700 technology experts to drive these innovations. By 2020, it wants to hire another 2,020 tech professionals and "continue to invest in technologies like artificial intelligence, machine learning, and IoT (Internet of Things)," the company said in a press release dated Sept. 21.
"What OYO does is beyond the typical platform and tech-centric models," says Joshi. "Yes it has platform but it's as much an offline business of helping property owners evolve their assets as well in addition to earning from the asset."