For half a decade, Swedish video-game commentator Felix Arvid Ulf Kjellberg has reigned on YouTube with the most number of subscribers for his channel PewDiePie. But in just over a month from now, a 40-year-old Indian music label could dethrone his channel.
T-Series, which shares Bollywood movie content as well as original music videos on YouTube, has seen its subscriber base on the website clock massive growth in recent years.
Between October 2016 and September 2018, T-Series subscribers spiked from a mere 12.5 million to 64 million, according to social media analytics firm Social Blade. During the same period, PewDiePie recorded a far smaller climb from 48.5 million to 66.5 million.

By next month, T-Series may even overtake PewDiePie in terms of the number of subscribers, Social Blade predicts.
And other experts agree. Judging by the growth of T-series in the last one month, "in the next 30-45 days, it will beat PewDiePie," said Subrat Kar, CEO of video analytics firm Vidooly. The average subscriber growth rate of T-series per day is around 130,000 whereas PewDiePie is adding a far lower 25,000 per day, Kar explained.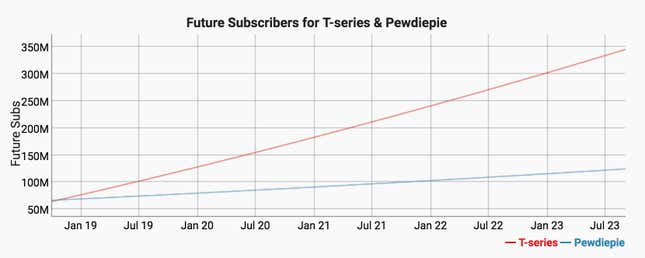 In fact, Indian YouTube channels, on the whole, are sprinting ahead. "T-series has added about 4.3 million in (the) last 30 days. SET India has added more about 2.1 million subscribers in this period. Comparatively, PewDiePie added less than 1 million in the same time frame," said Sumit Saxena, co-founder of research and consultancy firm Pixights. "This velocity reflects growing adoption of online entertainment by Indians. OTTs (over-the-top platforms), including YouTube, are serious contenders for (a) share of entertainment time with television."
Even Kjellberg is acutely aware of the burgeoning threat. So much so that he even made a video asking his supporters to fight back. Passionate fans have apparently taken it upon themselves to help the Swedish personality maintain his lead by leaving negative comments and down-voting videos on T-Series's channel.
"(It) seems a set of overzealous PewDiePie fans are negatively spamming T-Series channel on YouTube," said Neeraj Kalyan, president of T-Series, who also heads the digital division. "I would like to inform them that we are not perturbed…We will continue to build and grow our fan base globally. No amount of spamming will be able to hold back the power of good music."
T-Series's recipe for success
Pixight's Saxena attributes the budding popularity of Indian entertainment channels on the American video-sharing website to three factors: new content, a variety of content, and good quality content. "T-series provides all three," he added.
And the appetite for this short-form video content can only grow in India. The country logs among the lowest internet penetration rates in the world, so there's still plenty of headroom for growth, said Curt Marvis, CEO and co-founder of QYOU Media, a curator of premium "best-of-web" video. "These viewers are particularly empowered to consume entertainment via online, mobiles, and streaming devices, while also showing a passion for locally relevant content that is hard to find on many traditional TV channels," he said.
"This is definitely a good sign for the content creators in India," Vidooly's Kar said.
Already, individual YouTubers from India have been on a roll. Recently, on Sept. 13, YouTube star musician-cum-sketch artist Bhuvan Bam became the first Indian YouTuber to cross 10 million subscribers. After that, Bam even produced and made his acting debut in the YouTube short film Plus Minus. Creator Amit Bhadana, too, made the same leap on the very same day. If T-Series is able to claim the throne, it will be another feather in the cap for Indians on YouTube.