On Oct. 02, more than 30,000 farmers came knocking at the doors of India's capital city, New Delhi.
Most of them were from Uttar Pradesh, the politically crucial northern state in India's Hindi heartland, which hosts the highest number of seats for the national elections next year. The non-violent rally, called by the Bharatiya Kisan Union, began on Sept. 25 from Haridwar, some 200 kilometers north of Delhi and was to end in the national capital on Oct. 02.
But the crowds were met with water cannons and tear gas shells, and were beaten with lathis and batons at the borders of Delhi as the Narendra Modi government imposed a curfew to stop them from entering the city.
However, when the rally refused to disperse, the government relented at midnight and let them in.
The farmers have called off the protest, despite the government not heeding their two main demands—an unconditional loan waiver and the Swaminathan committe-recommended minimum prices for crops.
Quartz spoke with a few of the protesting farmers at Ghaziabad on the outskirts of Delhi, where they're still camping, to understand what drove them to participate in the seven-day rally and even risk their lives. Most of them are sugarcane cultivators from Uttar Pradesh and belong to the upper-caste Hindu community, a demographic that is perceived as the heart of Narendra Modi's support base. 
Here are some of their stories:
Lessons learned
Amreesh Rathi, Chhachhrauli village, Muzaffarnagar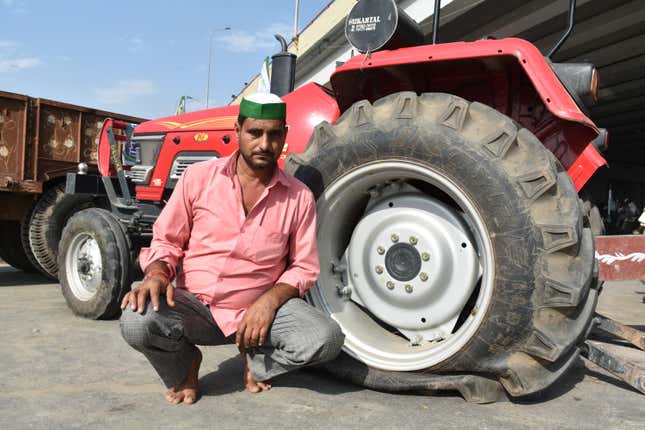 Like most farmers at the protest, Rathi (42) sells the sugarcane produce from his six-acre farm to the Indian government. But the government has not paid him for this year's produce. "We are being charged interest on compost, pesticides, and new seeds because we can pay only after we get funds from the produce sale. But the government will never account for this even when they do make the final payment," he said.
Rathi is also defaulting on his bank loan of Rs4 lakh ($5,460). This despite the fact that the Bharatiya Janata Party (BJP) government in his state had announced a loan waiver for farmers when it came to power in 2017. The scheme, however, comes with several terms and conditions, such that some of the qualifying farmers received waivers of less than Rs1.
To make matters worse, the BJP government last year hiked electricity rates in the state in a bid to ensure better power supply in the underdeveloped areas.
This, coupled with the sharp increase in fuel prices over the recent months, has weighed heavily on Rathi's farm operations like running water pumps for irrigation and tilling the fields on tractors.
The violent turn to the protests on the outskirts of Delhi has left him further scared. On Oct. 02, the riot police slashed the tyres of the tractor on which Rathi and his colleagues had travelled from their village, to prevent them from attempting to run down the barricades.
All this, he says, has taught him two important things: to "save" his three kids from farming by ensuring their school education continues, and to cast his vote for Rashtriya Lok Dal (RLD), a regional party currently part of the national opposition. After all, his 2014 vote for Modi's BJP hasn't got him much.
In the name of cow, cow dung, and caste
Nripjeet Singh, Bhuk Saura village, Rampur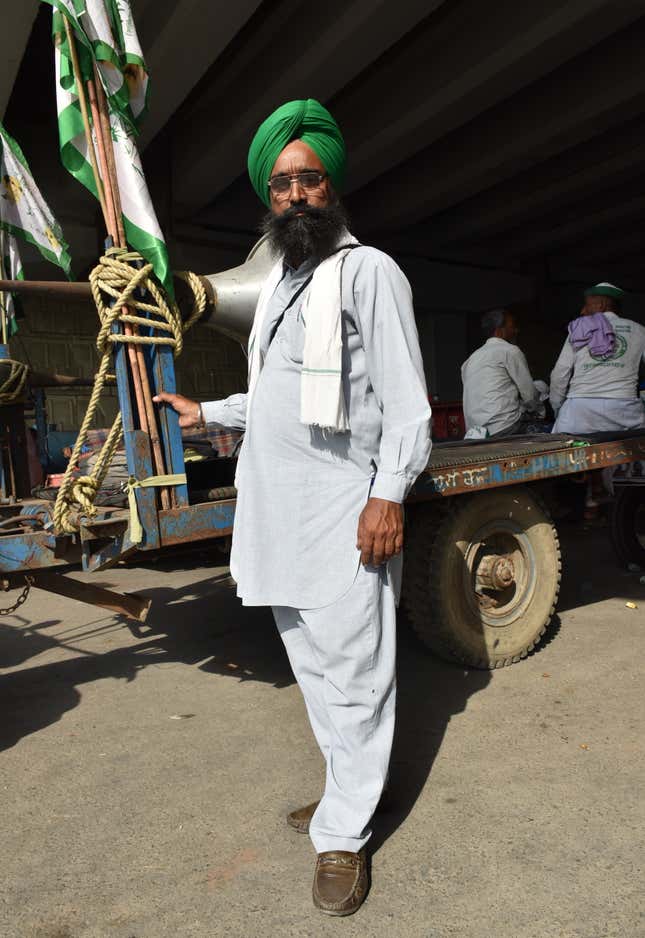 Last year, 48-year-old Singh pulled out his three children—aged 19, 17, and 14—out of a local private school because he could not afford their education anymore. That hasn't helped his financial condition much, considering he has an outstanding loan of Rs10 lakh.
And the future looks grim.
Last month, when Singh left his village to be part of the rally from Haridwar, rains were running havoc on his crops. He has little hope of a good yield this year.
"All they have done is politics in the name of cow, cow dung, and caste," says the farmer, who had also voted for Modi in 2014.
Now, he is not sure which political party to support. He does not trust assurances the government made to the farmers and wants an unconditional loan waiver, as well as the implementation of minimum prices for food crops as per recommendations of the 2004-06 Swaminathan commission, a demand successive Indian governments have been rejecting.
Fighting for their dreams
Rubal Rathi, Muzaffarnagar
Five years ago, Rathi, a 23-year-old farmer from Wazirabad village, had to give up his ambitions and was forced into farming. Now, he's struggling to make his younger sister's dreams come true.
After he graduated from high school, Rathi was not too keen on going to college. He wanted to enlist with the Indian Army. He has twice been a national junior champion in India's indigenous wrestling sport, kushti. But in 2013, he fractured his knee during a match. Though the injury healed, it permanently disqualified him for employment with the armed forces.
Rathi had to join agriculture full-time after his father, now permanently bedridden, was hit by a car while walking back from their farm at night. While he's made peace with his fate, he wants a better deal for his sister, who is currently studying biology in college.
"I could not study because of my father's condition, but I want her to become a doctor even if we have to sell our land," he says.
Rathi voted for the first time in 2014. His vote went to the Rashtriya Lok Dal. Next year, too, he will stick with his choice, he says.
To stay with Modi
Hanumant Singh, Mainpur village, Gonda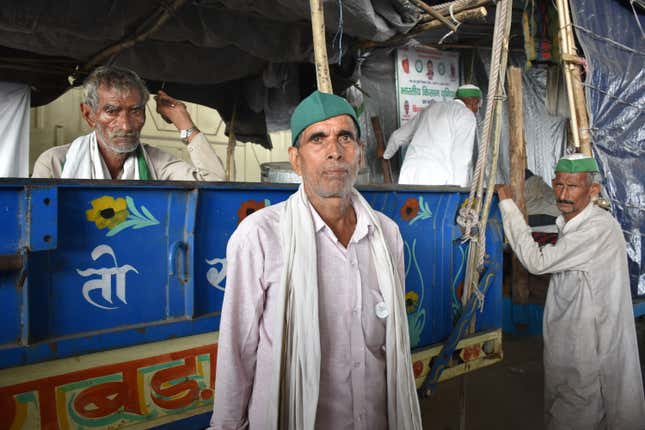 "In four years, the Modi government has done nothing for farmers. And GST (goods and services tax) has meanwhile hit the farmers who were also doing business on the side," the 60-year-old says to describe his disappointment towards the party he voted to power four years ago.
In these four years, his financial conditions have only worsened. He too has a pending bank loan of Rs10 lakh.
His 30-year-old son works on his farm, and also assists the village doctor—a profession he used to dream of entering—to make some extra money. Singh's two grandkids study at a local private school and their monthly fee—Rs400 for each—is a constant struggle for the family to meet.
The quality of education in the school, Singh feels, is subpar, but the family cannot afford to pay for after-school tuition classes.
Despite his condition, Singh feels he will still vote for Modi in 2019. "There is no alternative," he begrudgingly admits.