Delhi can brace for the worst of the annual choke season. 
Stubble burning in the northern Indian state of Punjab has reached its peak for this year, according to fire count data from the Aqua-MODIS satellite of the US space agency NASA. 
The farm fires began in October in the neighbouring northern state of Haryana, where the burning cycle has nearly reached its end. In Punjab, however, it is currently at an annual high. A Nov. 08 NASA satellite image captured the farm fires in red dots: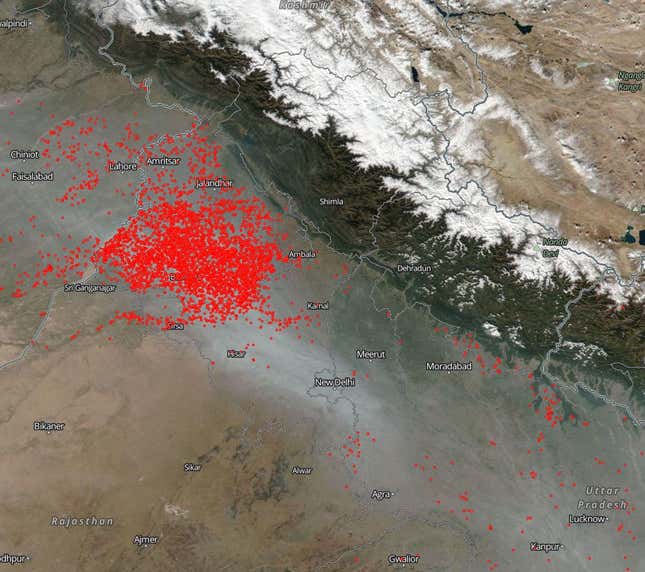 Stubble burning is practised by Indian farmers to easily get rid of the leftover crop following the harvest and ahead of the next sowing season. It is believed to be the primary reason for the smog that engulfs Delhi every winter.
This year, the peak of the stubble burning has coincided with Diwali, India's most popular Hindu festival, which was celebrated on Nov. 07 with plenty of fireworks, as usual. 
To keep pollution in check, India's supreme court had ordered a partial ban on the bursting of firecrackers, but it was mostly observed in the breach.
A day before Diwali, the NASA satellite captured over 700 incidents of stubble burning in Punjab and Haryana: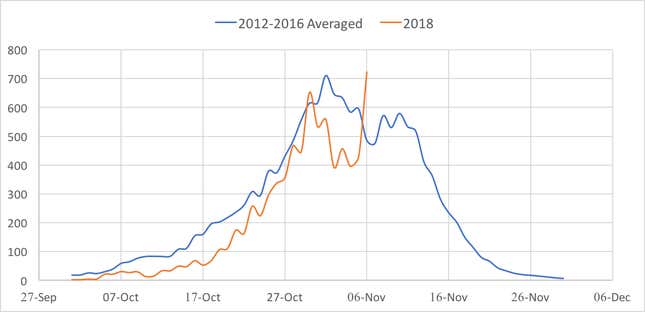 Hiren Jethva, a research scientist at the space agency, compiled the chart using five-day moving averages of the fire counts.
In the satellite imagery, most of the stubble burning is shown concentrated in Punjab, with winds blowing from the state towards Delhi. 
"The belt of smoke from Punjab to Delhi unambiguously tells us that the winds are predominantly northwesterly at lower levels of the atmosphere, taking along the gaseous and particulate matter emitted from crop burning in Punjab over to NCR (national capital region) via Haryana," Jethva said.