Apple has found a man it feels can put an end to its woes in one of its fastest-growing markets.
On Nov. 13, the iPhone maker appointed Ashish Chowdhary as its new India country head. He will join the company in January 2019, the company confirmed to Quartz.
Chowdhary comes to Apple from Finnish phone manufacturer Nokia, where he's spent 15 years in various capacities. Starting out as country head India in 2003, he climbed up the ranks, and currently serves as the chief customer operations officer, overseeing Nokia Networks' sales and operations globally.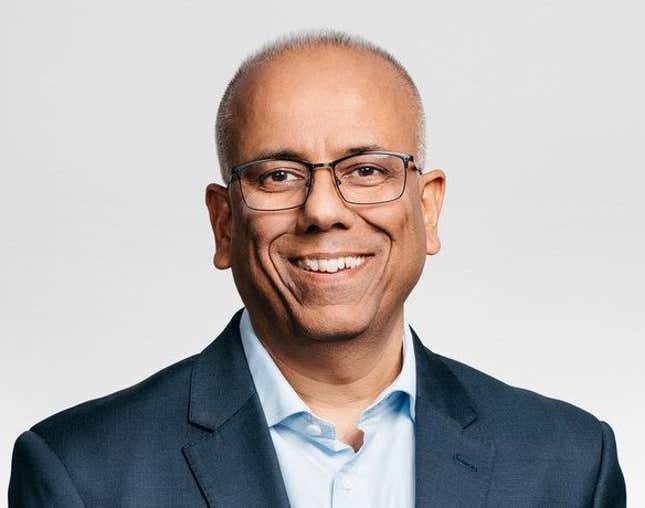 Nokia confirmed his exit to The Economic Times newspaper, saying, "Chowdhary will continue to lead customer operations and remain a member of the Nokia group leadership team until the end of 2018. He will then leave Nokia to take a leadership position in another company."
The 53-year-old has a degree in mathematics from the University of Delhi and a master's degree in computer science from Emory University in Atlanta, US. He also holds an MBA from the prestigious Wharton School, University of Pennsylvania, in Philadelphia.
The Nokia veteran, who lives in Delhi, is taking the reins from Michel Coulomb, a French national who has been with Apple since 2003. Coulomb was serving as Apple's managing director for south Asia since 2016, before he took additional charge of India operations in December last year. The move was prompted by the resignation of Sanjay Kaul after six years of leading Apple's India operations.
"Since he knows India and has been in Nokia, Chowdhary brings a local country flavour that he understands better than somebody from the outside," said Navkendar Singh, associate director at the International Data Corporation (IDC).
Cumulatively, Chowdhary has spent a quarter of a decade in the telecom industry—prized experience for Apple, which is now struggling to grow its sluggish sales in the country.
The slump
During Kaul's tenure, Apple had gone from paying almost no attention to Indian users to ramping up efforts to make the world's second-largest smartphone market its next frontier for growth. Coulomb's year at the helm, though, has been a roller-coaster ride of sorts for Apple—one with many drops and not enough peaks.
The Cupertino-based behemoth lost its grip on Android-loving Indians as its smartphone market share halved to a little over 1% in the first half of 2018. Meanwhile, rival flagships like China's OnePlus zoomed ahead.
After Kaul, three other key executives also quit in India. More recently, courtesy the plummeting value of the rupee against the dollar, the overall India business, which includes sales of iPhones, iPads, Apple watches, and Macbooks, was "flat" in the September quarter.
The unaffordability and inaccessibility of Apple's products remain matters of concern: Newer iPhone models with obscenely high price tags have a massive 20% customs duty levied on them. Besides the relatively unsuccessful iPhone SE, there's been no effort put into manufacturing devices in the country to reduce costs. Despite securing permission nearly two years ago in January 2016, there's no word yet of setting up storefronts to increase its slim physical presence either.
In recovery mode
Recently, though, Apple has begun cleaning up its act to chase value instead of volumes, experts say.
It has made attempts to curb costs by consolidating distribution channels and cutting back on the number of retail partners. It's also phasing out popular third- and fourth-generation iPhone models in the sub-$300 price band in a bid to drive up the average selling price.
"Under the earlier management, it was about getting volumes and letting markets discover price. Nearly two-thirds of sales came from older models. That dilutes a brand like Apple," IDC's Singh said. "Chowdhary will reinforce the price discipline and channel discipline put in place in the last six months."