Nearly half of India's engineering graduates are unfit for employment, yet engineers are the most employable among graduates of all streams in the country.
Some 52% of engineering graduates in the country are able to take on jobs soon after their courses end, a figure that has improved over the past year, following measures taken by the All India Council for Technical Education, according to talent assessment firm Wheebox's survey of 300,000 students and over 100 large employers.
In contrast to the findings on engineering, the MBA, another popular degree among Indians, has witnessed a 3% year-on-year drop in the employability of its graduates.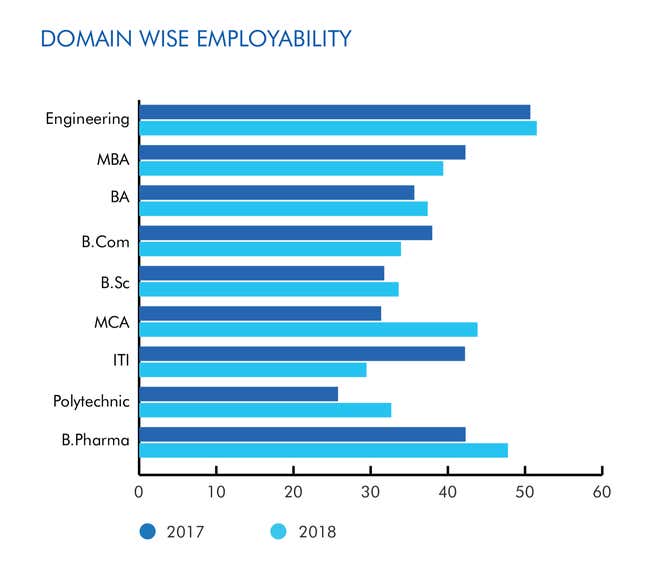 The survey report notes that overall employability in India, across courses, has risen to 45.6% this year, from 40% a year ago. Students graduating from trade schools, known in India as industrial training institutes (ITIs) or polytechnic colleges, are the least employable.
"Employers need to work with education providers so that students learn the skills they need to succeed at work, and governments also have a crucial role to play," the report said. "But there is little clarity on which practices and interventions work and which can be scaled up."
The need for reskilling students is urgent. The report notes that automation can kill 50% of the job activities being performed today. However, it could also give rise to new job roles that would require different skills. India's information technology and business process outsourcing sectors, which have seen rapid automation, "could hire up to 2.5 to 3 million more workers by 2025, provided they can acquire the skills needed to meet changing needs."
It is perhaps no surprise then that within engineering, computer science is the most employable major course, while those without a software core, such as chemical engineering, have become slightly less attractive to employers this year.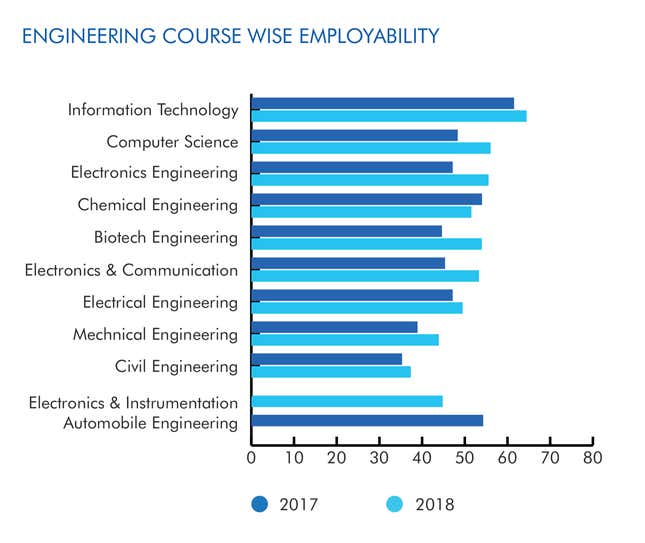 According to the report, automation will not just improve efficiency, but also make machines a part of the workforce alongside humans.
"The emerging nature of work coupled with the impact of automation is likely to mean that individuals and organisations will have to look at (new) skill sets… which aid either the design of interactions or interactions with both humans and machines," it says.
For many middle-class Indians, engineering courses are considered a passport to a successful career. But technical education in the country suffers from a serious dearth of quality.