India's luxury smartphone market is all set for disruption in 2019.
At long last, Google is set to break Samsung and Apple's dominance on India's luxury smartphone market.
"The luxe segment users who wanted to stay with Android had little choice and would eventually go with Samsung for its brand value and trust factor," a new study by market research firm techARC has said. "Now, with Google after its Pixel 3 launch, the market is expected to accept it as another evaluation brand in the category."
India is already the fifth-largest market for Google's Pixel line after the US, Canada, the UK, and Germany, Rushabh Doshi, an analyst at Singapore-based market research firm Canalys, told Quartz. Shipments of Pixel, Pixel XL, Pixel 2, and Pixel 2 XL surpassed 100,000 units in 2017 and 2018, he added.
And the California-based giant is trying to build a stronger footprint in the market on the back of digital campaigns with celebrities like Bollywood actor Anushka Sharma and cricketing star Rahul Dravid.
However, not all analysts think Pixel's journey in India will be smooth given how expensive it is. The Google Pixel 3 sells for over Rs71,000 (little over $1,000). Even after getting discounted to around Rs63,000 on Paytm Mall, it's still not able to rival competitors like OnePlus in the premium segment.
"The benchmark that OnePlus has set in $500-$700 segment, and number of features that it offers, is immense," Upasana Joshi, associate research manager for client devices at International Data Corporation India, told the Economic Times. The Shenzhen-based "flagship-killer" plays in the Rs35,000-40,000 range.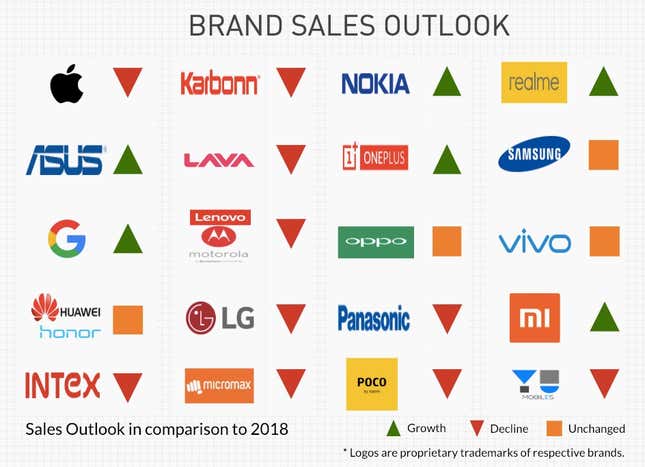 Winners and losers
Apart from Google, Xiaomi, OnePlus, Nokia, Asus, and Realme are also expected to report an uptick in sales next year, according to techARC's internal projections, validated through interactions across the value chain, including users, channel, original equipment manufacturers (OEMS), and component suppliers.
South Korean phone-maker Samsung and Chinese brands Oppo, Vivo, and Honor by Huawei will post flat sales compared to 2018.
Homegrown brands, though, will not be able to stop their downward slide.
Overall, India's mobile handset market will cross the 300-million mark in 2019, techARC estimates show.
Of these handsets, 149 million will be smartphones. Meanwhile, feature phones will witness a slowdown, selling just 98 million devices, falling within two-digit numbers for the first time.
Smart-feature phones, which are 4G-enabled feature phones that can house apps, is a relatively smaller but growing category. "There is a large replacement cycle due in 2019, for users who bought their first 4G smartphone between 2015-2017," said Faisal Kawoosa, founder and principal analyst at techARC. "This is going to bring back the double-digit growth for the segment in 2019."