Founded in 2007, Indian ad-tech firm InMobi had to sweat it out for a decade before it could enter the elite unicorn club. But lately, Indian startups have started reaching ten-digit valuations much faster.
Food delivery venture, Swiggy, for instance, was valued at a billion dollars within three-and-a-half years of its inception, while Udaan, a B2B e-commerce company, got there in just two.
Now, it takes five to seven years on average for a startup to become a unicorn in India, according to a February 2019 KPMG report.
This, according to the report, is faster than the seven to eight years average time taken by startups in the US; and only a tad slower than China, where entry to the club takes four to six years, on an average.
While being ahead of Silicon Valley sounds like an achievement, experts warn that the shorter timelines to reach $1 billion valuations is pretty meaningless and says nothing about the overall health of an ecosystem.
A façade?
In ecosystems where startups take less time to become unicorns, there is a high chance that a handful of companies are cornering the rest to pocket a lion's share of the funds, analysts warn. The rest of the ecosystem, meanwhile, could be languishing.
Training the lens on just the unicorn activity, therefore, doesn't paint the full picture—it just sheds light on the ultimate success stories. "This whole unicorn obsession is misplaced and doesn't measure the value that the startup will eventually create for the ecosystem," says Yugal Joshi, vice-president at Texas-based consultancy Everest Group. "It depends on how willing the investors are to put money in an idea, many times driven by herd mentality and global pressure, than the soundness of the business."
To be sure, India is a hotbed of startup activity. In 2018, the country added more startups than it has ever done in the past.
India is attracting marquee investors from the world over. Some of the biggest investment rounds in India in 2018 included Oyo's billion-dollar fundraise led by Softbank and PolicyBazaar's entry into the unicorn club after the Japanese investing giant led a $200 million funding round for the insurance-tech startup.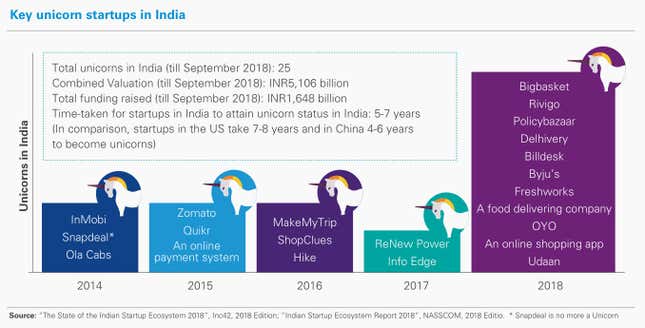 In 2014, startups in India raised $331 billion, KPMG's report noted. In the first nine months of 2018, this amount doubled to reach $665 billion. In all, startups raised Rs2,784 billion in funding between January 2014 and September 2018 from over 3,700 deals.
More than half of the funding raised in the aforementioned nearly five-year period was secured by e-commerce, fintech, and transport tech firms, KPMG said.
Still, there are just 13 billion-dollar startups in India today, according to New York-headquartered market research firm CBInsights. In India, so far, "investors concentrated their capital in few selected startups, instead of making thin investments across more number of deals," KPMG said.
Given the concentration of funding at the top of the pyramid, India does not have much reason to cheer. Factors beyond average time taken to become a unicorn must be assessed to get a complete picture.
China vs US vs India
"The difference between India and the US (in terms of time to achieve unicorn status) is very nominal," said Harish HV, an independent consultant who tracks the startup sector. "China is clearly faster."
China has a closed market and the companies there do not face threats from their global rivals, Harish HV explained. For instance, the ride-hailing behemoth Uber had to drive out of mainland China in 2016, while it competes neck-to-neck with homegrown Ola in India, which is "an open and freer market."
The communist country produces one unicorn every three days, according to Rupert Hoogewerf, chief researcher and founder of the Hurun China Rich List.
"China by its very nature is a massive market and technologically advanced. The market hardly uses credit cards; they have directly jumped to wallets and mobile money," said Everest Group's Joshi. "Therefore, disruptive ideas are welcome in that market and the technological and social infrastructure allows those ideas to flourish."
While the US's timelines seem to stretch a little longer, the western nation has set the tone for India's startups. The closeness of Indian startups to successful US-centric models—say, hotels group Oyo which was initially inspired by vacation rental-startup Airbnb—has also been an asset to draw investors in.
And despite startups in the US taking longer to grow, the number of unicorns in the country are far more than India's total. There are currently 145 active unicorns in the US now, worth a cumulative $555.9 billion. Meanwhile, India's unicorn population is still hovering in the low two-digits.
However, there's still ample room to grow in India. But first, India has to overcome a few hiccups plaguing its massive billion-plus population.
"The chief challenges are that our per capita income is way below for a billion user yield yet (and) internet connectivity is a long way to go," said Vidhya Shankar, executive director at Grant Thornton India LLP. "We need to broaden and deepen reach through multiple languages and we certainly need enterprise market to take off wherein buyers focus on product efficacy and shed this service mindset."