The second "O" in the Google doodle today (April 11) has been replaced by the drawing of a hand with an outstretched, inked finger—a representation of someone who has voted in India.
The doodle marks the beginning of India's 2019 parliamentary elections, which will take place in seven phases starting today through late May.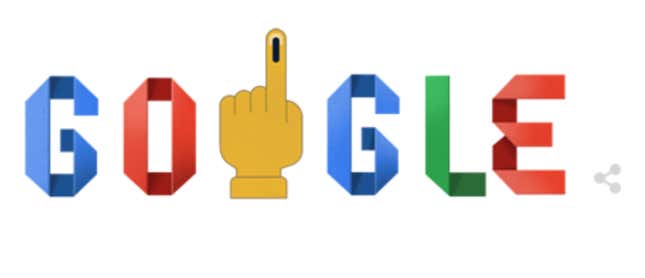 India's election, which will be the biggest democratic contest in history, could see as many as 900 million eligible voters visit over a million polling booths, which will be manned by 11 million election personnel. Today, 91 constituencies across 20 states go to the polls.
When clicked on, the Google doodle returns information from the Election Commission of India (ECI) about how the voting process works, including frequently asked questions such as how to check if your name appears on the electoral roll, how to check different candidate names, how to use electronic voting machines (EVM), and more.
In 2014, on the counting day of the last parliamentary elections in India, Google's doodle was very similar to the current one: a hand with an inked finger replacing the "L."
Electoral ink is a semi-permanent dye that is applied to the forefinger after voting in India, to prevent instances where people vote more than once. Besides India, the ink is used or has been used in around 30 countries across the world, including Afghanistan, Guatemala, the Philippines, and South Africa.
Read Quartz's coverage of the 2019 Indian general election here.