In selfie-crazy India, even elections cannot happen without a click.
Indians are so obsessed with taking their own photographs that Chinese selfie apps have found one of their biggest markets in the country. Some Indians are even willing to go under the knife for that perfect picture. There's a darker side to all this: In 2018, the country topped a ranking of 159 nations with the highest number of selfie deaths.
This election season, Indian voters who can't wait to flaunt their inked fingers can have a photoshoot right outside their polling station.
In the remote district of Gondia in rural Maharashtra, a selfie booth has been set up for voters, according to a Twitter post by the election commission India (ECI) spokesperson's account.
Ironically, standing behind a cardboard cutout means you can't actually take a selfie—someone else has to take a photo of yours.  Still, it serves the purpose of sharing that "I voted" photo on social media.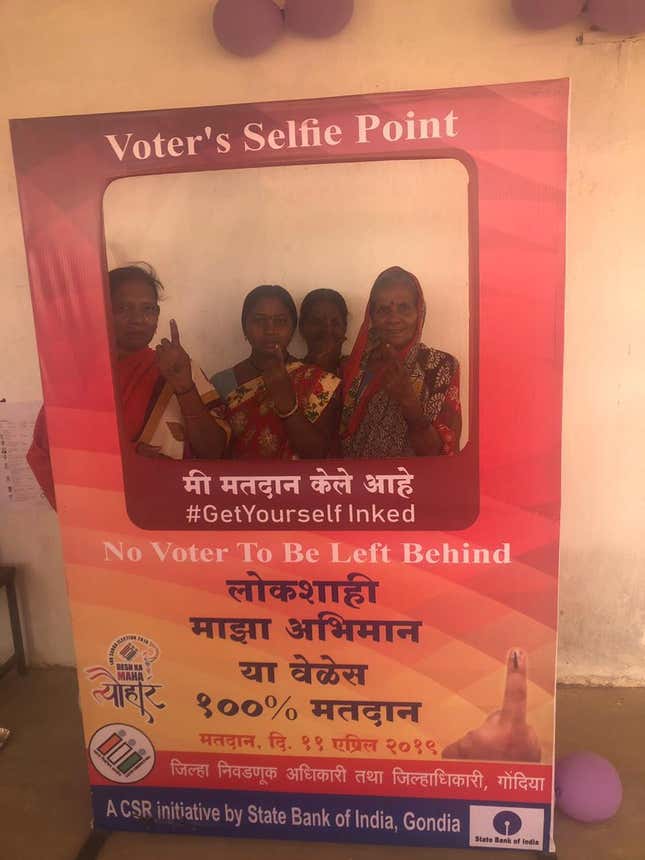 In many constituencies, full-fledged competitions have been launched. In Mizoram, for instance, the poll panel is organising a selfie contest to encourage the over 50,000 first-time voters in the constituency to go out and vote.
To participate, "eligible young voters would have to post selfies showing their finger marked with the indelible ink or their voters' identity card on Instagram with the hashtag #MizoramVotes, or send it to the election office's WhatsApp number," an election official told NDTV. The three top selfies chosen would win Rs7,000 (around $100), Rs5,000, and Rs3,000, respectively, along with a certificate.
District magistrate Manish Verma in Kaushambi, Uttar Pradesh (UP), has also initiated a similar campaign. Besides, through social media posts and WhatsApp messages, Verma has allowed voters to submit hard copies, too.
Major politicians in the country have been cashing in on the selfie craze as well. Prime minister Narendra Modi, a selfie king of sorts himself, set up thousands of booths for people to take photos with his cardboard cut out back in 2015 and partake in the #SelfieWithModi campaign. More recently, while campaigning in Uttar Pradesh's Ghaziabad district earlier this month, the Indian National Congress party's Priyanka Gandhi took scores of selfies with supporters.
A gentle reminder to everyone, though: Let the photos wait till after you have voted. Clicking a selfie inside a polling booth could put you behind bars.
Read Quartz's coverage of the 2019 Indian general election here.