In the final hours of campaigning on May 16 in West Bengal, Dum Dum, on the outskirts of Kolkata, was the theatre of prime minister—and Bharatiya Janata Party (BJP) leading candidate—Narendra Modi's speech.
In a formerly communist state where the leading Trinamool Congress (TMC) has a strong hold, and the Muslim minority is close to representing a third of the population, the BJP struggles to find the massive popular support it enjoys in neighboring states. People headed to the speech from other parts of the city and surroundings, many with paper invites, showed that the party had done a good coordination job.
The crowd had been gathering for a couple of hours prior, despite the unforgiving summer weather (earlier in the day, the perceived temperature had reached 50°C, or 122°F). Sachets of cold, sweet beverages were distributed to the people waiting. Some of them had received an English-language SMS on their phone, announcing the speech at 6:15 pm, and providing a number to listen in for those unable to participate in person.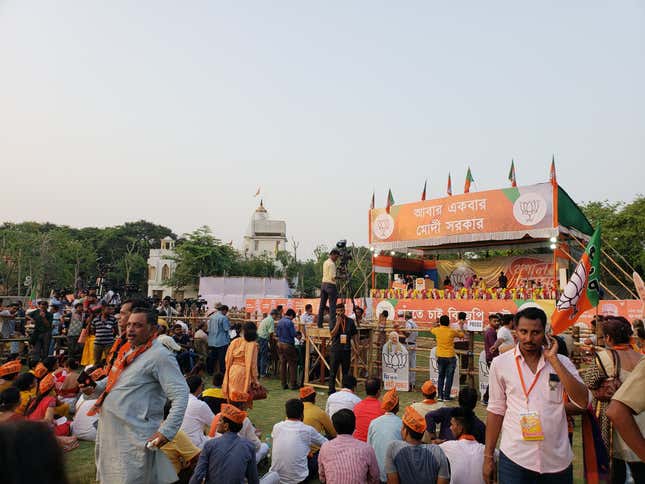 The attendees, which included a large number of lanyard-wearing party workers, sported all sorts of swag: flags, pins, hats, scarves. Many in the crowd dressed in saffron hues, too, the BJP's favorite, charged with Hindu connotations (it is considered a sacred color for the religion). The large ground was far from packed—the organizers and security forces told Quartz they expected about 100,000 people, but the number was only a fraction of that—and the atmosphere somewhat relaxed. Chants of Vande Mataram (a verse from a poem incorporated in the national anthem, literally meaning "I praise you, Mother," referring to Mother India, which nationalists have long tried to co-opt) faded quickly as people sweated away, sitting down and chatting in small groups. Election fatigue appeared pretty real.
"Our beloved leader has come," commented Biplob Mukherjee, a commerce teacher and BJP party worker of eight years, as he waited to go through security checks.
Near the front of the stage, Kalyan Mandal, a Hindu, went around giving people saffron tilakas (forehead marks), together fellow party member, Suparna Poddar. A fervent Modi supporter ("He is a good man," she told Quartz, "and his work is good"), Poddar had no hesitation in discussing what she thinks is the main threat to India, and West Bengal: "India is almost a Muslim country," she told Quartz, lamenting the size of the Muslim population (according to the latest census, Muslims make up about 14% of the Indian population).
Subhash Sen, an advertising worker who proudly shared his business card, to which he had added both Modi and Amit Shah's portraits next to his, was equally outspoken. "Hindu Hindustan (India) is the most important right now," he said. Modi's "mission and vision" are good, he says, but he is mostly concerned about getting "the rule of Ram." "West Bengal is 40% Muslim," he said (the latest projections, based on the 2011 census, say 30%), "and they are 100% of the problem." He is convinced that Muslims in the state enjoy higher privileges than Hindus, and are involved in illegal activity. Asked how is he so sure of that, he replied, echoing Modi himself, "Hindus don't do illegal activities."
Befittingly, from the stage, a local party leader trying to warm up the crowd shouted what sounded like a litany of Hindu mythological figures, to which the crowd replied with a chant of "Jai Sri Ram," (hail Lord Rama) which, like the previous chant, quickly died down.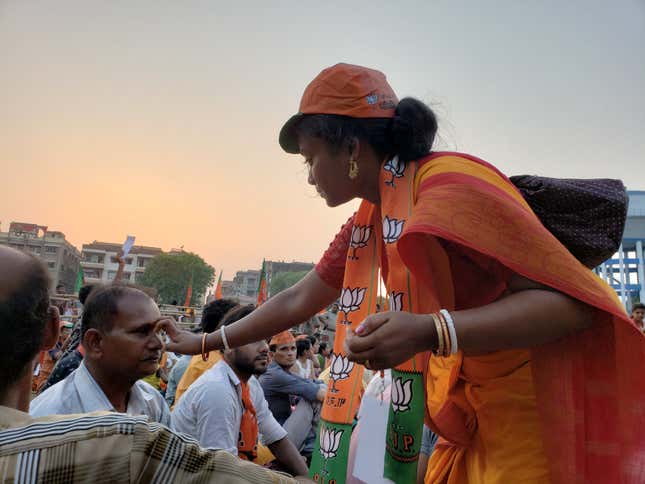 Also present were Modi backers who saw things differently. A group of three women (Lucky Mistiree, Laxmi Das, and Konika Mandal), described Hinduism and Islam as "two flowers of the same tree" (the tree being India)—though they clarified they are Hindu. The reason for their support of Modi was rather due to some of the schemes enforced by the central government—including programs improving sanitation and providing clean cooking stoves—and a dissatisfaction with the local TMC's work.
Modi came on, as he is known to do where the crowds may not meet the expectations, shortly after dusk. Spectators were asked to welcome him by turning on their mobile phone's torches—which made the audience look both larger and lighthearted, a vibe one wouldn't necessarily associate with Modi's solemnly aggressive rhetoric. The prime minister spoke emphatically for over 45 minutes, slowly enunciating each of his words, many of which were personal attacks to West Bengal's chief minister Mamata Banerjee.
Attendees started leaving long before the address was over, eager to get out before the majority of the crowd moved. Away from the stage, people stood in the streets, their eyes glued to the maxi-screen showing the speech—a scene that seemed a bit of like a dystopian, future embodiment of a 2004 Spike Lee ad in which he imagined Mahatma Gandhi addressing the world through internet connections. In his video, Lee wondered what impact Gandhi's "One World" speech—in which he advocated for peaceful relations between Asian countries, and with the world—would have had if broadcast worldwide. In Dum Dum, Modi was closing a campaign full of attacks on Pakistan and Muslims; only a day prior, one of his party's candidates called Mahatma Gandhi's killer "a patriot" (paywall).
Not far from Dum Dum and across all of Kolkata, more rallies were held through the evening, and speeches echoed in the streets. Various candidates and party workers, standing on makeshift stages—the once-ruling communists, the leading TMC—addressed small crowds sitting on plastic chairs in the sweaty evening, their voice amplified by excessive loudspeakers before, at 10pm, in an oder believed to favor Modi, all political microphones had to be off. Sometimes, the sounds of different speeches crossed one another in the air, including Modi's, reprised in the news: a cacophony that was a perfect synecdoche of the past few weeks on the campaign trail.
Today's vote (May 19), and the results on May 23, will finally tell which voice reached most ears.
Read Quartz's coverage of the 2019 Indian general election here.