Before Ola was founded nearly 10 years ago, Indian techies' ultimate dream was to find a job in the US. They spent years preparing for one of the world's toughest entrance exams and prayed at "visa temples" just to get a chance to go "onsite" with a "dollar salary" and eventually maybe get a green card.
When the first wave of new-age internet startups sprung up in India and started luring young professionals towards entrepreneurship, many did not understand the trend. Several Indian founders who started out around 2008 say their parents were shocked that they had turned down a job offer from Infosys or Wipro to set up their own companies. Neighbors and relatives expressed sympathy because they had given up coveted opportunities for a risky dream.
But more recently, that attitude has changed. "When we go to colleges today—and I am not talking only about the IITs—most students there want to become entrepreneurs…Role models are changing. They are Ritesh [OYO founder Ritesh Agarwal] and Bhavish [Ola founder Bhavish Aggarwal] and all, unlike our times when it used to be Bill Gates and Steve Jobs, etc. Today, it's not even Satya Nadella," Debjani Ghosh, president of India's IT industry body Nasscom, told Quartz India.
There's a reason for this shift, and Aggarwal's Ola has a lot to do with it.
Founded in December 2010, Ola is India's largest homegrown ride-hailing venture. Currently, the $6.2 billion company is India's third-most valuable tech startup. That's despite the fact that Ola wasn't India's first cab aggregation platform—Meru, founded back in 2004, has that honor. But in time, Ola has become the face of India's burgeoning gig economy.
Like many of those early startups, Ola appeared to have begun as a copycat business, in its case by aping global ride-hailing giant, Uber. However, it soon started innovating for the local market to compete with the American company, which it claimed was "carpet-bombing" India. Ola introduced cash payments, offered offline bookings, and spread its net far and wide across India.
As it quickly grew, foreign investors took note. Seeing a formidable rival for Uber, some investors like China's Didi Kuaidi pumped money into the Indian company to stymie Uber's rise in the region. Others, like Japan's Softbank, bet on both.
Although it was Ola that had captured their attention, those same foreign investors began to identify other opportunities in India, and the momentum in the startup economy as a whole accelerated. Between 2014 and 2018, over 753 startups received Series A and B financing, raising over $10 billion in more than 1,000 deals. SoftBank plans to invest between $2 billion and $4 billion in India by 2021, eyeing smaller deals. China's Tencent has been betting big on Indian startups amid a slump on its home turf. Ola itself has contributed to the ecosystem by backing different ventures such as online lending platform Avail Finance and scooter-sharing startup Vogo.
In 2008, there were 7,000 startups in India. By 2018, there were 50,000.
Over that period, Ola has retained its luster, even though a path to profitability remains elusive. From its roots in ride-hailing, it has expanded into multiple other sectors, including financial services, food tech, and electric mobility. Its founding duo, Aggarwal and Ankit Bhati command celebrity-like status. They were the youngest entrepreneurs to make India's super-rich list in 2015, and in July of this year, Aggarwal won "CEO of the year" at the south Asia SABRE awards, a year after landing on the TIME 100 list of the world's most influential people.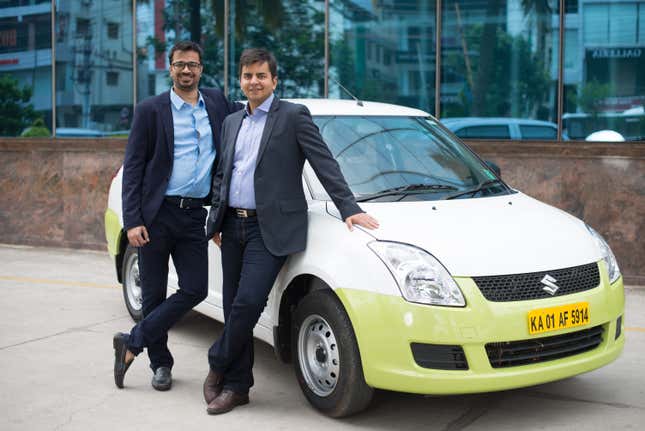 Table of contents

ORIGIN STORY
Ola, it's me!
After graduating from the prestigious Indian Institute of Technology (IIT) Bombay in 2008, Aggarwal went to work at Microsoft. A couple of years later, he quit and partnered with Bhati, another IIT-Bombay alumni, to set up Ola Trips, a website that offered tour packages.
On a road trip with his friends, Aggarwal's ride was bumpy and uncomfortable. Halfway, their driver went rogue and demanded extra money to continue. That experience echoed the difficulty he and Bhati would have incorporating unreliable cab services into their Ola Trips' tours.  Before long, they decided to launch their own car services, OlaCabs.
"The idea for Ola came from our own experience," Aggarwal told Quartz India. "Mobility in our cities, even large metros, was inconsistent and there was a huge opportunity to create value."
Officially launched on Dec. 3, 2010, OlaCabs was initially headquartered in Mumbai, but by mid-2012, it shifted its head office to Bengaluru, India's Silicon Valley. Business boomed. Within five years, Ola (it dropped "Cabs" from its name) was a unicorn, worth over $2 billion.
Its upward trajectory was fueled by the smartphone and internet revolution in India. Between 2013 and 2019, India's smartphone penetration grew from 6% to 28%, according to Mobility Foresight, a Bengaluru-based research firm. In mid-2016, the app economy there got a big push when the country's richest man, Mukesh Ambani, launched his telecom venture, Reliance Jio Infocomm, offering mobile data at dirt cheap prices. By June this year, India posted the world's highest data usage per smartphone of an average 9.8GB per month, largely thanks to Jio.
Meanwhile, the app-based ride-hailing sector underwent its own revolution as players experimented with ride-sharing and bike taxis to make their services more affordable. It supercharged growth. Now, both Ola and Uber earn around 78% of their revenue in India from low-cost ride options, according to Mobility Foresight.
DATA BANK
Ola by the numbers
6 billion: Ola's valuation, in US dollars, as of May 2019.
2.83 billion: The amount of funding, in dollars, Ola has raised so far.
150 million: Number of users Ola serves.
2 million: Number of Ola cabs/drivers on the road as of September 2019.
2.5 million: The number of bookings made on the Ola app each day as of May 2019
7,500: The number of people Ola employs. The sales team is the biggest at 40% of the total workforce, while around 20% of the staff are techies working in product and engineering. The remaining employees are in on-field operations like onboarding drivers, and support teams.
250: Number of towns and cities Ola operates in worldwide.
24-27: The average age of an Ola employee.
9: The number of languages Ola's driver app is available in.
4: Number of countries Ola currently operates in: India, Australia, New Zealand, and the UK. It has its eyes set on Amsterdam next.
Ola's options
Ola offers a whole range of on-demand ride-hailing categories across price bands and vehicles. Users can toggle between them on the app to check waiting times and estimated fares.
Here are the various choices:
Ola Micro: The most economical AC cab option on the app
Ola Mini: A hatchback for pocket-friendly rides
Ola Prime: This is the top of the line, offering sedans with top-rated drivers. These cabs often come loaded with free wi-fi and Ola Play, a tablet on which a passenger can listen to music, read eBooks, watch videos, and browse the internet.
Ola Outstation: Offers over 10,000 inter-city routes across the country, which customers can book up to a week in advance or an hour prior to travel.
Ola Rentals: Affordable hourly packages where a driver ferries you around to running multiple local errands.
Ola Auto: Three-wheeler rickshaws. Over 500,000 state-licensed auto-rickshaw drivers are registered on the Ola platform across 77 cities.
Ola Bike: A "last mile" motorbike service with prices as low as Rs5/km.
Ola Corporate: Lets business customers hail cabs and pay using their company's pre-paid account. Ola says it has over 3,500 corporate clients in 22 industries.
Ola Share: Available in 25 cities, it lets riders share rides to reduce bills, as well as pollution and congestion on the roads.
Ola has also recently begun piloting its self-drive car rental service in Bengaluru. It is apparently in talks with luxury carmakers BMW and Audi to include their vehicles in its fleet, which will be offered either as rentals, subscription plans or corporate leasing deals.

SLUGFEST
Competition is "Uber" tough
When Uber entered India in 2013, Ola already had a three-year head start. But the San Francisco-based company came with very deep pockets, and several years experience operating in multiple countries. Today, the duo dominate India's $10 billion ride-hailing market. Both have been investing heavily in marketing and expansion—entering new cities, onboarding vehicles, and launching new services.
Both Ola and Uber offer near-identical services but there are certain factors that work in favor of the homegrown company. Here's what's working for and against Ola:
Meanwhile, American rival Uber is splurging big on solidifying its tech infrastructure. In December last year, Uber said it will double the size of its tech teams across Bengaluru and Hyderabad, which stood at 500 at the time. Also, the company has been localizing its international services to better serve Indians. One example of that is UberBOAT, which ferries passengers from Mumbai's Gateway of India to Alibaug and other islands. And in June 2018, Uber launched a pared-down version of its app, Uber Lite, to help users in a country where internet speeds are among the slowest in Asia.
Although Uber is Ola's biggest rival, the company must also keep an eye on several smaller players who have managed to survive the onslaught of the two giants.

DONT COUNT THEM OUT
The fighters
One of the earliest movers in the sector, Mumbai-headquartered taxi cab service Meru, lost out when Ola and Uber started giving heavy discounts to customers. To fight back, Meru approached the antitrust watchdog Competition Commission of India at least twice, alleging that Ola and Uber (which both share SoftBank as an investor) were using their access to deep cash reserves to distort the market. The complaints were rejected both times.
Meru figured its next best bet was to set itself apart. So, last year, it began pivoting to the business-to-business (B2B) market, with some success. The B2B category accounted for over 40% of Meru's revenues in 2018 and the company hopes to grow that to three-quarters by 2021. Recently, India's leading automaker Mahindra and Mahindra acquired a 55% stake in Meru for Rs201.5 crore.
Some other notable smaller players include:
Lately, though, Ola is competing with more than ride-hailing companies.

Jack of all trades, master of some
Ola has made many incursions beyond ride-hailing.
For instance, in May 2017, Ola ventured into electric mobility with a pilot project in Nagpur, a large city in Maharashtra. Now, Ola Electric Mobility (OEM) is a standalone electric vehicle (EV) company worth over a billion dollars. It has the financial backing of billionaire business tycoon, Ratan Tata, among others. Pawan Munjal, chairman of Hero MotoCorp Ltd—the company that clocked the highest two-wheeler sales in India in July—is reportedly looking to invest in OEM.
The company's financial services offering, Ola Money, was spun-off into a separate app in April this year, after forging partnerships with popular platforms such as hotels group OYO Rooms, online eyewear store Lenskart, and music streaming platform Saavn.
Here are some of its other forays:
Ola's $200-million acquisition of rival TFS in March 2015 was a giant leap for the company. The two were slugging it out for several years; buying it gave Ola a big chunk of the market overnight. Although it didn't break down TFS' exact contribution, between November 2014 and August the following year, Ola claimed to have increased its market share from 60% to 80%.
At the time, Ola was just five-years-old and was valued at around $2.5 billion. With its largest homegrown rival out of the way, Ola's valuation doubled to $5 billion when it went into its next round of fund raising six months later. The next year, Ola killed off TFS altogether, saying that all driver-partners and customers had migrated to its own app.
Acquisitions like Ridlr and Pikup.AI helped Ola deepen its tech capabilities. Four months after launching its wallet, Ola Money, in November 2015, Ola picked up digital payments startup Qarth to bolster that part of the business.
"Many of the businesses that we run today like Ola Financial Services, stemmed from problems like payments, that we went after to solve for our customers," said Aggarwal. "They have evolved into independent lines of business that serve a larger spectrum of products and services today with the same philosophy."
While most of the acquisitions have been additive to the business, Ola's tryst with food delivery—an industry that is forecast to grow into a $2.5 billion-plus business by 2021—has been instructive.

WHOOPS
Failing on food
Ola Store: Launched in July 2015, it delivered items that are daily essentials, like groceries. It managed to secure prominent brands names such as PNP Retail, Top-n-Town, and Namdhari's Fresh, among others, as partners. But, in less than a year, it was shuttered due to a lack of synergy.
Ola Café: Also started in 2015, this food-delivery business focused on quick delivery from a vast choice of restaurants. However, the model fell flat and Ola Café was shut in 2016 owing to stiff competition from seasoned players such as Swiggy and Zomato.
Foodpanda: In December 2017, Ola acquired Foodpanda in a $200 million, all-stock deal. The acquisition came seven months after Uber had launched its meal-ordering app, UberEATS, in six Indian cities. Foodpanda gave Ola access to a network of over 15,000 restaurants across over 100 cities. By early 2018, Foodpanda's deep discounting strategy started to crumble. The average order value on Foodpanda fell from over Rs300 to under Rs120 during 2018. And by 2019 its reach and market share fell drastically.
Ola decided to pivot the business, reportedly laying off 40 employees and 1,500 delivery executives at Foodpanda in May, and delisting third-party eateries to turn its attention to private kitchens such as The Great Khichdi Experiment, Lovemade, FLRT Brands, and Holachef.
"Food is an exciting space to be in for a consumer platform like Ola. We have been very entrepreneurial in our approach and have made the most of our past experiments," said Aggarwal. "The way our food business is now shaping up, we are confident about Ola building some of India's most loved food brands in the time to come."
The pivot seems like a good bet as Foodpanda goes beyond listing restaurants and making deliveries. "These hi-spec kitchens are usually in inexpensive locations and use data to optimize low overheads and increase output, making them highly efficient and as a result way more affordable and accessible," Sandeep Murthy, partner at Lightbox VC and an early investor in online kitchen brand Faasos, told Quartz India in May.
The buzz is that Ola plans to open physical outlets under the Foodpanda brand for private label kitchens and list them on the more popular food delivery apps such as Zomato, Swiggy, and Dunzo.

ALL IN THIS TOGETHER
Hiring the hungry
E-commerce arrived in India much later than it did in the US and China. But the mobility ecosystem in the country is evolving at more or less the same pace as most other countries, depriving Ola of a successful overseas model to follow. So, the company is hiring self-starters who are willing to go through the grind and figure out what will work.
Going through the grind
All entry-level executives who join Ola out of college are put through a year-long job rotation program called Elevate. In the first two months of the program, all new employees—no matter what their qualifications are—are expected to understand every nut and bolt of the business. "Several MBA graduates from IIMs, for the first two months, will stand at the airport, ushering customers to the Ola pick up points. Others will put an ear to the ground with repair and maintenance store work or go to Foodpanda's kitchens and do the cutting, chopping, and delivery," a company official said.
Trainees spend the remaining 10 months of the program on assignments with mentors, after which they are absorbed into full-time roles.
Ola also encourages its employees to upskill. For instance, it runs training programs on various topics where employees can collect points to redeem for courses at top colleges. So when an HR professional attends internal seminars on compliance, benefits, labour laws, gender sensitivity, or cultural sensitivity he or she racks up credits that can be cashed in to pay for courses at any of the 20 Indian Institute of Management (IIM) campuses, Xavier School of Management, or other HR-centric institutes. Similar incentives are available for all other departments.
Another program called Accelerate targets employees with three or four years of experience, and offers them a one-year in a curated leadership development program. Employees also have the option to apply for two- to three-month sabbaticals to pursue other interests and return to their jobs at Ola.
The office environment is built to encourage new ideas.
Free for all
For starters, the interior design of Ola's offices is a physical representation of its flat organizational structure. Unlike legacy businesses where the bosses sit in corner offices, Ola's workspaces are all open plan. No one gets their own closed cubicle—not even Aggarwal or Bhati.
The company has set "collaboration hours" between 10am and 5pm when employees are expected to be in the office to make it easier to facilitate face-to-face meetings and teamwork. Work-from-home and remote video-conferencing are available at a manager's discretion.
"We get to choose what we want to do. You get to think out-of-the-box, give your suggestions and options and implement them if the company thinks they are good, Anil Bajaj, a Bengaluru-based IT engineer who twice interned with Ola, told daily newspaper Times of India.
Its culture helps Ola retain employees. "The liberty to create things and to experiment is a big factor for employees staying at the company," said Srinivas Chunduru, Ola's group chief human resources officer and CEO of group company, Ola Skilling.
The company regularly hosts hackathons where hundreds of employees participate in solving real-life problems. "They stay in the office, we give them food, entertainment and rest areas. We pick up two to three ideas each time and implement them," Chunduru said. "That's work but that's also not work."
There are other goodies too. Ola runs a series of health and wellness workshops such as yoga and Art of Living courses at its offices. The workspaces have table tennis and fully-stocked pantries that serve as hangout spots. It's Bengaluru-office is dog-friendly, and around 30% of the staff has been taking their pets to work two to three times a week.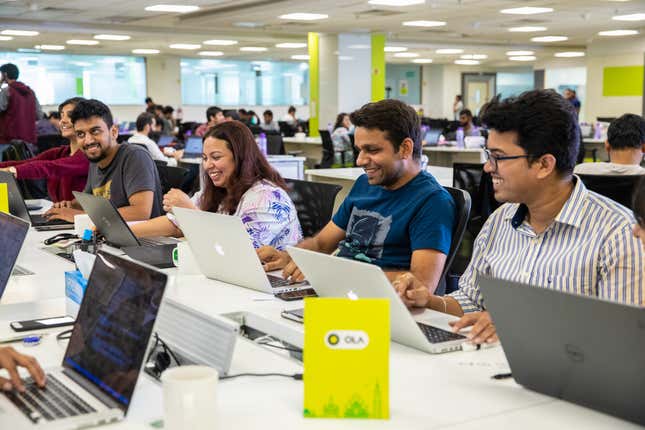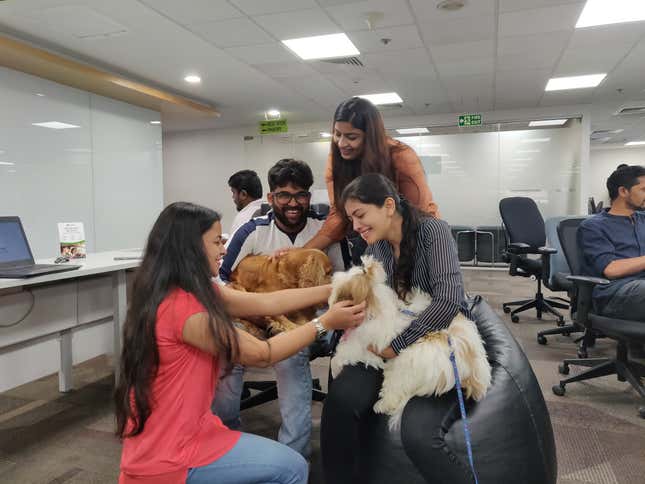 Driving drivers
Outside of the four walls of its offices, Ola is creating opportunities for unemployed youth in less populated parts of the country. It now has over 2 million drivers.
Ola recruits 18- to 25-year-olds and enrolls them in a 250-hour training program to learn different skills such as driving, spoken English, customer relations, smartphone usage and basics of finance. At the end of the program, these trainees have the option to become Ola drivers. These training drives are sponsored by the government's National Skill Development Corporation (NSDC) as well as Ola's corporate social responsibility funds.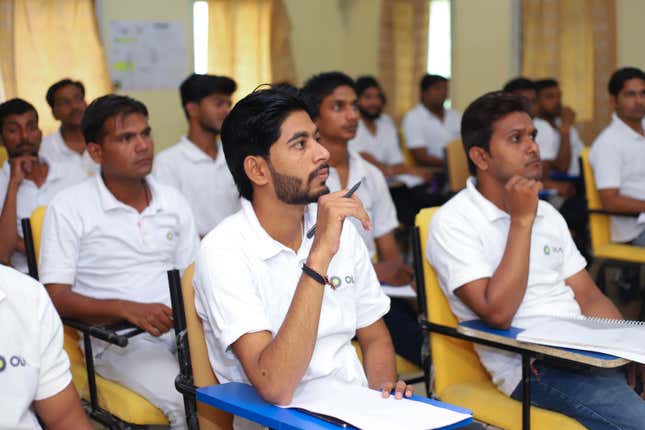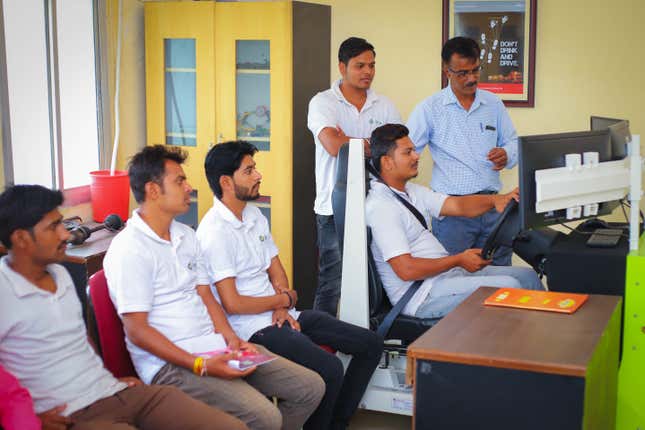 Ola has also been investing in upskilling its existing drivers by training them on tourism, how to maintain their vehicles, and various life skills. In the last few years, many Ola drivers have even become operators with small fleets.
Despite this reservoir of goodwill, Ola still has some vulnerabilities.

ON DIFFERENT PAGES
Miles to go
Initially lured by attractive incentives, many Ola drivers now complain of low incomes.
Having spent millions of dollars to lure drivers and riders for several years, both Ola and Uber have lately been rolling back discounts and incentives. And the people behind the wheel are taking the biggest hit.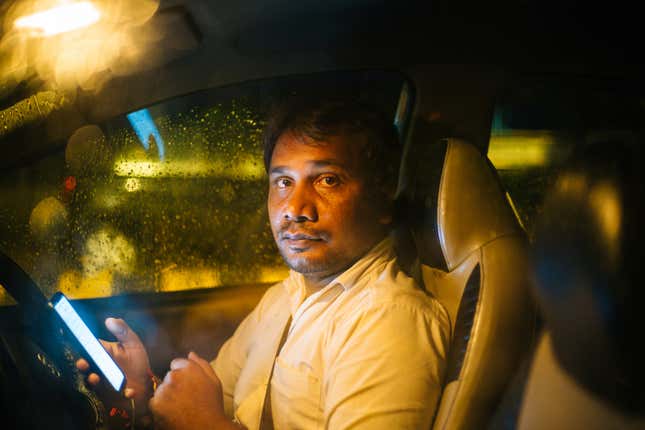 In October 2018, nearly 500 Ola drivers in Mumbai went on strike for over a week, demanding higher pay and base fares. A month later, Mumbai drivers protested yet again.
In March, over 150 drivers staged a protest outside the company's Bengaluru headquarters over a range of grievances including the behavior of Ola executives, differential pricing and the blacklisting of drivers based on user inputs.
Frustrated drivers have contemplated, attempted and successfully committed suicide.
Ola and its food delivery arm, Foodpanda, scored a measly 2 on a scale of 10 in a March 2019 survey that marked companies on five criteria—pay, conditions, contracts, management, and representation.
Now even customers are getting fed up. Surge pricing, booking cancellations by drivers, and long wait times are making them irate. And though the company claims to conduct rigorous background checks, drivers have confessed to being drunk on the job or have been caught harassing customers. In extreme cases, they've been found guilty of molestation, rape and even murder.
Cab aggregators have also run into trouble with government. In December 2014, days after a woman accused her Uber driver of rape, Delhi's city government banned all ride-hailing apps. It took some time for the Delhi high court to revoke the ban.
In March this year, the Karnataka government took away Ola's license for six months for operating bike taxis without approval. This was a huge blow because Bengaluru is Ola's biggest market with 120,000 cabs, of which around 65,000 operate on the Uber and Ola platforms interchangeably. Two days after the ruling, though, Ola cabs were back on the roads.
Maybe once the government lays down a proper framework for ride-hailing regulations, things will be different.

SEEKING HARMONY
Head barely above water
There's no doubt ride-hailing firms have become an everyday staple in India. Finance minister Nirmala Sitharam even tried to blame a slow down in car sales on the "Uber-Ola" mindset among millennials, saying they prefer to hail cabs over paying off loans to own vehicles. (There's some truth to this but other factors like rampant unemployment, high taxes, and parking woes, play a big role too.)
But whether Ola's growth is a surefire sign of Indian innovation or a stroke of luck in a rapidly-growing industry is a hotly debated topic.
Not all startups are half as fortunate as Ola is. More than 90% of Indian startups fail within five years of founding. Research and innovation is still largely lacking in the sector. And even now, the big startups like Flipkart, Ola, and OYO are hogging most of the VC money in the ecosystem, leaving a far smaller pool to support budding companies.
Still, Ola is persistent. While Flipkart sold to American retail giant Walmart for a whopping $16 billion last year, Ola co-founders have remained focused on remaining independent. Aggarwal even turned down a $1.1 billion funding offer from SoftBank in April. (SoftBank is also an investor in Uber, prompting repeated speculation that the two rivals will one day merge.) Ola says it plans to go public by 2021, even if its exact game plan is still up in the air.
However, as a beacon of success, Ola falls short on one important metric: profitability. Actually making money is still a far-off dream for a company whose losses are larger than its revenues. (Even Aggarwal's father worries about this.) And Ola has big backers—but not all startups can stay aloft like this.