He is one of the richest entrepreneurs of his generation, but hasn't bought a car in almost a decade. The one he owns is a Volkswagen Polo—hardly the choice of India's rich & famous. But then, Ankit Bhati also owns a company whose entire business model banks on weaning Indians off private vehicles.
Bhati, along with his Indian Institute of Technology, Bombay, batchmate, Bhavish Aggarwal, launched Ola in 2011. Over the years, CEO Aggarwal has become the cab-hailing company's face, while CTO Bhati spearheaded its technological evolution.
The Bengaluru-based unicorn's tremendous growth—it once touched a valuation of $5 billion—has brought with it considerable fame and fortune for its two founders. One of India's most celebrated technology firms, it is backed by elite investors such as as SoftBank, Tiger Global, and Sequoia Capital.
But Ola is still a David to Uber's Goliath, minus the underdog's appeal.
Competing with the world's most disruptive and valuable startup has often put Ola in an unflattering light. On platforms such as Quora and Reddit, the loyalty Uber commands among urban Indians is only too apparent. Patrons often cite its better prices, superior service, and an app much finer than Ola's.
Even within the startup ecosystem, Ola has been criticised for "copy-pasting" from Uber.
However, 30-year-old Bhati says it is Uber which has been aping Ola all along. "We have taken it as a natural certainty that whatever works in Ola, (the) competition will copy it," Bhati told Quartz. "(They)…take elements from our strategy and plug into their products." The biggest example, he points out, is cash payments.
Displaying its understanding of the Indian market early in the game, Ola offered customers the option of paying in cash. Uber, on the other hand, stuck to credit cards in a country where cash is king. The San Francisco-based company began experimenting with cash payments only around two years into its operation in India.
But isn't Ola's entire business model a replica of Uber's in the first place? In any case, for years now, Indian engineer-turned-entrepreneurs have been criticised for making "me-too" products, emulating successful ideas from elsewhere in the world. Bhati dismisses this criticism as simplistic.
"Taking inspiration from other places is not a bad thing. Enough people do it across countries, be it local Silicon Valley players or be it China or India or any other market," the mechanical engineer from Jodhpur said. But "nobody is successful just by copying."
Bhati recounts an incident: Soon after Ola began its upward trajectory in 2012, "there was one cab company that copied our whole website with source codes," but it did not survive. Real innovation involves re-inventing in accordance with the country's infrastructure, talent pool, and culture, he adds.
So, in Ola, his team has essentially taken a model designed for some of the world's most advanced economies and tried to make it work in a country where less than 30% of the population is online, often on extremely patchy and slow internet, and mostly on low-end smartphones.
At least till now, it seems to have more than just worked. Over the last few months in particular, the six-year-old startup appears to have been on steroids, launching new technical features to suit India's internet, and expanding into small towns and cities.
Going offline
Since last October, Ola has allowed users to book cabs through text messages even when they don't have an internet connection. A few months later, at the Google I/O in San Francisco, it launched a lightweight mobile website for users with limited data and limited RAM space on phones. At that time, Bhati had said that it represented Ola's "commitment to building technology that is made for India." Ola's app also supports nine regional languages for cab and auto drivers—rather useful in a country where only 10% of the population speaks English.
"India is not a homogenous market…Mobility challenges are almost on opposite ends of the spectrum when comparing tier one cities with tier two and tier three," said Bhati, who has included different types of vehicles—from cars to autos to buses and bikes—in his app, catering to people from various income groups and towns with limited road infrastructure.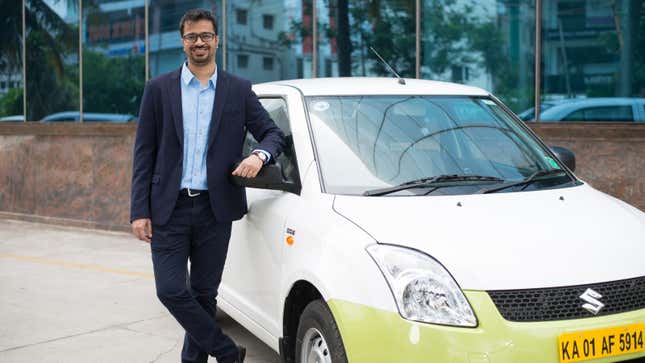 The startup also plans to promote electric vehicles and has put its systems in place in at least one Indian city. Along with the government of India and carmaker Mahindra & Mahindra, it launched an "electric mass transport project" in Nagpur, Maharashtra, last month. Ola has invested Rs50 crore to build charging infrastructure in the city, and the project would bring 200 electric vehicles, from cars to autos, on its app, the company has said. This launch coincided with the announcement of an ambitious plan by India: to run only electric vehicles by 2030.
Yet, is all this enough to guarantee success?
While Uber has not cast its net as wide as Ola in India—the American firm operates in 29 cities while Ola is present in 110—it is investing on local innovations in India, its fastest growing market. Uber has two engineering centres in the country and is "hiring rapidly," snapping up data scientists, designers, and product managers to work on payments, safety, maps, and the rider experience, among other things.
Bhati, who is a big fan of Apple co-founder Steve Wozniak, says he is not worried. "…By the time they copy us we would be far ahead of them in implementing it."
Ola, on its part, is leveraging on machine learning and data science to create supply and demand predictions. This will allow it to factor in both external variations such as traffic and rain and internal factors like life of the vehicle and driving patterns to maximise mileage. As Ola's network grows, the company will utilise the data to not only cut costs but also increase customer satisfaction.
Yet, it may not be all that simple.
This March, Uber overtook Ola in the number of app downloads in seven of the aggregators' biggest cities, a report by research firm KalaGato shows. Bhati, though, remains confident of Ola's growth as, he says, monthly or quarterly numbers often rise and fall.
"If we were to measure market share numbers on app installs within a window of time, that could just be an indication of the money you are burning on acquisition," said Bhati. "For us, expanding customer and partner base together makes more sense. Because if we go very aggressive on customer acquisition but there are no cars to cater to those customers, then we are not providing any service."
In the end, he says, the data he has is much more gratifying. "In terms of market share, we have the leading market share. In terms of customer base, we have more customer base than them."
Watch this space for the latest in this road rage.