The fireworks began much before the festival, when India's e-commerce giants rolled out glittering advertising campaigns, reportedly spending some Rs200 crore, last month.
That's a small indicator of the big prize that India's shopping websites including Flipkart, Snapdeal and Amazon are fighting for—the massive bump in sales in the festive season surrounding Diwali (October 23). Without dominating this season, no website can hope to lead the all-out war this sector has come to resemble. For smaller sites, this month alone can account for a third of their annual sales. And with every passing year, the size of Diwali sales is rising.
But what makes this online contest exceptional is that the entire e-commerce sector in India, too, is coming off an exceptional year. There's been a massive capital influx, strong growth in the user base and a steady uptick in adoption of online shopping, partly a result of improved economic sentiment since a new government took over in New Delhi.
"We have grown more than 600% in the last year or so," said Sandeep Komaravelly, senior vice-president for marketing at Snapdeal.com, which has 20 million registered users and reaches over 4,000 towns and cities in India.
"Given the increase in the scale of our operations, we are expecting a 100% jump from the sales we had last year during the festive season," Komaravelly added.
The company has already seen the results of their marketing efforts early on in the festive season. Between 3rd and 5 October, Snapdeal registered a 100% jump in sales and sold a smartphone every six seconds, a laptop every 20 seconds and a tablet every 30 seconds. A saree was sold every 30 seconds and a pair of shoes every 10 seconds.
"We expect it to be the biggest Diwali we have seen so far," Komaravelly said.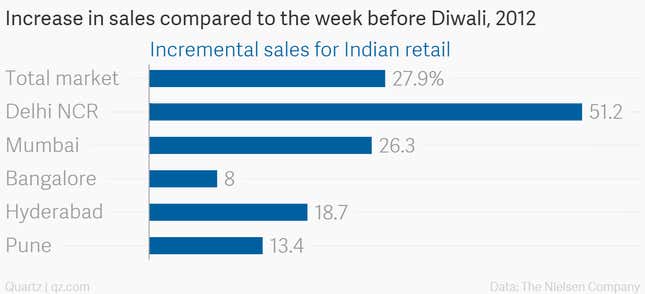 Flipkart, the other homegrown e-commerce giant, seems to have similar expectations with its 'Big Billion Day' campaign—purportedly India's biggest sale (currently underway, not entirely glitch-free), with deep discounts and offers across 70 categories. "A large chunk of the annual business happens in the time between Dussehra and Diwali," said Shoumyan Biswas, head of offline marketing at Flipkart.
But this time, the festive season could be so big that Flipkart, which has 22 million registered users, reportedly doubled its delivery staff over the last few months.
Some of this expansion may well have been coming. The e-commerce market has attracted huge investment in the last year. In July, Flipkart raised $1 billion, the biggest round of funding in any Indian startup and one of the largest amounts raised in a single round worldwide. Within a day of Flipkart's funding announcement, Seattle-headquartered global e-commerce major Amazon said it would invest $2 billion in its Indian operations.
Snapdeal, after raising $233.7 million this year, may also be looking for more money. Tata Group's chairman emeritus Ratan Tata and Wipro chairman Azim Premji are investors in the firm.
E-commerce players have scaled operations and expanded teams, with the fresh rounds of funding. "In the last couple of months particularly online retailers have gotten a lot of visibility with their fundraising rounds and partnerships," said Devangshu Dutta of Third Eyesight, a consulting firm focused on the retail and consumer products industry.
"Compared to previous years, a lot of money has been spent on driving traffic and they have gotten a lot of press. The companies have improved their service and delivery infrastructure as well."  There is also a shift in the consumer mindset now. Shopping online is more than just experimentation for customers, he added.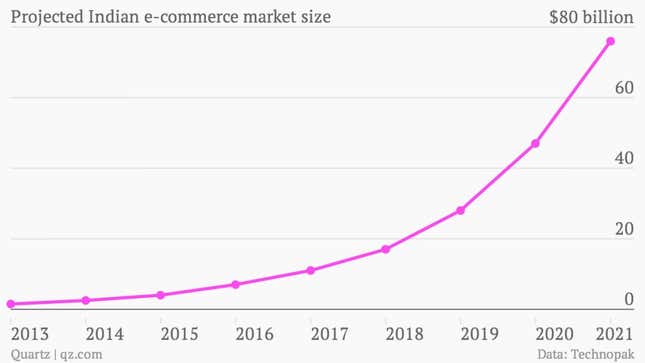 It's not just the sheer numbers of online shoppers that go up around the festivals. The typical basket size also increases. "Customers spend around Rs1,000 on the website at other times, during Diwali the average goes up to Rs1,500 on our website," said Sanjay Sethi, CEO and founder of Shopclues, which registered over Rs350 crore ($56.8 million) in online sales last year. "We expect a 40-50% increase in sales this festive season."
And as India's online marketplace matures, it's not just discounts on electronics and fashion—typically the most popular e-commerce segments—that attract consumers. BullionIndia.in, for instance, a startup that allows customers to buy gold and silver online at wholesale price, is offering a discount around Dhanteras, an auspicious day preceding Diwali when Hindus purchase precious metals.
"While customers are buying other products online, buying gold and silver online hasn't caught on as much. But we are offering discounts at this time and that has impacted our sales positively," said Sachin Kothari, director, BullionIndia.