This hasn't been an easy year for Coal India, the government-controlled mining company that supplies fuel to 82 of India's 86 coal-based power plants.
But after seven consecutive months of missing its production target, the Kolkata-headquartered mining company has finally delivered. In October, Coal India produced 53.40 million tonnes of coal (PDF), one percentage point higher than its target for the month.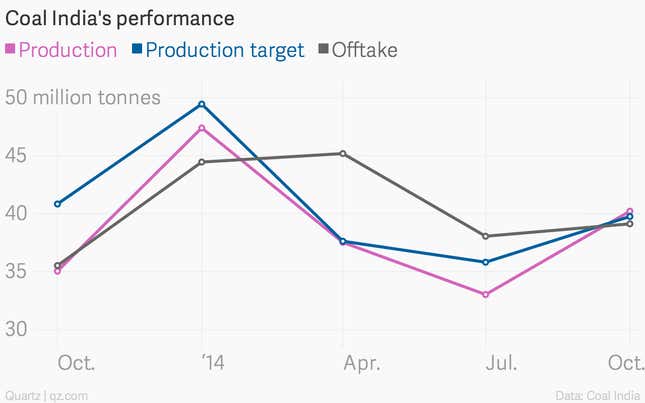 While Coal India's production has increased by over 5 million tonnes since Oct. 2013, the company has also substantially scaled back its targets. Meanwhile, compared to July 2014, the company's coal offtake—the amount of coal dispatched—remained almost flat at 39.11 million tonnes, missing its target by four percentage points.
Between April 2014 and Oct. 2014, Coal India's overall production has increased by 6.6% but remains at only 97% of the desired target of 259.85 million tonnes.
Nonetheless, its performance in October should be a shot in the arm for the coal miner, which is likely to see the government—its biggest shareholder—dilute its stake later this year.
But it's been a difficult few months for Coal India.
First, it faced flak after coal stocks across multiple power plants fell to alarmingly low levels because Coal India, along with its seven coal producing subsidiaries, just wasn't able to supply enough fuel.
Next, pressure mounted after the Supreme Court cancelled almost all coal mining allocations since 1993, putting Coal India under further scrutiny. And finally, the government in late October announced its intention to open up India's coal sector to private players; Coal India has enjoyed a near monopoly since the 1970's.
The government's proposed stake sale and its move to allow private coal mining has irked Coal India's powerful unions, who have now planned to protest by going on strike on Nov. 24. That's unlikely to help the company's coal production at a time when the country needs it to perform.