Suresh Prabhu, a long-time Shiv Sena politician with a reputation for reforms, was handpicked by prime minister Narendra Modi as India's railway minister last November to turn around the ailing sector.
And Prabhu, who overhauled India's power sector during his previous stint in government, crossed the aisle and joined the Bharatiya Janata Party.
Now, only four months later, Prabhu will face his first big test on Feb. 26 as he presents the railway budget, which many hope will lay out a roadmap for the state-run transport network's recovery.
These seven charts describe the scale of Prabhu's challenge as he works to reform the Indian railways.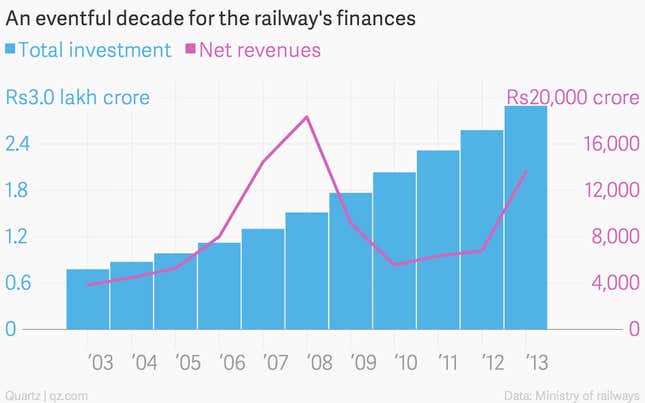 Even as investment has been rising steadily, the railways are expected to receive a boost of over Rs55,700 crore ($9 billion), thanks to falling fuel prices. Revenue has increased in recent years, but mostly due to a rise in freight activity.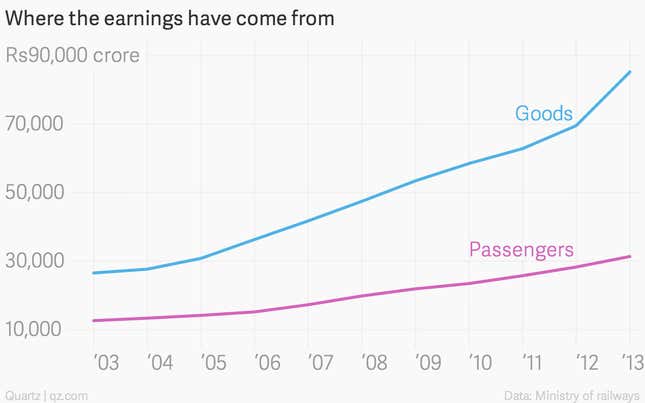 Revenue from passenger services are still overshadowed by those from carrying goods. In recent months, however, passenger revenues improved after the railways increased fares by 14.2% in June last year.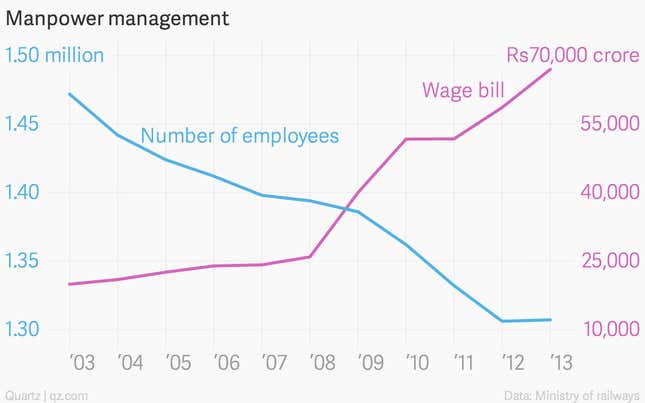 Although the number of employees in the Indian railways have dropped sharply over the last 10 years, the wage bill continues to shoot up. As a result, the ministry of railways has the largest share in the Indian government's annual salary payments (pdf) at 35%.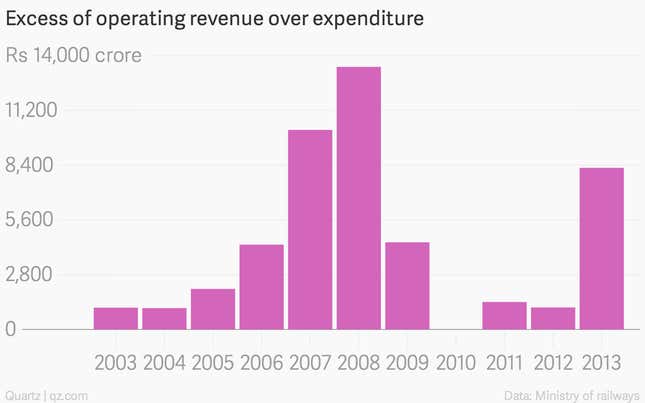 For long, the Indian railways have been criticised for spending more than what it earns. The excess of its operating revenue over the expenses is nowhere near the Rs182,000 crore it needs to complete just 357 pending projects. The railway budget is expected to lay out policies that will help improve its operating ratio, an important indicator to measure efficiency.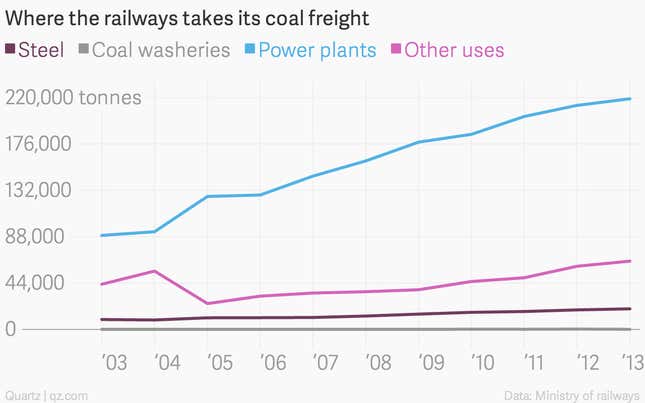 A major part of the railway's earnings comes from freight services, and specifically commodity freight. Coal freight to thermal power plants has increased to more than twice its size, over the last ten years. So as the Modi government looks to solve India's persistent power issues, fixing the railways would make a big difference.
Meanwhile, there seems to be a pressing need to increase the number of wagons in the Indian railways, giving the steady growth in revenue-earning freight traffic. Wagon manufacturers in the country are pinning their hopes on Prabhu to lift the industry.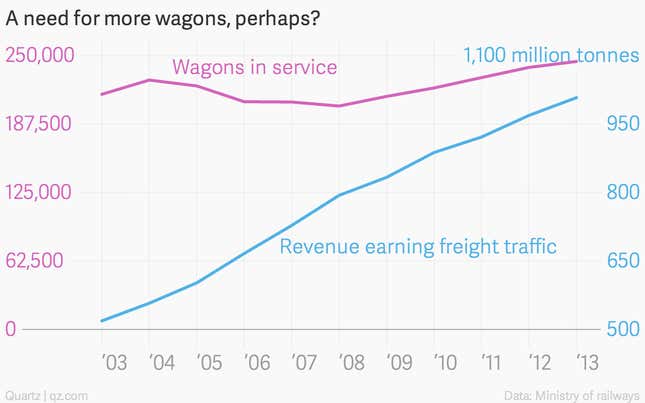 In the last decade, electric locomotives have begun catching up with diesel-powered engines. With prime minister Modi's Make in India campaign and foreign direct investment (FDI) allowed in railways, locomotive manufacturers are bullish about the huge opportunity in the sector. Bombardier, the world's largest maker of passenger trains, for instance, is eyeing projects worth $7-8 billion (Rs43,000 crore-Rs49,000 crore) in the next 5-7 years.