The days of a single-digit economic growth for India could be over. Asia's third largest economy, the finance ministry's Economic Survey 2014-15 says, may well register double-digit growth in the coming years.
The survey prepared by former International Monetary Fund (IMF) economist Arvind Subramanian, who is now India's chief economic advisor—and tabled in parliament by finance minister Arun Jaitley on Feb. 27—estimates that India's gross domestic product (GDP) will grow anywhere between 8% and 10% in the next few years.
For 2016, the growth is expected to be 8.1-8.5%.
"India has reached a sweet spot—rare in the history of nations—in which it could finally be launched on a double-digit medium-term growth trajectory," the survey said, providing a fuzzy timeline for when that could happen.
Moreover, there seems to be some confusion over the new estimates. Hours after the survey was released, Subramanian told reporters at a press briefing that he was befuddled by the new GDP numbers.
And this isn't the first time he has expressed his bewilderment. In an interview earlier this month, he said: "I am puzzled by the GDP growth numbers and, consequently, all the constituent elements that went into constructing it, including the sectoral composition of the GDP."
Leaving aside the important statistical puzzlement, whether these ambitious growth projections are actually achievable will partly depend on what Jaitley announces in his budget speech on Feb 28.
Here are six key charts from the survey.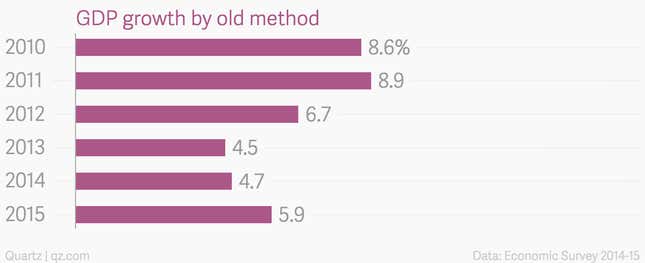 Some reforms, according to the survey, that have supported the expectation for a double-digit GDP growth are deregulation of diesel prices and taxing energy products. Passing the ordinance to reform the coal sector via auctions and increasing the foreign direct investment (FDI) caps in the defence sector have also helped.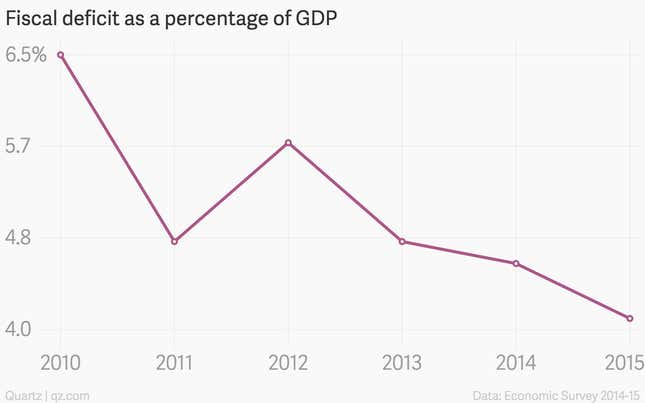 The survey said that India should stick to fiscal deficit target of 3% of the GDP. For 2015, the fiscal deficit target was at 4.1% of the GDP. Jaitely's focus on reducing the target has been critiqued in the past, with fears that the government might cut spending to control deficit.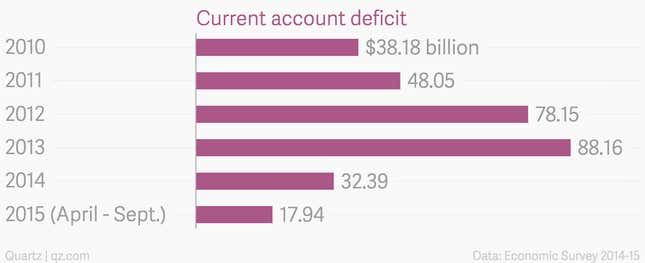 The survey said that the drop in inflation was mainly due to lower oil prices, deceleration in agriculture prices and wages, and improved household inflation expectations. The inflation is likely to remain between 5% and 5.5% in the future.
Reserve Bank of India governor Raghuram Rajan has said in the past that he is not confident that India has won the war on inflation.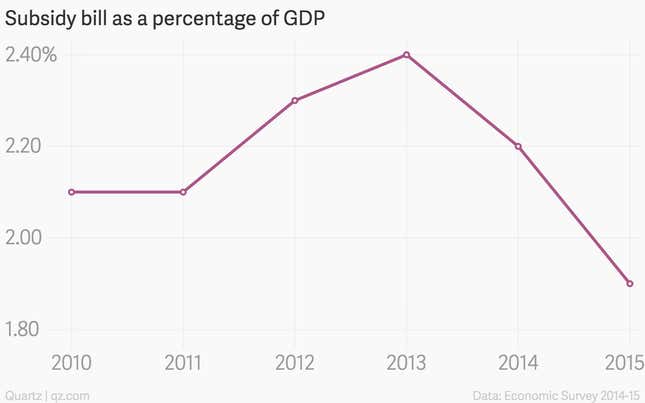 When it comes to subsidies, the survey said that "eliminating or phasing down subsidies is neither feasible nor desirable unless accompanied by other forms of support to cushion the poor and vulnerable and enable them to achieve their economic aspirations."