This post has been updated after the markets closed.
After a volatile day of trading, the Indian stock markets closed 0.43% higher than the previous close. The improvement in the market sentiment only surfaced towards the end, when investors erased losses.
The Sensex index closed at 29,361.5 points on Feb.28.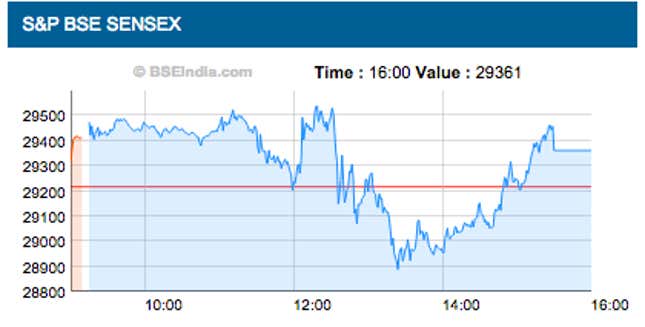 For the major part of the trading session, it looked like the Narendra Modi government's decision to keep stock markets open on Saturday, Feb. 28, had backfired.
At 11 am, as Jaitley began the speech, India's benchmark Sensex index was trading around 218 points higher from its previous close of 29,220.12 points.
What followed as Jaitley spoke about cutting corporate taxes, abolishing the wealth tax and deferring the general anti-avoidance rule (GAAR) by two years, was seesaw trading.
The benchmark index shot up as the corporate tax cut to 25% over the next four years was announced, but quickly erased the gains as Jaitley concluded his speech.
Investors were betting on big-bang reforms in the power and infrastructure sectors, clarity on the goods and services tax and incentives to boost the state of manufacturing the country. At 1:20 pm, the Sensex was trading at 28,991 points, 228.9 points lower that its previous close. Market trading for the day ended at 3:30 pm.
Here is how the markets have reacted on the last 10 budget days.