After a 12-year-long investigation, hedge fund trader and co-founder of Galleon Group, Raj Rajaratnam, was arrested early on a Friday morning in October 2009, charged with partaking in one of the biggest insider trading cases in US history.
As the dust settled on a stunned Wall Street, attention slowly turned to a certain "cooperating witness" who had been central to Rajaratnam's downfall.
In fact, the entire investigation into the Sri Lanka-born, Wharton-educated trader's operations seemingly began with a single text message he had received from a source: "Don't buy Polycom 's stock "till I get guidance; want to make sure guidance OK."
That message came from a former Intel and Galleon employee, also known as "cooperating witness": Roomy Khan.
At the time of her arrest on Nov. 06, 2009, the Federal Bureau of Investigation (FBI) described Khan as "a California trader who served at certain times as a paid consultant to a hedge fund based in New York, New York," referring to the work that she did for Galleon.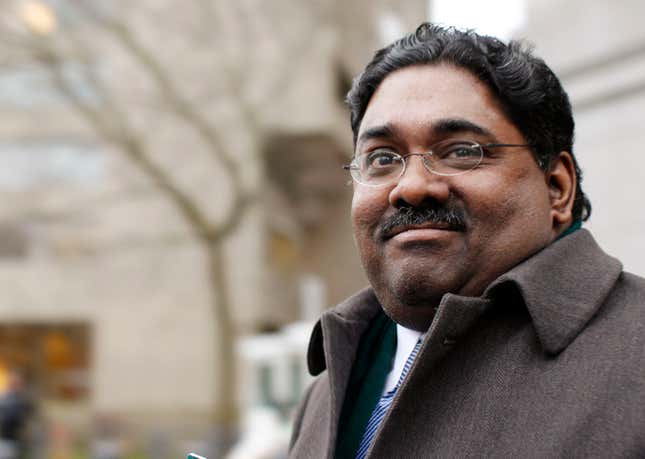 And although, since 2007, she helped federal investigators bust Raj Rajaratnam's insider trading ring, which brought down the likes of former McKinsey chief and Goldman Sachs board member Rajat Gupta, Khan eventually found herself in prison.
On Jan. 31, 2013, the 54-year-old securities trader was sentenced to a year in prison for "securities fraud, conspiracy to commit securities fraud, and obstruction of justice under a cooperation agreement with the government."
After spending that year at a women's prison near Orlando, she now lives in the seaside city of Fort Lauderdale, Florida.
"Prison is the easiest part," she told the New York Times in an interview. "When you get out and there is nothing there—that is the toughest part."
Delhi girl
Khan was born and raised in a middle-class household in New Delhi. Mostly schooled in Hindi, the daughter of a government scientist went on to read for a master's in physics from Delhi University.
At 23, she spotted an advertisement for studying at Kent State University in Ohio, landed a partial scholarship and joined the university's physics department in 1982.
Then, Khan moved to New York after applying to Columbia University's engineering department. There she met her future husband, Sakhawat Khan, a brilliant Bangladeshi engineer who now has over 30 patents to his name and a penchant for fast cars.
Eventually, the two moved to California, where she worked for a few technology firms. And it was when she was working with Intel that she met Raj Rajaratnam.
Intel outside
In 1995—around the time she went to business school at the University of California at Berkeley—Intel gave Khan an assignment to assess Advanced Micro Devices, a rival firm. As part of her research she got in touch with Rajaratnam, who then worked as a technology analyst at Needham & Company, a New York-based boutique investment bank.
Their South Asian connection—also both Khan and Rajaratnam's wife are Punjabi—turned their professional conversations into friendly chats. It wasn't long before Khan, then a market researcher with the technology giant, started providing him with confidential data about Intel, with an eye on entering Wall Street.
By 1998, Intel and FBI agents already smelled a rat—and setup a camera to monitor the fax machine that Khan used to send these documents to Rajaratnam. But Khan left Intel soon after, and the investigation stalled.
Next, she joined Rajaratnam as he expanded his own hedge fund, Galleon, to the Silicon Valley. For $120,000 a year, plus bonus, she had to keep an eye on the personal computer industry. Although she was good at her new job, Khan refused to comply with all of Galleon's rules and left to work as an independent trader. Her relationship with Rajaratnam, though, was still amicable.
And as she applied her old boss' tricks of gleaning insider information from a network of friends and relatives, Khan began making some serious money.
"I am not kidding when I say I had money," she told the New York Times. "I had a lot of money."
She and her husband moved out of their house in Sunnyvale, California and bought a massive mansion in one of the Valley's most expensive enclaves. They paid $10.5 million for it, reportedly all in cash.
"Roomy liked to spend money, and she spent it extravagantly. She bought a seventeen-carat diamond at Neiman Marcus. For running up a shopping tab of more than $1 million, the department store gave her a BMW," author and former Wall Street Journal journalist Anita Raghavan wrote in her 2013 book, The Billionaire's Apprentice.
During her finest trading period, Khan is thought to have been worth some $50 million.
The investigation
A month after Khan quit Galleon, a couple of FBI agents turned up at her house with questions about her old boss and the dealings at Intel. For 17 months, she met with law enforcement officials and finally pleaded guilty to wire fraud in 2001. Her punishment was six month home detention and a big fine.
Rajaratnam and Khan drifted apart for the next few years, while she raked in the money.
But by mid-2005—after losing large sums of money and a $700,000 settlement with Deutsche Bank—a frazzled Khan turned to Rajaratnam for help. In return, she offered him a tip on Polycom, sourced from her friend, Sunil Bhalla (pdf), an executive at the company.
That information helped Galleon make some $735,000 on Polycom, with subsequent tips on Hilton Hotels and Google bringing in over $10 million for Rajaratnam, according to the Securities and Exchange Commission.
In late 2007, with law enforcement officials pinning her down after discovering the Polycom messages, Khan turned into a cooperating witness and began recording her conversations with the Galleon chief. "With Polycom, I felt I couldn't really lie, because they had the phone communication," Khan explained.
In May 2011, Rajaratnam was convicted on 14 counts–five counts of conspiracy and nine counts of securities fraud—and later sent to jail for 11 years.
Less than two years later, Khan herself went to prison.
Wharton reject
Now that she is out, Khan wants to study further. Especially about insider trading and white collar fraud.
She has applied to Ph.D programs, including to the Wharton School at the University of Pennsylvania. But the Ivy League university, which Rajaratnam also attended, has rejected her application. Still, she's waiting to hear back from other schools.
"The worst-case scenario is I will be a housewife for the rest of my life," she said.
"I am very fortunate. I am not homeless. I still have a life."