This story has been updated
Ordering a decent medium rare tenderloin steak at Mumbai's iconic Leopold Cafe or Cafe Mondegar has just become harder.
The new right-wing government in Maharashtra has banned the slaughter of all cattle (except water buffaloes), forty years after implementing a similar law which banned the slaughter of cows.
That would mean the only variety of beef available in Maharashtra will be the inferior quality carabeef—meat from water buffaloes—which makes up 25% of the total beef market in Maharashtra.
"Our dream of ban on cow slaughter becomes a reality now," Devendra Fadnavis, chief minister of Maharashtra tweeted on March 2.
Mumbai, a culturally and gastronomically significant city, will have to be content with carabeef at a time when it is gearing up to be the first Indian city to keep its restaurants and bars open through the night. According to the new law, anyone found selling or in possession of beef can be jailed up to five years or fined Rs10,000 ($165).
Riyaaz Amlani, owner of Impresario Foods, which operates restaurant brands like Salt Water Café and Smoke House Deli in Mumbai, New Delhi and Bangalore, called the ban "regressive." Amlani is also the president of the National Restaurant Association of India (NRAI).
"Beef is one of the highest-selling items and the choice to consume it should be left to people to decide," he told Quartz. "Our restaurants have always used buffalo meat, as it has a lower fat content and is much leaner compared to cow meat or carabeef, which makes the quality better."
The NRAI is looking into the new law and may soon register a protest, he said.
However, two other restaurant owners that Quartz spoke to did not feel that the ban would have an impact on their business. According to them, almost all beef dishes served in Indian restaurants are made from water buffalo.
"The beef that everybody usually serves is the one from water buffalo," AD Singh, managing director of Olive Bar and Kitchen told Quartz over phone.
Holy cow
The Bharatiya Janata Party-led government in Maharashtra had made a similar attempt to ban cattle slaughter in the state in 1995, but subsequent governments had not proceeded with it, especially since the state has a large Muslim population that eats beef.
Cow slaughter is banned in almost every state of India, except Kerala and the Northeastern states, while buffalo slaughter is legal in most states (pdf) in India.
Last year, India consumed about 2.25 million metric tons of beef (mostly buffalo meat) in all, according to the United States Department of Agriculture (USDA) and is further expected to consume 2.3 million metric tons in 2015.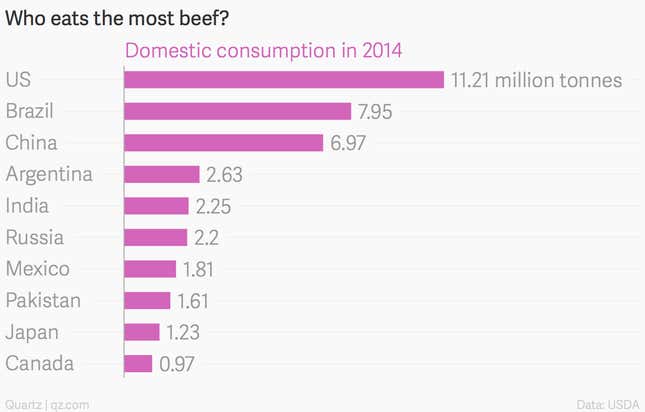 India also accounts for 43% of the global carabeef production, with Uttar Pradesh producing the most, followed by Andhra Pradesh and Maharashtra. Carabeef production in India is projected to grow from 4.1 million tonnes CWE (carcass weight equivalent ) in 2014 to 4.3 million tonnes CWE in 2015.
"Calendar year 2014 and 2015 consumption estimates are forecast to rise 3.1% and 3.5% to 2.1 and 2.175 million tonnes CWE," the USDA report said. "Reportedly, more young consumers are willing to explore new foods, including carabeef, which may eventually drive future demand."
But as India's younger populations explore new delicacies, Mumbai looks like it could be left behind—at least when it comes to ordering the perfect steak.
Update: The headline had originally said there is a ban on buffalo meat. But water buffalo meat has not been banned.