India's millionaires do not want to live in India.
In the last 10 years, some 27% of India's 160,600 high net worth individuals (HNWIs) have left the country, according to a report(pdf) by property consultant Knight Frank. A high net worth individual is a person having investable wealth of more than $1 million (Rs6.28 crore).
That's second only to China, where 76,200 HNWIs packed up and moved out between 2003 and 2013.
India's "wealthy migrants" tend to favour the UK, the US and Australia. The Chinese, too, move to Europe and the US, but particularly dominate the Asia-Pacific region including Australia.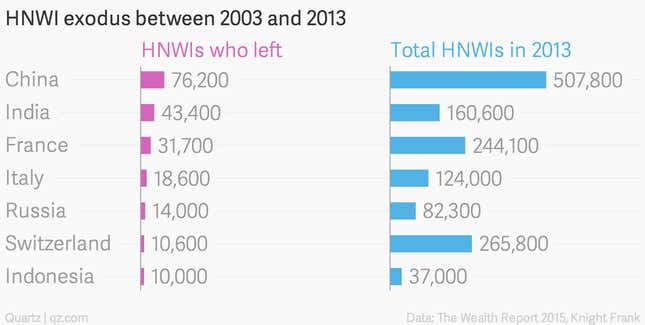 India's wealthy are moving to other countries to make even more money.
"HNWIs are not exactly leaving India, but these are the people who are leaving the country for employment opportunities. These days salary levels are pushing a lot of individuals in the HNWI bucket," Kartik Jhaveri, director of Transcend Consulting, a wealth management service, told Quartz.
Much of this exodus, Jhaveri explained, is temporary, with investments (particularly in real estate) remaining parked in India as these millionaires head out for new jobs or business expansion.
Billionaires
Meanwhile, India will also see the number of billionaires increase to 136 by 2024 from the current 68, according to Knight Frank.  Over the next ten years, only the US, China, and Russia will have more billionaires than India.
Shishir Baijal, chairman and managing director of Knight Frank, said that wealth creation in India is expected to accelerate and the number of ultra-high net worth individuals (UHNWI) is expected to double over the next decade.
This "reflects a more positive outlook for India's economy after 2014 was marked by capital outflows and a sharp devaluation of the rupee," Shishir Baijal added.
The population of UHNWI in India—or people with a net-worth of $30 million (Rs188 crore)—has increased by 166% over the last ten years. And in the next decade, the number of India's ultra rich will jump another 104%.