Hedge funds managers focusing on India are probably thankful February was only 28 days. It was the first month in a year in which these funds saw negative returns.
According to Eurekahedge, a database of alternative asset funds, the average return for hedge funds investing only in Indian securities was -0.56% in February. A month before, in January, these funds registered a return of 5.3%.
The data is based on the returns reported by 37% of India-focused hedge funds to Eurekahedge.
February was also when the Narendra Modi government presented its first full budget. And the consequent volatility in the equity markets could've played their part in returns turning negative for the first time in 12 months.
Hedge funds generally trade using complex derivative instruments and are highly prone to volatility.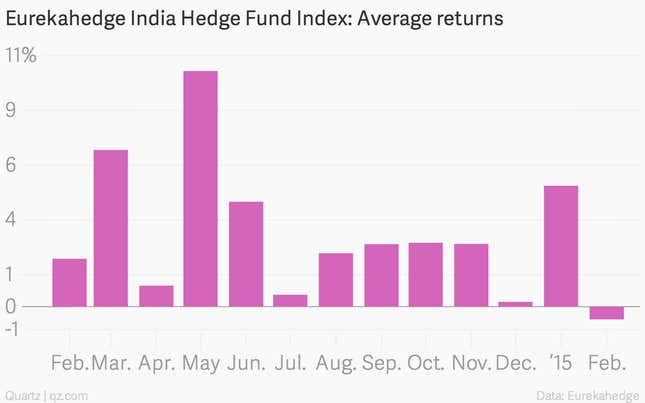 The negative returns, however, may be temporary, as India-focused hedge funds have lately been very bullish about Asia's third largest economy.
According to a survey of 435 global hedge fund investors by Deutsche Bank this month, India was at the fourth place among the expected top performers for 2015, following the US, Western Europe and Japan.
India received 36% of the votes as the top performer. In 2014, 39% of those surveyed said India will be among the bottom three.
But this optimism isn't without reason.
In 2014, the average returns of Indian-focused hedge funds were up 39.36%, outperforming returns that investors made in traditional equity investments, by almost 10%, according to Eurekahedge. And assets under management at India-focused hedge funds are currently at a seven year high of $3.45 billion (Rs.21,260.2 crore).
This is, however, 36% lower than the peak of $5.36 billion (Rs.33,516 crore) in 2007.