Never mind India's 8.5% growth projection. Companies—especially in manufacturing and services—in Asia's third largest economy just aren't convinced that the Narendra Modi government has turned things around.
According to the latest Markit India Business Outlook survey, conducted between Feb. 12 and Feb. 27, fewer Indian companies—compared to October 2014—felt that business activity will be positive over the next 12 months.
The survey uses "net balance"—the difference between the number of negative and positive responses—to indicate the degree of future optimism or pessimism. A higher net balance suggests that more companies feel the outlook is positive. In all, Markit surveys about 11,000 companies globally.
In February, days before the Modi government presented it first full budget, the net balance of business activity was at 26%. The number was lowest in a year and below global averages.
For global businesses too, companies are the least optimistic since 2009, according to Markit, primarily because of waning optimism in the US.
"Optimism in the Indian private sector has deteriorated since autumn 2014," Pollyanna De Lima, an economist at Markit, said in a press release.
"Although surveyed companies expect improved productivity and sustained demand growth to support higher output in the year ahead, concerns towards persistent power cuts, increased competition and a lack of skilled labour are seen as growing threats to the outlook."
The results are weaker for manufacturing and service sectors, which reported a net balance of 24% and 28%, respectively.
Here are three charts that describe India Inc.'s business sentiment for the next year: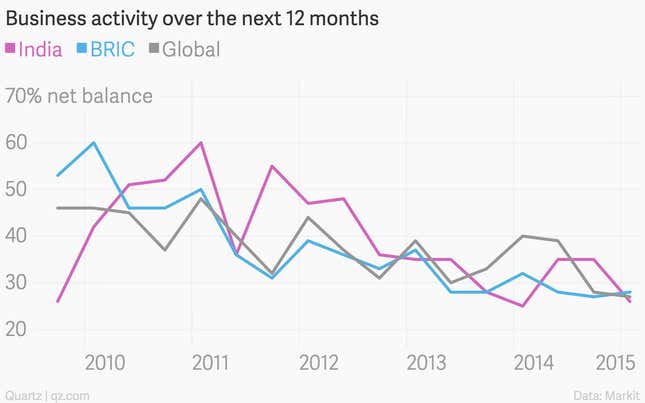 Capital expenditure outlook, an indicator that companies are willing to spend and expect an increase in demand for their products, is still slack. Data from Markit shows that the net balance for the capital expenditure outlook for February is at 18%.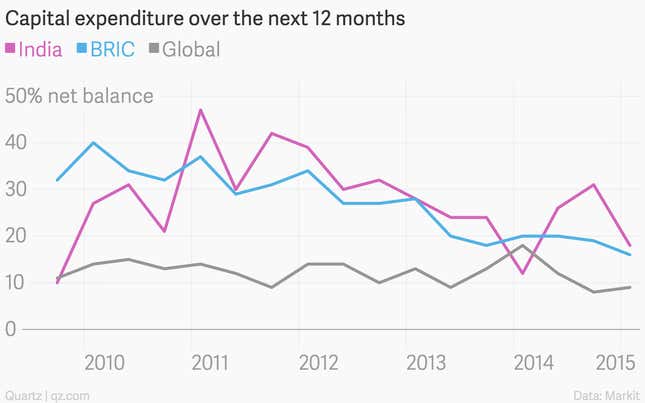 Companies are also not as bullish about profitability over the next one year, compared to early 2014. The net balance for February for profit-making during the next 12 months was 30%. This was lower than June and October last year. Nonetheless, the reading was higher than the global average—and India's private sector is still positive compared to the BRIC economies.