On March 18, one of India's most celebrated startups received a huge blow.
Alibaba Group Holding, promoted by Jack Ma, China's third-richest man, backed off from buying a stake in Snapdeal, one of India's largest online marketplaces. This would have been the Chinese e-commerce giant's first direct investment in India.
The deal stalled after Snapdeal apparently sought a valuation of between $6 billion and $7 billion (Rs37,500 crore-Rs43,800 crore) while Alibaba was looking at valuing the company at under $5 billion (Rs31,200 crore).
The breakdown in negotiations has raised questions about the huge valuations of India's e-commerce giants—essentially, are these massive numbers justified and sustainable?
Alongside that, there is an even bigger question: Why exactly are investors still drawn to these firms?
"Of recent, the valuation game has turned into a 'black magic art' more than a science," Ravi Gururaj, chairman of India's National Association of Software and Services Companies (Nasscom) product council, told Quartz. Nasscom is a trade association representing the Indian software industry.
Founders and investors, felt Gururaj, are rationalising and defending these extraordinary valuations by arguing that they see some exceptional promise in these startups. "The more grounded among us read that as ample evidence of a frothy bubble-like environment," he said.
High, higher, highest
In all, the Indian startup sector received more than $5 billion (Rs25,000 crore) in funding in 2014, compared to $1.6 billion (Rs10,000 crore) in 2013 and $760 million (Rs4,755 crore) in 2012.
Of this, in 2014, Flipkart raised some $1.9 billion(Rs11,900 crore), while Snapdeal found about $1 billion (Rs6,257 crore) in funding, including a deal with SoftBank for $627 million. And most of this money came from a few big investors including Accel Partners, Tiger Global, SoftBank and Helion Venture Partners.
Now, as these firms head out to raise even more money, valuations are going through the roof. Flipkart, for instance, is valued at about $11 billion, and Snapdeal could be at least worth $5 billion.
Together, these two online shopping firms are now valued much, much higher than the total market capitalisation of India's major brick-and-mortar retailers, which have dozens or even hundreds of physical shops.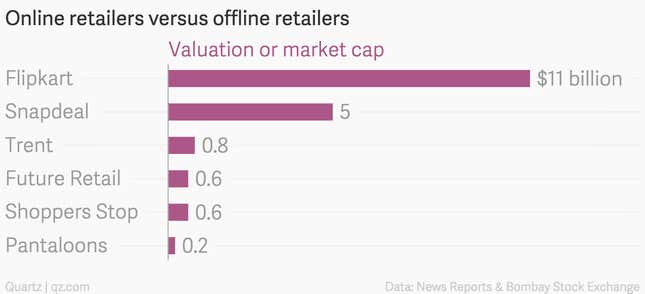 The phenomenal valuations for India's e-commerce companies are based on the premise that Asia's third-largest economy presents a vast opportunity for online retailers. Economic growth looks to be back, the country's middle-class is steadily expanding and, powered by a smartphone revolution, the number of internet users is skyrocketing.
"The e-commerce sector has created new markets, and since many of these are addressing a large untapped potential, investors think they can grow at a rapid pace," Ashish Basil, partner at consulting firm EY, told Quartz.
Some argue that offline retailers in India do not have the bandwidth to expand as much—and as quickly—as online retailers. And this in itself is a huge opportunity for online companies to reach areas that modern retailers cannot. Brick-and-mortar retail chains have also been facing stiff competition from the local kirana, or mom-and-pop stores, especially in the hinterland.
"Due to fragmentation, infrastructure challenges and high real estate costs, offline retail will never be able to achieve the scale that e-commerce can," explained Sandeep Murthy, a partner at Lightbox Ventures, an early stage venture capital fund. "Entrepreneurs and investors have recognised this and believe that they are playing in a game with a massive prize for the winner."
Investor trap
Still, the prospects of a massive, unexplored marketplace doesn't quite explain the hyper valuations that Indian e-commerce companies are landing.
After all, India's e-tail channels are forecast to account for about 10% of the overall retail market in 2025.
"I frankly do not understand the basis of these valuations," Arvind Singhal, chairman of Technopak, a retail consultancy, said last year. "It defies logic. Looking at potential is fine, but valuations have to be sane."
There are two big reasons for this seeming insanity.
One, investors are lining up before e-commerce firms influenced by their competitors; and two, fundamental problems in the business models of these companies are being overshadowed as the industry blindly chases growth.
"Investors tend to behave like a herd and since e-commerce is the flavour of the day, many investors are rushing there," Santosh Kanekar, an independent consultant who advises financial firms on investing in Indian companies, said last year.
Most of the e-commerce valuations in India, argued Kanekar, are driven by investor demand rather than by a significant improvement in the e-tailer's financial performance. "The reality is that there's a lot of froth in the global M&A (mergers and acquisitions) market in general, and emerging markets, particularly India, are no different," he said.
And he isn't alone.
"Nobody looks at the fundamentals of valuations anymore," Karthik Reddy, managing partner of Blume Ventures, a venture capital firm, told Quartz. "Three or four big players have emerged in India and most of the other startups now feed off that eco-system. But there is an inflexion point that is going to come soon."
Where's the money?
Although these are early days for a fast-growing industry, the combined losses of India's e-tailing companies now stand at almost (pdf) Rs1,000 crore.
Much of this is because of the discounting strategies that these firms use to lure consumers. These discounts—along with massive advertising and marketing campaigns—are bank-rolled by the investors, who are now beginning to worry.
Since the last year, there is growing pressure on Indian e-commerce companies to to cut down on discounts—and concentrate on making profits. But this isn't going to be easy.
"E-commerce has not reached a stable level where it can become sustainable by itself," Praveen Sinha, founder of Jabong, an online fashion retailer, said earlier this month. "So, if the whole margin is 10% and the market operates at 15% discount, e-commerce companies can never become profitable."
In the past, industry observers like venture capitalist Mahesh Murthy had also publicly expressed their disapproval about the business models.
"I don't hate Flipkart," Murthy wrote in 2013. "I just don't think it's the right way to build a business. My preference is always for a new business to start with a clear, sustainable competitive benefit to consumers, differentiate sharply, grow organically from the ground up, take money if needed to grow—not survive, and build a real business, that makes more money than it spends."
Murthy is not the only one to complain about the business models of Indian e-commerce companies.
"If a company is losing money on every transaction, then the business model is not sustainable," Devangshu Dutta, chief executive of Third Eyesight, a retail consulting firm, told Quartz.
And it doesn't help that companies aren't putting out strong statements on their business models, Dutta added, because there is a need to bolster confidence about these business eventually turning profitable.
Perception and sentiment aside, India's e-commerce firms have to stop bleeding money for other reasons. In the next five years, the industry will need to spend anywhere between $950 million and $1.9 billion on logistics and warehousing as it expands.
Sure, that isn't a lot of money compared to what the likes of Flipkart and Snapdeal are being able raise currently, but the fight for funds is also likely to get tougher. By 2020, India's tech startup ecosystem will have some 11,000 firms, more than three times the current number.
The focus, therefore, needs to shift from rapid expansion and capturing market share to building a sustainable businesses.
And while that may take some time, for now everybody seems happy about the massive amounts of money pouring into India's e-commerce industry.