This item has been corrected.
In February, Buzzfeed editor-in-chief Ben Smith sat down with Barack Obama and asked him about important things. This month, in Britain, Buzzfeed UK's politics editor Jim Waterson interviewed David Cameron about the coming general election. The obsession with heads of state is not limited to the West. Buzzfeed India's editor, Rega Jha, is also deeply interested in its national leader.
In January, Jha posted the latest in a series of posts on Indian prime minister Narendra Modi, this one titled "25 Pictures Of Modi That Perfectly Capture Life's Important Moments." The captions in this post have Modi commenting on the quality of his latest shipment of pot, his need to pass gas, being scolded by his mum, watching Titanic, and noting the size of his (fictional) boyfriend's penis. It's all pretty harmless—if utterly tasteless—stuff. It is also what makes Buzzfeed India an essential voice in India's media today.
Seriously buzzed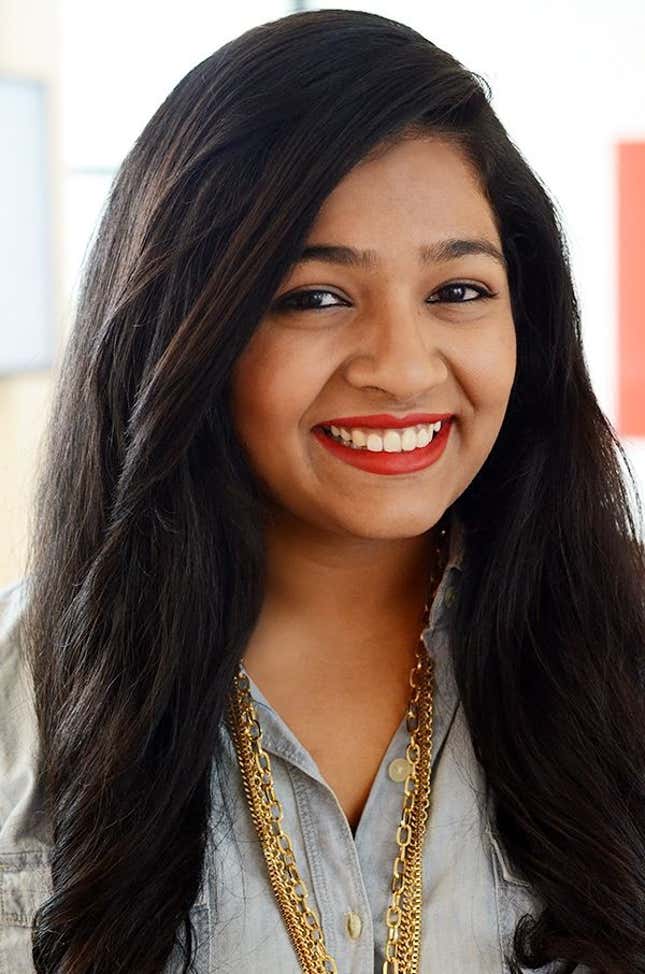 Buzzfeed India started in June 2014 with one employee, Rega Jha, an Indian citizen who worked at Buzzfeed's headquarters in New York before moving to Mumbai to open the Indian bureau. "The plan was to expand in the same way we expanded in the UK and Australia," says Jha, who is 23. "Get a small room, fill it with a small team of kids with laptops and see what happens."
India already had plenty of Buzzfeed clones, including The Next Meme, Storypick, and Scoopwhoop, a site run by a group of ex-advertising professionals. Indiatimes, a website run by the Times of India, the nation's largest-selling English language newspaper, has reinvented itself as a local Buzzfeed, complete with those yellow circles that read "WTF" and "LOL." (Sample post: "10 Things Kids With Parents From Different States Can Relate To.")
Jha, who got the job in part because she lobbied hard for her vision of Buzzfeed India, says she wants the Indian site to be about more than viral entertainment (though it does plenty of that too), and to reflect the concerns of young Indians. "They don't just want to laugh at gifs and memes. They care about feminism, section 377 [which criminalizes homosexuality] and they care about politics a whole lot," says Jha.
She and her colleagues focused on these subjects—identity-based topics that are a hallmark of Buzzfeed around the world—and have found enough success to grow the team to seven people and move to a larger office by the sea.
Finding traffic in India
Buzzfeed will not give country-specific traffic numbers, but it is safe to assume its India audience is still small. Some 90 million of Buzzfeed's 200 million monthly unique visitors come from outside the US, and a good 20 million of those come from the UK. That leaves 70 million visitors for Germany, France, Spain, Brazil, Australia, and India to squabble over.
I asked Sevanti Ninan, editor of thehoot.org and among India's foremost media critics, what impact Buzzfeed has had on India. "It's a very niche thing for a certain generation," she says, "The average professonal media person in the mainstream, I don't think they're into Buzzfeed. But the younger crowd, certainly."
That suits Buzzfeed just fine. It would be foolish for Buzzfeed to try to take on the legacy press. The print newspaper habit remains strong in India. Instead, it is making a name for itself by doing something big newspapers almost never do: taking on India's holy cows.
The Modi post is just one example of that: "A lot of us [Indians] grew up with a list of topics we are not allowed to be irreverent about. We're not supposed to make fun of Dilwale Dhulania Le Jayenge [a Bollywood movie]. Why the fuck not? We're not supposed to make fun of Narendra Modi. Why not?" says Jha. "I don't think we have made enough fun of Modi. I am happy to bear that burden." In a country where bosses, politicians, journalists, and anybody in any position of authority expects to be treated with deference, that attitude is a revelation.
It helps of course that Buzzfeed has nothing to lose. "Our initial focus is purely editorial, to grow an audience based on social sharing and to begin to define an editorial voice and focus that is distinctly Indian," says Scott Lamb, Buzzfeed's head of international. The company has no plans to make any money from India for the foreseeable future.
When bad taste is good politics
In February, an Indian comedy collective called All India Bakchod organised a "roast" (an insult comedy event) featuring Bollywood actors, an abundance of terrible jokes, and several navies' worth of swear words. The show was uploaded to YouTube where it became a big hit—and also generated huge amounts of controversy.
Busybodies filed police complaints accusing the comedians of "ruining the clean image of the Indian culture & women," courts threatened legal action, and older, more established film stars chimed in with reprimands. Under pressure, the comedians eventually pulled the show from YouTube.
It's a silly thing for the world's largest democracy to get worked up about. But the fracas surrounding the roast was not an isolated incident. In the first two months of this year alone, India has censored a BBC documentary about rape, a song with the word "Bombay", and a censored, nudity-free version of 50 Shades of Grey, among other things.
In an environment as repressive as this, what Buzzfeed brings to Indian media is not sophistication or incisive commentary, but a fearlessness and irreverence rarely seen in the domestic press. The single most striking thing about Buzzfeed is how provocative it is, says Nikhil Pahwa, who runs Medianama.com, a website about Indian tech and media.
"Buzzfeed is a news and entertainment website. We are not activists," says Jha. "All we're tyring to do is create something readers will enjoy. As it happens, right now our readers are enjoying ballsy, irreverent content."
Correction (Mar. 19, 2015): An earlier version of this article misstated the number of non-US unique visitors Buzzfeed claims. Some 90 million people outside America visit the site every month, not 50 million.