After years of subdued economic expansion, the likelihood of double-digit GDP growth in the next few years seems to have made Indian CEOs bullish about the next 12 months.
Of the 73 Indian CEOs surveyed by PwC, an advisory and consultancy, 62% are convinced about the growth prospects of their businesses in 2015, compared to only 49% last year.
"While the world economy rebalances post-recession, we see demographics and technology reshaping the market," Deepak Kapoor, chairman, PwC India, said in a note. "CEOs in India seem to be benefitting on both counts—developments within and outside the country."
Some other recent surveys, however, describe a slightly different situation.
According to the latest Markit India Business Outlook survey, conducted between Feb. 12 and Feb. 27, fewer Indian companies—compared to October 2014—felt that business activity will be positive over the coming 12 months. Manufacturing and services firms, in particular, are worried about land acquisition challenges, complex tax structures and high input costs.
Nonetheless, these three charts capture how Indian CEOs are foreseeing the next year for their companies, according to PwC.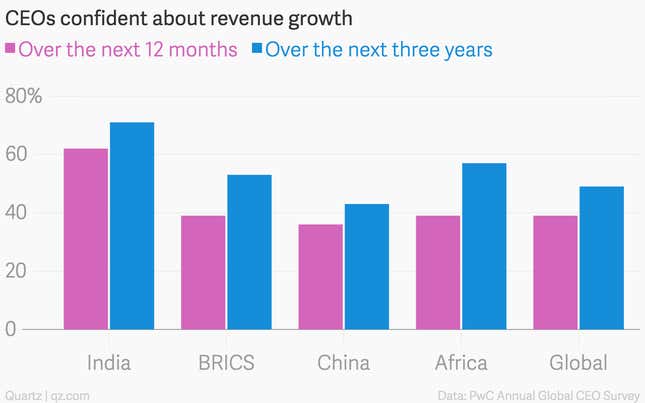 However, this optimism is not shared globally. Only 49% of the 1,322 executives worldwide are confident about global growth in the next three years, according to the PwC report.
Indian firms are also looking at new business. About half of the Indian CEOs surveyed think it is likely that their firms will compete in newer industries over the next three years. And 63% want to enter into strategic alliances or joint ventures over the next year.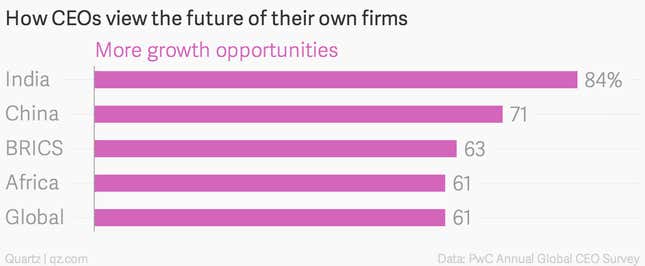 Although Indian firms remain bullish about growth opportunities, there are serious concerns about the country's inadequate infrastructure, high and volatile energy costs, bribery and availability of key skills. Globally, however, executives are worried about fiscal deficit, increasing tax and debt burden.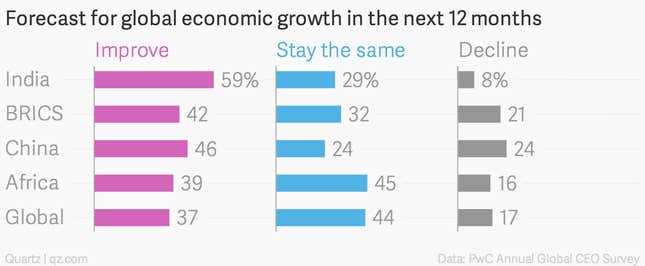 Meanwhile, global CEOs rate India as the sixth most important place for their growth, trailing the US, China, Germany, the UK and Brazil.
For Indian business leaders, the US, the UK and China remain key growth markets, followed by Japan and Indonesia.