Indian stock markets were one of the best performers globally in the 2015 fiscal. But seems like the buoyancy in markets did not push companies to tap funds via initial public offerings (IPOs).
Only Rs3,019 crore ($495 million) were raised via IPOs by firms in 2015, according to data from PRIME database, a capital markets information provider. These include IPOs by small and medium enterprises, too.
Most IPOs were not big-ticket deals. Only Inox Wind, a wind turbine maker, raised more than Rs1,000 crore ($161 million). The funds raised last year are far lower than the haul in 2008—that saw IPOs worth Rs41,323 crore ($6.6 billion).
Deep Mukherjee, senior director at Indian Rating and Research, a credit rating agency, feels that mature investors are still cautious about India. Sensex, the country's benchmark index has, to a certain extent, attracted opportunistic investors who look at a short-term play, he added.
"Conservative long-term investors are largely sitting on the fence and waiting for palpable structural change at ground level and earnings improvement. Large-scale, successful IPOs would require strong commitment and interest from this class of investors," Mukherjee told Quartz.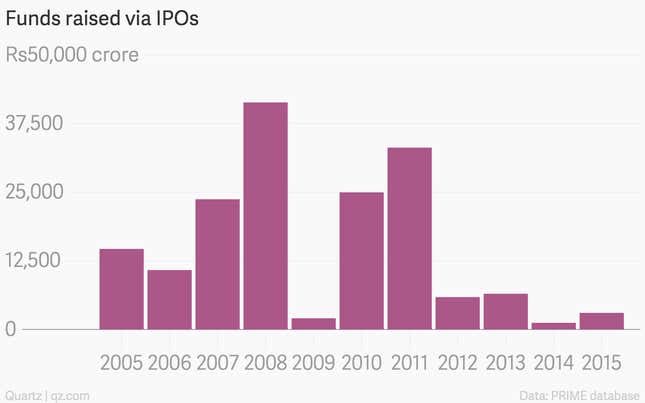 Although there were hardly any IPOs in 2015, companies raised equity through tools such as qualified institutional placements (QIPs) or follow-on public offers, among others.
According to PRIME, there were 55 QIPs in 2015. These were worth Rs28,429 crore ($4.6 billion), nearly three times than those in the previous year. These QIPs—which are primarily used by listed companies—accounted for as much as half of the total equity raised during the year. Funds raised through IPOs contributed 5.13% to the total equity raised.