E-commerce companies in India are doing almost everything right to help Indian women feel comfortable about buying lingerie online.
There is discreet packaging for home delivery; an all-women helpline to assist the naive; "fit consultants" to help buyers understand their sizes and body types; and even an option to try the products at home.
But there's one oddity: These companies still continue to treat fair and foreign as beautiful, and hardly ever use Indian models to advertise their wares.
Sample these: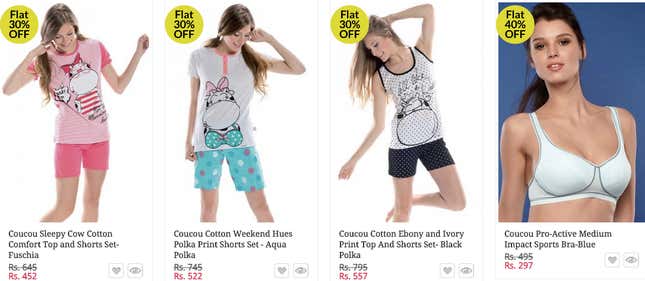 Alienating Indian female buyers?
After seeing much growth in the last few years, online lingerie industry is pegged between Rs10,000 and Rs15,000 crore in India.
Even though these shopping websites are full of images of foreign models, the reason such companies exist is to make the Indian woman enjoy the experience of buying lingerie. Richa Kar, CEO and co-founder of Zivame, one of the largest online lingerie portals, acknowledges that women in many parts of the country are still embarrassed to talk about lingerie openly. Shopping for bras is often a "five-minute hurried chore."
But don't these foreign models alienate Indian female buyers?
"There are a few takers for lingerie catalogue modelling in India. Indian models often have reservations around the product category and are apprehensive about modelling lingerie," Karan Behal, founder of lingerie website PrettySecrets, told Quartz.
However, he added that there is a distinct bias towards international models because they are "more experienced in shooting for lingerie brands abroad," and come with a "higher degree of professionalism."
"It is very difficult to find Indian models for lingerie. Most of the Indian models aspire to become Bollywood actresses and so they do not want to do lingerie modelling," explained Vatsala Kothari, who looks after marketing and branding at Zivame.
Parents don't approve?
Mansi Mehta, head of the scouting and booking division at modelling agency Inega, argued that Indian models come from different backgrounds, and their families may not approve of them appearing in ads for inner wear.
"They (international models) don't come with such qualms. They are here only three to six months a year, and they just want to make money," Mehta explained.
If that is a valid argument, what could be the reason for e-commerce companies using foreign models for western apparel catalogues and even Indian wear like saris?
This is what the fashion and apparel categories of many leading Indian e-commerce portals look like.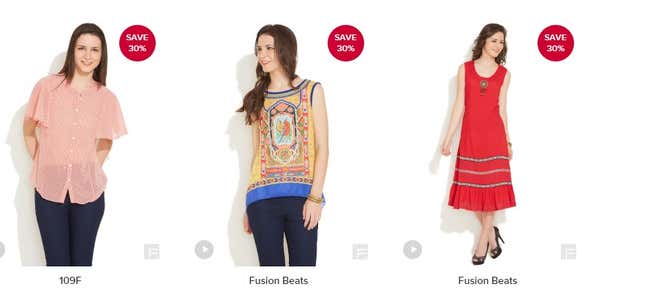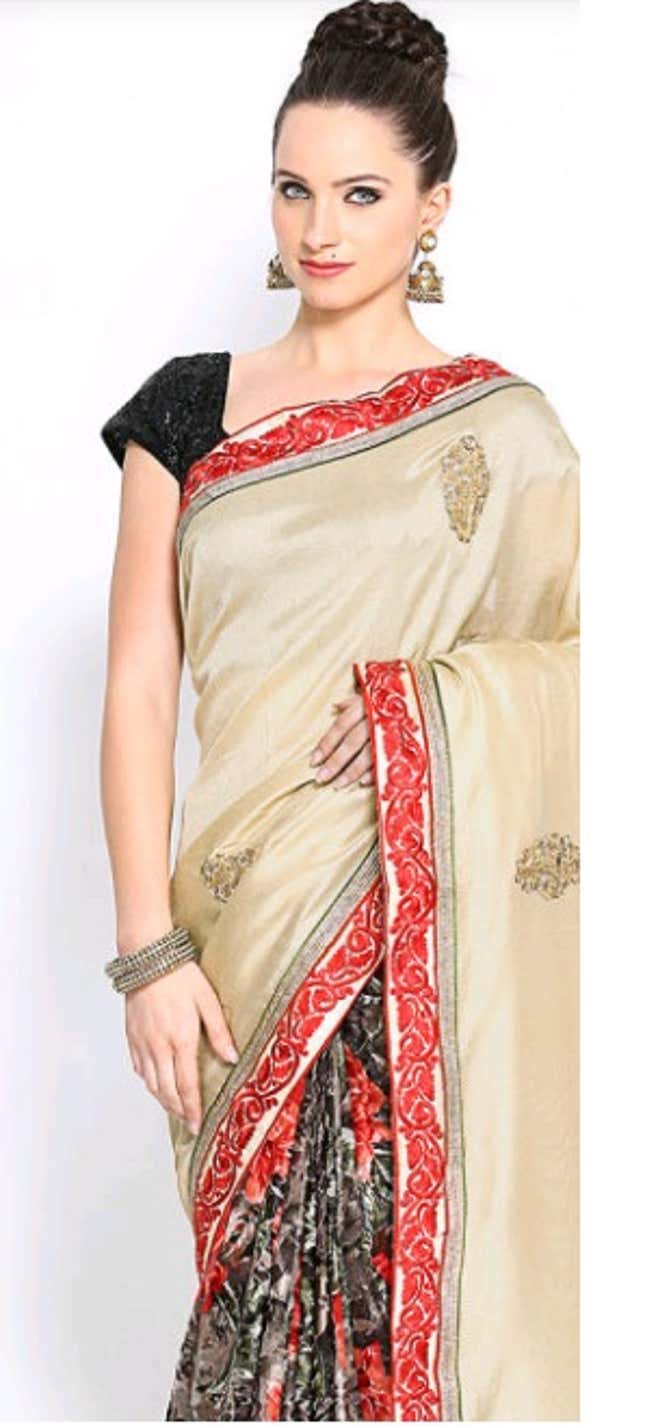 Conversations with photographers and modelling agents in Bangalore, the hub of e-commerce companies in India, revealed that "Indian-looking" models from Brazil, Spain and Slovakia are in high demand for catalogue photos.
"We have models from around 10 countries available with us," Sathosh Kumar of casting and modelling agency Sujal Enterprises, which provides models for shoots of over 20 e-commerce companies, told Quartz. His agency mainly provides Russian, American, Italian, German, French, Serbian, Ukrainian and Canadian models for e-commerce catalogue shoots.
And demand for foreign models is increasing even though they charge much more than their Indian counterparts. While an Indian model charges between Rs5,000 and Rs12,000 per day for an e-commerce catalogue shoot, according to industry sources, a foreign model could charge between Rs12,000 and Rs20,000 per day.
But Indian models have faced discrimination even in other spheres, including fashion weeks and Bollywood movies, where they tend to be paid less than their foreign counterparts. The models Quartz interviewed blamed this bias on India's widespread fetish for fair skin.
"There's no dearth of Indian models out there, so it is difficult to understand why these websites have such a mind-frame," Medha Shankar, who has modelled for fashion websites likes Stlyeever.com and CTC India, told Quartz. "If I was to personally open a website, I would hire Indian models. The clothes are meant for Indians, and an Indian face and skin tone will any day do justice."
We welcome your comments at ideas.india@qz.com.