The Indian economy may now be touted as among the fastest growing in the world, but expansion in a clutch of key sectors during the last fiscal was the lowest in six years.
The overall growth for eight core sectors for the 2015 fiscal year, which ended March 31, was at 3.5%—the lowest since fiscal 2009—data released by India's ministry of commerce and industry on Thursday ( April 30) show. On a monthly basis, March saw the overall growth at negative 0.1%—the lowest in 17 months.
The eight core sectors including coal, crude oil, natural gas, refinery products, fertilisers, steel, cement and electricity contribute about 38% to India's industrial production index, and are a leading indicator of the actual industrial activity.
"These numbers do indicate that we have not really seen any recovery in the infrastructure space as these industries represent this sector. This also means that the clearance of projects have not yet resulted in much traction in related sectors," CARE Ratings, a credit rating agency, said in a note.
For long, the infrastructure sector has been seen as the Achilles heel for India's economic growth, with issues like land acquisition, stalled projects, and limited credit availability causing bottlenecks.
Beginning 2015, according to industry estimates, infrastructure projects in India need Rs26 lakh crore ($408 billion) of financing for the next five years. So, a revival is crucial.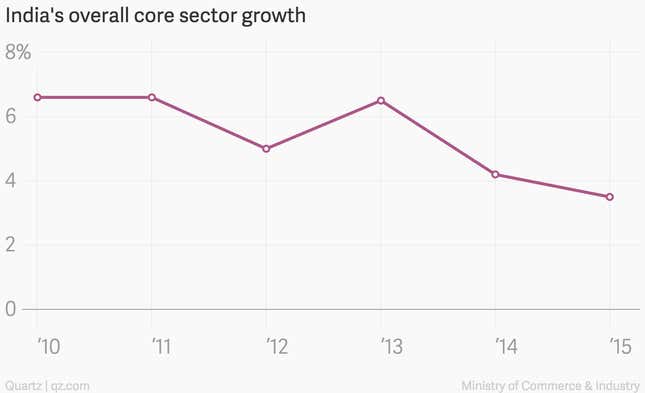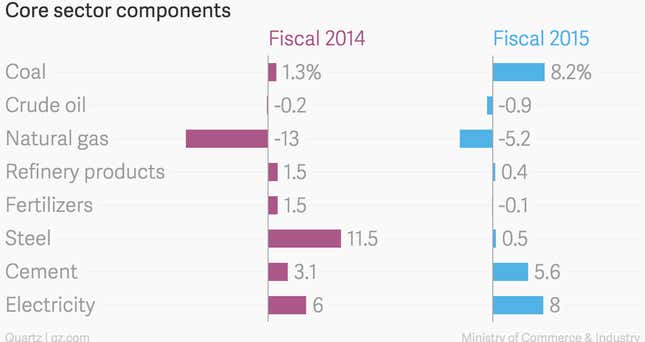 Industry accounts for around 18% of India's gross domestic product, while services and agriculture comprise of 65% and 17%, respectively.
The HSBC India Services Business Activity Index, which measures changes in the activity of Indian service companies, on a monthly basis, eased to 53.0 in March from 53.9 in the previous month. An index score of above 50 means the sector is expanding. Meanwhile, agricultural growth was estimated at 1.1% in fiscal 2015, compared with 3.7%, a year ago.
This core sector data could also mean that the Reserve Bank of India will be cautious with lowering key rates any further, given the lacklustre monsoon forecast and stagnant industrial growth.
Clearly, there's a lot left for prime minister Narendra Modi and his economic team to do.