Rahul Yadav, the 26-year-old outspoken co-founder and (still) CEO of Housing.com, sounds like he doesn't give a damn.
"I don't care about what the perception and all is," Yadav told Quartz in a telephone interview a day after he rejoined Housing.com, the Mumbai-based online real estate listing platform. "This is our style."
On May 5, Yadav's blunt resignation letter to the board of his company, including investors like Japan's SoftBank, Helion Ventures, Nexus Ventures and Qualcomm Ventures, went public:
Dear board members and investors,

I don't think you guys are intellectually capable enough to have any sensible discussion anymore. This is something which I not just believe but can prove on your faces also!
Then, even as India's startup ecosystem was digesting the news, Yadav emerged out of a long-drawn board meeting and announced that he actually wasn't going anywhere.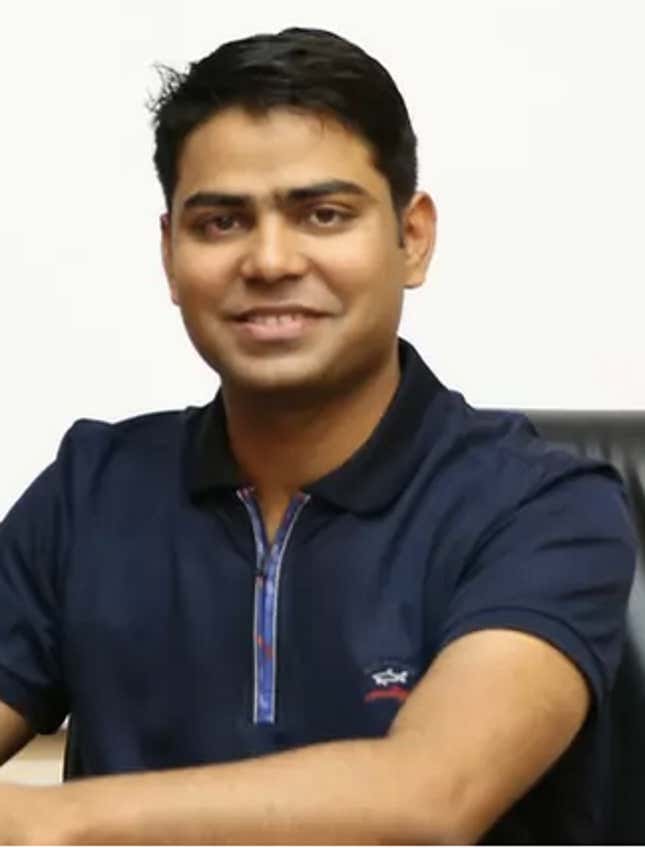 "After some frank and healthy discussions with the Board I have agreed to withdraw my resignation and I apologize for my unacceptable comments about the board members," he said in a statement. "I look forward to staying on at Housing as CEO and building an even greater company, while working in full harmony with the board."
Founded in 2012, the company has so far raised $130 million—with Japan's SoftBank and US-based Falcon Edge investing $90 million in December 2014—and is valued at around $250 million. Now, it has plans to go global and is working to open an office in San Francisco.
So what exactly happened over the last few days? "It's quite usual," an evasive Yadav told Quartz. "It's usual at Housing."
"It's already fine"
Housing.com, of course, is no stranger to controversy, partly because of Yadav's volatile temperament. In March 2015, the fourth year dropout from the Indian Institute of Technology (IIT)-Bombay shot off an email to the managing director of Sequoia Capital, one of India's largest venture capital firms:
Dude,

I've been humble to you guys even after inhuman and unethical things that you've done with Housing in the past.

You did the same inhuman and unethical things with large number of entrepreneurs including Ola, TFS, Flipkart, Dexetra and many more…
Now I just came to know you personally are completely after Housing's employees and are brainwashing them to open some stupid incubation.

If you don't stop messing around with me, directly or even indirectly, I will vacate the best of your firm.

Also, this mark the beginning of the end of Sequoia Cap in India.

Try me :)
The result of these incidents is that reportedly investors like SoftBank, which put in $90 million into the firm in December 2014, have clipped Yadav's wings, and consolidated their control over the decision-making mechanism in the company.
Yadav didn't explain what exactly had changed since the resignation fiasco, but said that his relationship with the board had "improved."
"If there are 100 decisions to be taken, I would take 97 of them, but the remaining three I have to fight for," he added. "To ensure 100% success you have to be really, really obsessed and fight for it very hard."
Despite all the dirty linen that had been washed in public, the young CEO remained entirely unperturbed about the damage that these episodes could do to Housing.
"We never tried to hide anything. We are not diplomatic," he said, "and we take decisions fast."
And Yadav insisted that there would be no impact on his customers' perception towards the company, which has recently ploughed in an estimated Rs50-80 crore for a massive publicity campaign. Through 2015, the company is expected to spend Rs250 crore on the publicity campaign.
"It's already fine," he said, referring to the Housing.com brand. "They (customers) know it. This is what Housing is."
But industry veterans disagree.
"In the realm of online real estate, credibility is a big factor," brand expert Harish Bijoor, chief executive officer of Harish Bijoor Consults, said. "When people make a decision, they would ideally like to stay away from non-controversial brands. They have to clear the air."
And it's not just prospective consumers, Yadav's and Housing's performance will now be even more closely watched by the investor community.
"Many founders have reputations as arrogant people—that by itself is not bad," Mahesh Murthy, a venture capitalist, said. "Steve Jobs and Mark Zuckerberg were among them—but they had exemplary performance that helped balance out their perceived arrogance. That is his challenge today. Can he justify his attitude with his performance?"