The initial estimates of the economic damage caused by the April 25 earthquake in Nepal are in—and the numbers are staggering.
The overall damage is estimated to be at about $10 billion, according to the Nepal government—nearly half of its gross domestic product (GDP) of $19.2 billion. According to IHS Global Insights, a research firm, the estimated cost for rebuilding homes, roads and bridges alone could run up to $5 billion.
For Nepal—one of the poorest countries in the world—rebuilding its ravaged economy will be particularly difficult after it suffered years of slow growth.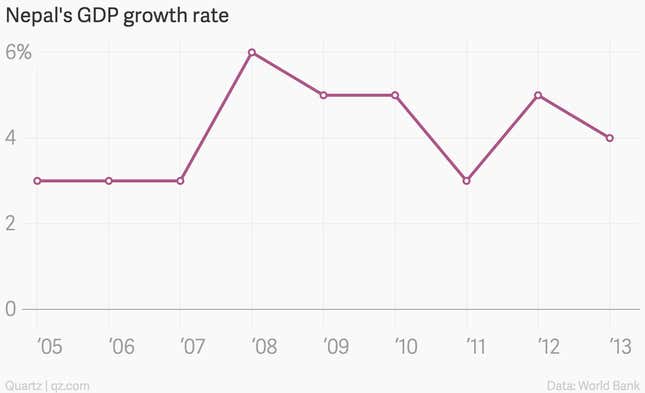 The country's finance minister, Ram Sharan Mahat, said earlier this week that Nepal urgently needs short-term funding, while the government begins work on chalking out a long-term plan.
The Nepal Economic Forum (NEF), an economic and policy research organisation, reported that the earthquake damaged 14 hydropower projects out of the at least 23 operational ones. This means a loss of 150 megawatt (MW) of power. The Nepal Electricity Authority currently distributes 564 MW of electricity, of which 210 MW is imported from India, according to NEF.
Moreover, the country has external loans to take care of. It owes $1.5 billion to the World Bank, $1.44 billion to the Asian Development Bank, and $54 million to the International Monetary Fund, among others. Some campaigners have said that these agencies should cancel some part of the debt in order to help the government. Here's how the country's external debt has ballooned over the years: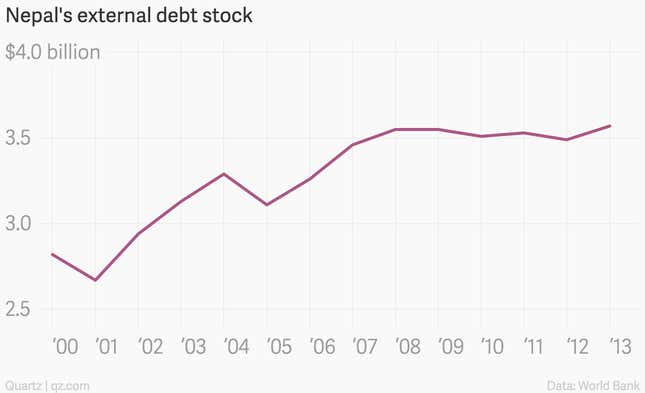 Alongside, Nepal's real estate sector, which according to NEF, was on a path of recovery after five years of slowdown, could have taken a hit of between $75 million and $80 million. Around $2.5 billion is invested currently in the real estate sector, and the damages might negatively impact these investments.
Together, these pressures also mean Nepal's intention of  moving to a "developing country" from a "least developed country" by 2022 will receive a setback, because for that transition the economy has to grow at about 8% annually.