A quick look at official government estimates about India's gross domestic product (GDP) indicates that the economy is raring to go. With a double-digit economic growth trajectory, prime minister Narendra Modi's one year in power looks pretty successful.
But all is not really well. New orders for firms have dropped, the country's exports are falling and more importantly, business sentiment is the lowest since April last year—a month before Modi came to power. And sentiment was the one thing investors and companies were riding high on when the new government took charge in May 2014.
According to MNI Indicators, a unit of the Deutsche Borse group, a survey of more than 400 companies listed on the Bombay Stock Exchange shows that business sentiment fell 2.5% to 62.3 in May.
"The fall in business sentiment left it at the lowest level since April 2014 and in hand with declines in output and orders points to a significant deterioration in business activity," MNI said in the report. "Overall sentiment has reacted positively to the two cuts to benchmark interest rates this year from the Reserve Bank of India, although their impact has proved temporary."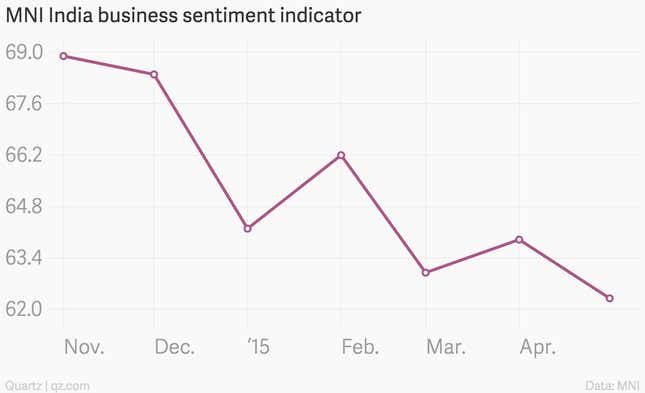 Another indicator, which tracks new orders for firms, has also worsened. The new orders indicator by MNI fell to a two-year low of 57.1 in May from 61.4 in April. The drop was primarily led by manufacturing and construction firms, according to MNI. Majority of companies said that there had been no change in orders placed.
Manufacturing and construction are among the core sectors which drive the economy, and a slowdown in these may take a toll on the overall growth. This is despite the Modi government's relentless promotion of its Make in India campaign to boost manufacturing in the country.
Moreover, according to MNI, "companies reported that the number of orders they had received was stymied by softer domestic demand in May, while overseas business expanded at the slowest pace since June 2013."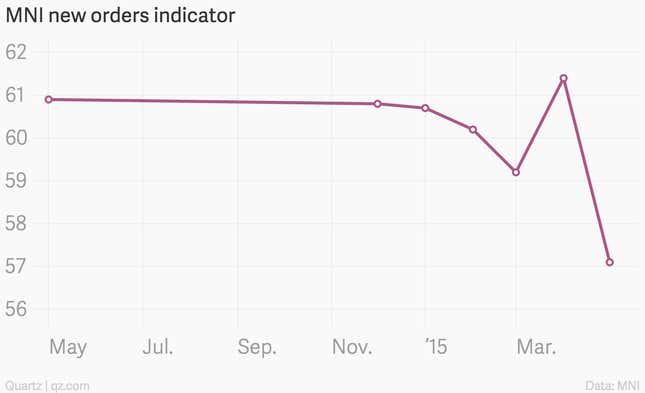 Meanwhile, India's exports are falling. And the reason for the fall in exports is a sluggish demand coupled with high costs of finance and infrastructure for exporters. Many manufacturers who export are finding it increasingly difficult to keep up with power costs and a low penetration of infrastructure including ports, roads and rail connectivity is not helping much.
A pick-up in exports is critical to lower the current account deficit, which arises when a country's imports are more than exports. For the first half of the 2015 fiscal, India's current account deficit was 1.9% of the GDP, compared to 1.7% for the full 2014 fiscal.