Raghuram Rajan, the governor of the Reserve Bank of India (RBI), cut key interest rates today, while indicating that inflation is finally easing, although economic growth in Asia's third largest economy still needs to pick up.
The RBI, in its bimonthly policy review on June 2, cut the repo rate by 25 basis points to 7.25% from 7.5%. This is the third rate cut in the current calendar year. The earlier rate cuts were announced on March 4 and Jan. 4.
A lower repo rate—the rate at which the central bank lends to commercial banks—means lower costs for banks. This will lower borrowing costs for companies, lightening the overall cost burden, especially for manufacturing and infrastructure firms, and in turn helping improve the investment climate.
"We still have very weak investment and the corporate results, too, have been quite weak," Rajan told reporters at a media conference in Mumbai. "The final demand is yet to pile up and there is reason why we feel the economy is still below potential."
The Indian economy grew at 7.3% in the 2015 fiscal, according to data released by the Central Statistics Office on May 29. But this doesn't exactly mean that the economy is booming because most of it is a function of the change in computing the gross domestic product (GDP).
And the RBI seems to agree that not all is well.
"With low domestic capacity utilization, still mixed indicators of recovery, and subdued investment and credit growth, there is a case for a cut in the policy rate today," the RBI said in a statement. It also said the agricultural activity was adversely affected by unseasonal rains and hailstorms in north India during March 2015.
Additionally, manufacturing, which is important for the core growth in the economy, still needs to pick up pace and corporate revenues are slowing. In fact, the combined revenues of around 1,700 Indian firms—excluding financial and oil and gas companies—grew at the slowest pace in two years during the January-March quarter, the Business Standard newspaper reported. 
Here are three charts that indicate why Rajan cut the repo rate: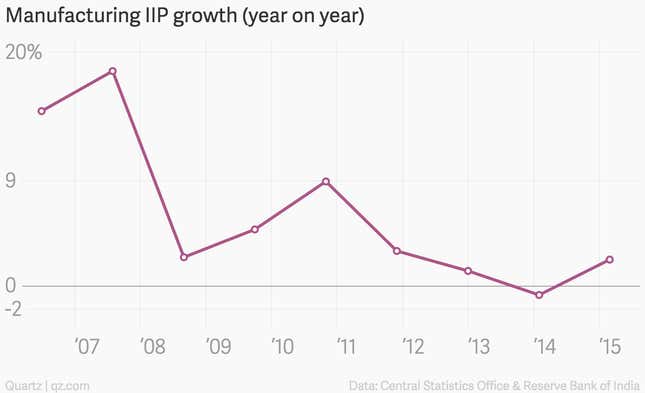 The GDP data shows that the sector grew at 7.1%, but the Index of Industrial Production (IIP) for manufacturing has seen a sub-6% growth through the year. In some months, the growth was even negative. But India's chief economic advisor, Arvind Subramanian, still believes the manufacturing data is most encouraging.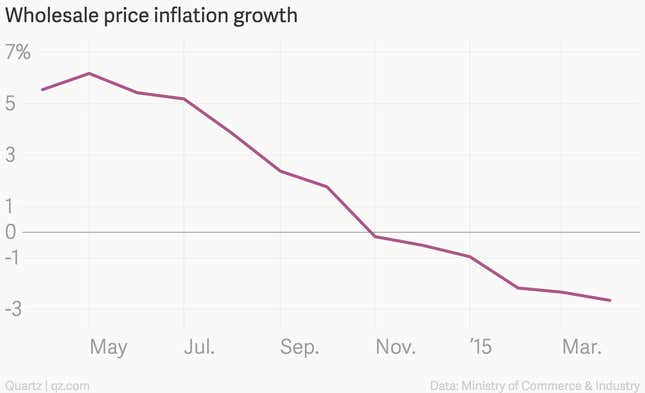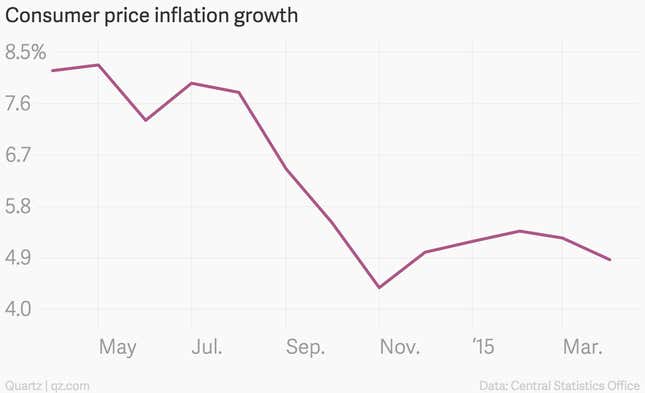 Inflation—both wholesale and consumer—has eased over the last few months, giving Rajan ample scope for easing rates. The consumer price inflation is at 4.87% now, within the RBI's target of 6% for until January 2016. The wholesale price inflation is now in the negative.
But it may be too early to feel good about these numbers as the monsoon forecast for the year is still worrying—and deficient rains will push up food prices.