A year ago, Telangana—currently India's youngest state—was born after more than a six-decade-long struggle. Carved out of the south Indian state of Andhra Pradesh, the country's 29th state consists of 10 districts, and shares Hyderabad as the capital city with its bifurcated half.
While the state's economy grew at 5.3% in the 2015 fiscal, according to the Socio Economic Outlook (pdf) report by the Telangana government, it still seems to be struggling to sort out its one big problem: agriculture sector.
Farm woes
Even though services is the biggest contributor to Telangana's gross state domestic product (GSDP)—around 62.9%—agriculture remains key. The farm sector contributes about 12.8% of the state's GSDP, while supporting 55.49% of the population.
And last year, it dramatically tanked by over 10%.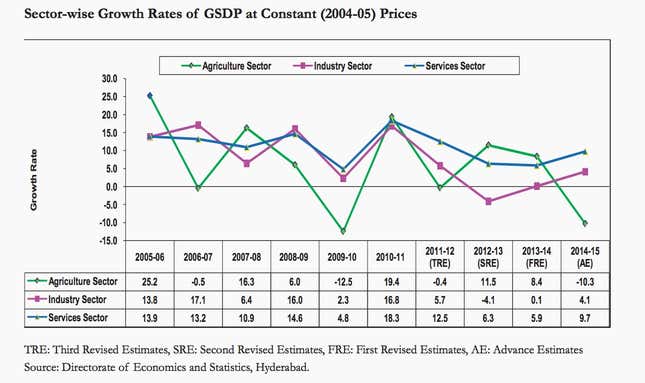 Agriculture took such a beating because the all-important monsoon rains failed in large parts of semi-arid Telangana, and the state's irrigation system didn't exactly deliver. "Low and erratic rainfall leaves many areas under unprecedented drought, while some areas are subjected to floods," the report noted.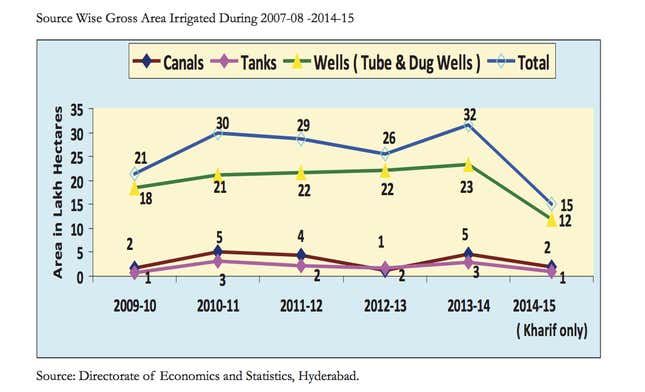 Of course, a declining share of agriculture is normal for a developing economy, as the outlook notes, but a stalling farm sector could be damaging for a state like Telangana given the proportion of its population that depend on it.
The government, however, is trying to set things in order. Chief minister K. Chandrasekhar Rao has promised 100% irrigation to the state's farmers by building of canals and other infrastructure.
And this year, the weather is already playing truant.
The 2015 heat wave—the worst since 1979—has already killed more than 1,800 people all over the country, with Andhra Pradesh and Telangana being the worst hit.
In the long-term, such extreme temperatures could be debilitating for Telengana's economy, particularly agriculture. High temperature and humidity reduces labour capacity by at least 10% during the hottest months, a 2014 study published in the Nature Climate Change journal said. And by 2050, labour capacity could drop by as much as 20%, it further warned.
Alongside, there is also a likelihood of deficient monsoon rains this year, which could hit Telangana's farmer hard.
India's youngest state isn't having it easy.