India's biggest coffee chain may get even bigger.
Café Coffee Day, owned by the holding company Coffee Day Enterprises Ltd, is already the market leader when it comes to coffee in India. The self-proclaimed "pioneer of the cafe culture" in India, it has more than 1,500 cafes in 200 cities and towns across the country, including 191 in Bangalore and 185 in Delhi. Starbucks, meanwhile, has just 71.
And now, Café Coffee Day is rumored to be preparing for an IPO that would value it at $1 billion, Forbes is reporting. The IPO would offer 20% of the company's stake for about $200 million. (Quartz has reached out to Café Coffee Day for comment, and this post will be updated with any response.)
The chain was started by V.G. Siddhartha, who is ranked on Forbes's list of billionaires as the 73rd richest man in India. Raised on a 400-acre coffee plantation in southern India, he was called "the coffee king of modern India" by the Financial Times in 2011. Siddhartha played an important role in developing the country's private coffee business sector, which until the 1995 had been controlled by the state-run Coffee Board. In 1996, Siddhartha opened the first Café Coffee Day in Bangalore, using the internet to draw customers.
Now, in addition to the cafes, the company also has approximately 600 kiosks across the country and 30,000 vending machines. Online it sells everything from ground coffee beans to espresso machines to cookbooks. Its brick-and-mortar operations are branded to target different demographics, including Café Coffee Day Lounges for families and Café Coffee Day Square for single-origin, higher-end coffees. It has also expanded internationally, to Austria and the Czech Republic.
The company has seen some competition from other brands: American favorites such as Starbucks and McDonald's; British company Costa Coffee; and the Indian Barista brand (originally owned by Italian company Lavazza but sold in 2014 to New Delhi-based Carnation Hospitality). But a 2014 research report from Technopak showed just how dramatically Café Coffee Day has stayed ahead of the pack.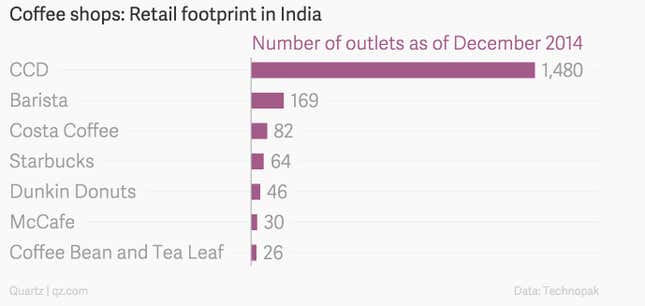 Featured photograph by Russell James Smith and shared under a Creative Commons license on Flickr. It has been cropped.