Late on June 4, Nestle India announced a nationwide recall of its popular instant noodle brand, Maggi. For weeks now, the iconic Indian comfort food has been in the middle of a soup over alleged high levels of monosodium glutamate (MSG) and lead, which were found in samples tested by authorities in India.
Although the Swiss food conglomerate remained tightlipped about any potential revenue loss or a definite timeline for when Maggi could be back on Indian shelves, it's clear that Nestle is currently dealing with a rather significant crisis.
India is the second largest single market for Nestle's Maggi brand, with retail sales worth $623 million in 2014 across noodles, table sauces and other products, according to Euromonitor International. And the prepared dishes and cooking aids category, which includes Maggi, contributes nearly 30% of Nestle India's revenue, according to a January 2015 research report by French banking and financial services firm, Societe Generale.
"In India, Maggi is synonymous with noodles and completely dominates the market with 63% share in 2014. This means that the brand has a lot to lose," Lianne van den Bos, a food analyst at Euromonitor, said in a note.
This chart shows how Maggi rules India's noodles segment: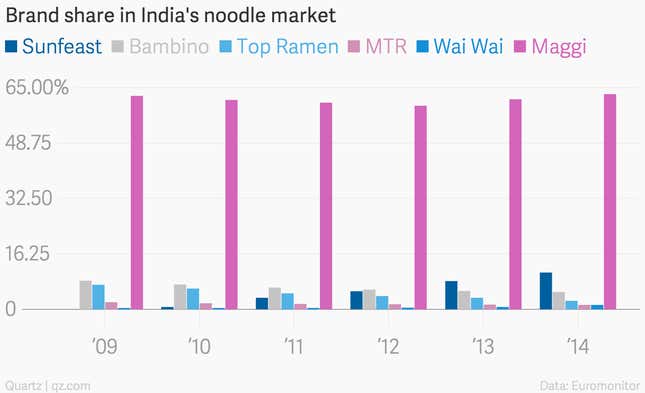 Maggi has been the market leader since 2009, and that's perhaps why Nestle flew in global CEO Paul Bulcke from Switzerland to India to handle the worsening situation. On June 5, Bulcke addressed a press briefing where he said that Maggi is safe to be consumed and does not contain high levels of MSG or lead. The Indian authorities remain unconvinced.
Nonetheless, Nestle needs to sort the mess soon, because India's noodles market doesn't look like it'll slow down, with or without its favourite brand.