The global "unicorn club"—private companies worth $1 billion (Rs63,880 crore) or more—is adding members like never before.
Between January 1, 2015 and April 14, 2015, according to venture capital and angel investment database CB Insights, 14 new unicorns were born. By May 15, another 15 companies joined the club.
Growth has been so prolific that CB Insights has put together an entire periodic table of the 111 global unicorns, which have a combined valuation of over $400 billion (Rs25,55,040 crore):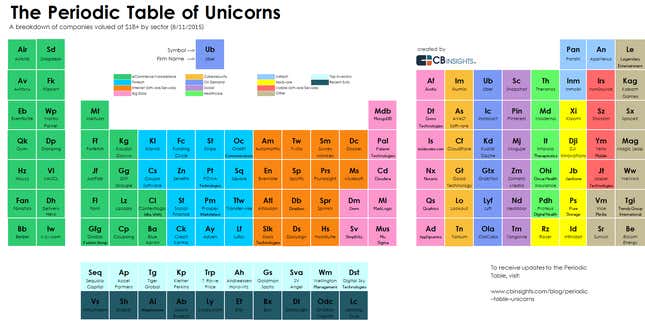 The booming e-commerce sector has the most number of unicorns at 25. These include three Indian players—Flipkart (valued at around $15.5 billion), Snapdeal ($5 billion) and Quikr ($1 billion).
Lately, the Indian e-commerce sector has caught the attention of global investor and investments in the segment have grown 38 times between 2010 and 2014. In 2014 alone, Indian e-commerce firms attracted $4.2 billion (Rs26,808 crore) in investments, with Flipkart and Snapdeal accounting for over 50% of the share.
Other Indian unicorns are One97 Communications (owner of Paytm), the taxi hailing app service, Ola and mobile advertising firm, InMobi.