Until recently, entrepreneurship carried a social stigma in India. Starting a company wasn't exactly considered a worthy career option, and several first-generation entrepreneurs had been harassed by their families and society for not choosing a secure job in a multinational firm.
But all that is changing now.
Young Indian entrepreneurs—with their phenomenal successes and millions of dollars—have become sort of celebrities in the country, and their fans want to know everything about their business ideas, technology skills and lifestyles.
While followers often engage with entrepreneurs through Twitter and Facebook, many have taken to Quora to know more about these young businessmen.
The five Indian entrepreneurs who command celebrity status on Quora are:
Sachin Bansal
"Does Sachin Bansal shop on Flipkart," a user of Quora wants to know, while another asks, "What mobile phone does Sachin Bansal use? How old is that mobile?"
Bansal founded India's leading e-commerce company, Flipkart, along with Binny Bansal in 2007. The company—which started as an online bookstore and later expanded to several other categories—is now valued at over $15 billion (Rs95,264 crore).
Bansal's success is enough for Indians to be curious about every small detail about him. Some other questions about Bansal on Quora are: What was the first meeting between Sachin Bansal, Binny Bansal (co-founder of Flipkart), and Mukesh Bansal (founder of Myntra) like? What do Sachin Bansal and Binny Bansal do on a daily basis? If you were in Sachin Bansal's shoes, what would be your strategy to beat Amazon.in?
Here are some questions that were answered by people whose profiles Quartz could verify:
What was it like to be Sachin Bansal's classmate at IIT-D?
Hemant Kathuria, who attended IIT-Delhi during the same years, says: It was normal. In those days how would you tell if this guy has the audacity to create a billion-dollar industry. There are many more Bansals waiting to unleash their potential in the years to come. You wouldn't know about them but it was good to attend classes with them too.

What is it like to work with Flipkart's CEO Sachin Bansal?

Yash Bhargava, who calls himself an employee of Flipkart on LinkedIn, says: Haven't had the fortune of working with him personally, but being in the company for more than a year now, we have learnt one thing from him for sure. I'm a part of the merchandising team, we also cater to customer queries and escalations from the business end.

There was this one customer complaint that goes something like this:
"Bought a *** mobile from Flipkart for Rs. 6000—my first buy ever, online. It worked properly for about 60 days but suddenly on 2nd Jan I got a battery issue and the service center guy just kept it with himself, saying I will get the fone after 20 days. When I went to the service center after 20 days, they said they couldn't rectify the issue. The mobile was even in a broken condition (unlike what I had given them). When I said it was under warranty, and you should replace it, they simply ignored and said if you want your mobile back then take it as it is or else leave it here. I'm helpless now, as I don't want to undergo the hassle of going to the police or the court for this goon-ism. I'm not sure if I can even ask your help in this regard, as it is not your responsibility. It is currently out of stock on your website. I would just like to ask you sir if you can make it in-stock so that I will order it again, as it was a gift for my wife."

He wrote this mail to Sachin Bansal. After three days, we get another mail from him(the customer):

"Thanks a lot Flipkart. Never expected this to happen—such a quick turn-around! Not only did the service center guy call me up, he came home to replace my phone he also apologized for his behavior. Bravo Flipkart. A truly wonderful experience"

Apparently acting on his mail, Sachin had asked the business teams to escalate the issue to the CEO of the brand on priority, who then got back at the employee at the service center. All this within a short span of three days.
When the CEO of a company goes on to escalate an issue to the CEO of another company based on a simple customer complaint, we can safely assume the company is driven by "customer obsession." This is something that everyone keeps in mind while working at Flipkart—customer satisfaction. The most essential part of any business. You cannot hope to grow if you do not care about your end users.

"Don't count your customers, before they smile."
You can read his entire response here.
Flipkart did not reply to a query from Quartz about this incident.
Rahul Yadav
He is a hot favourite on Quora—and every other social media website—at the moment.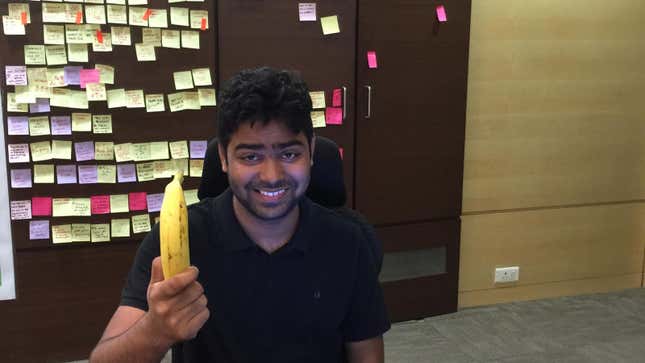 Questions about Yadav on Quora include: Does Rahul Yadav have a private jet? Where did Rahul Yadav go wrong? Is there any other entrepreneur as badass as Rahul Yadav? Is Rahul Yadav crazy and immature? What can be learnt from Rahul Yadav? Why does Rahul Yadav have so much attitude? Why does Rahul Yadav maintain such a low profile?
With Yadav recently moving out of Housing.com, several queries posted in recent days revolve around: How does Rahul Yadav (ex-CEO of Housing.com) spend his day? How are things at Housing after Rahul Yadav has left? How is Rahul Yadav now? Why did Rahul Yadav quit? What is the future of Housing.com now that Rahul Yadav has resigned as CEO?
Here is a cogent answer given by his former colleague:
How are things at Housing after Rahul Yadav left?

Sahaj Ramachandran, who works at Housing.com, says: I'm working with the tech-team at housing[.]com and believe me, he never had ANY effect on the work we do. Nor did his actions. It is true that the company as a whole might be affected, but the work we do here goes on normal whether he is a part of it or not.

I've only been here at the company for 1.5 months, but I can surely say that even the employees are unsure of what he is doing on the media. I work under one of the co-founders, and he too isn't sure of Rahul's actions.
Rather than hearing about his gimmicks from within the company, I've heard them ONLY from the media. And I'm not sure if it was a gimmick in the first place.

Although there are rumors about Quickr buying off housing[.]com, we at housing[.]com continue minding our own business. The work we do here will go on normally and it has always been like that. We have a lot of great projects in the making, and we're climbing everyday. We believe that we can make a difference in the real-estate field. I don't think Rahul's leaving has any effect on that.
Housing.com did not reply to an email from Quartz.
Deepinder Goyal
"Does Deepinder Goyal get free food at restaurants which are listed on Zomato?" is among the most viewed questions on Quora about the founder of the online restaurant guide. It, however, remains unanswered.
Several users of Quora are curious about Goyal's knowledge of technology: How technical is Deepinder Goyal? How much stake does Deepinder Goyal have in Zomato? Who coded the initial website of Zomato? Does Deepinder Goyal know coding?
The former Bain and Company executive is a graduate of Indian Institute of Technology, Delhi.
Kunal Bahl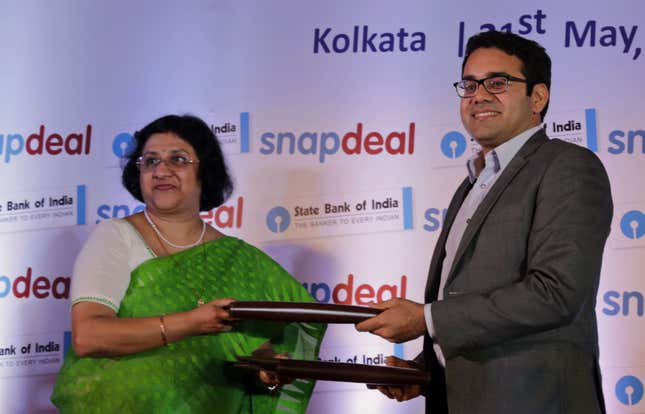 Bahl, whose successful e-commerce startup Snapdeal is now valued at around $5 billion, has thousands of followers on social media.
Some questions that Quora users have asked about Bahl include: In which office of Snapdeal does Kunal Bahl sit regularly? What is it like to work with Kunal Bahl? Who is driving the change at Snapdeal—the co-founders (Kunal Bahl and Rohit Bansal) or investors? How much money did Kunal Bahl have when he started Snapdeal?
While there is a user on Quora who goes by the name of Kunal Bahl and claims to be the CEO and co-founder of Snapdeal.com, the company told Quartz that it is a fake profile.
Mukesh Bansal
Fashion e-tailer Myntra was acquired by Flipkart in 2014. While Myntra's founder Mukesh Bansal took up a leadership role at Flipkart—besides continuing his job as the CEO of Myntra—a favourite (most-viewed) question on Quora is: Did Mukesh Bansal make a mistake by selling Myntra to Flipkart?
Another similar question: What is it like for Mukesh Bansal to work as an employee in Myntra (after its acquisition), which he founded?
Most users on Quora seem to be of the opinion that Mukesh Bansal did not make a mistake by selling Myntra.
Several Quora users keep wondering if Sachin Bansal and Binny Bansal of Flipkart, Mukesh Bansal of Myntra, and Rohit Bansal of Snapdeal are related.
Here is the (correct) answer by an anonymous user: No relationship as such, but all are Baniyas (an occupational community of merchants, bankers, money-lenders, and dealers.)
We welcome your comments at ideas.india@qz.com.