A Bengaluru institution is going public.
Pecos Hotels and Pubs—which owns and operates the iconic pub Pecos and three other popular bars in the city—said on Monday (July 20) that it is filing for an initial public offering (IPO). The company, according to Pecos' filing with the Bombay Stock Exchange, plans to use the funds to open more pubs in Bengaluru.
That'll make Pecos one of the first pub chains to hit the capital markets. Although the issue is small in size—the company estimates the size at Rs1.79 crore—Pecos is among the few restaurant businesses to go public in recent years. The last IPO was by Speciality Restaurants—which operates Mainland China and Oh! Calcutta, among others—in 2012. That issue raised Rs175 crore ($27.5 million).
According to the prospectus, Pecos plans to use the funds to open a new pub in the popular neighbourhood of Koramangala, which over the years has become home to a thriving restaurant and bar scene. The company also said it would use the money to upgrade and repair its existing bars.
Here is how the profitability has panned out for Pecos:
Collin Timms, the founder of Pecos, says the drop in profits is primarily because of competition.
"There have been many new entrants into the market, extremely well-funded and well-equipped, and they have been eating into our profits for some time and our market for some time," Timms told Quartz over the phone.
"Now with modernization and better training of personnel we hope to change that trend, the profitability, going forward," he added. Timms is also the founder and chairman of the Guardian Bank, a cooperative bank, and the founder of GSK Enterprises, a venture capital firm.
Retro pub
Timms opened Pecos in 1987 initially as a restaurant on Rest House Road, just off the bustling Brigade Road in the heart of the city. Two years later, it was converted into a pub.
In time, the narrow, three-storied bar became one of the pioneers of the city's pub scene, with its affordable mugs of draught beer, retro rock tunes and posters beloved by locals and visitors alike.
Behind the cramped counter, hundreds of audio cassettes are stacked high on a shelf, a collection that has grown steadily over the years, largely through donations from regular visitors.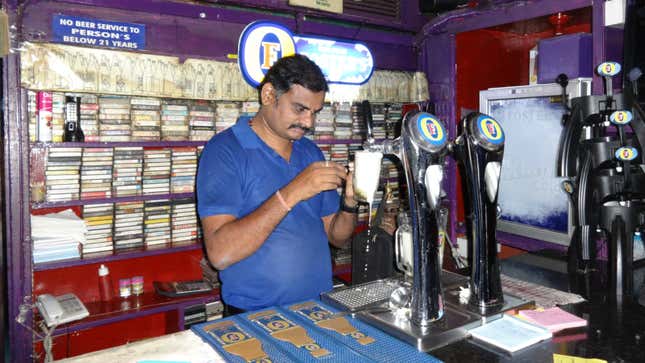 Monica Paul, 26, first went to Pecos eight years ago while in college and quickly became a regular visitor, making a trip every weekend.
"The food was really good, it was cheap and the music was amazing. It was one of the few places back then that played really good music," she told Quartz.
"It was very dingy, very dark, but there was a charm to it," she explained. Despite the crowds, for instance, the waiters would always find a space for the regulars to sit.
In time, Timms realised Pecos' massive popularity meant that he would have to expand.
With Bengaluru's pub culture beginning to boom by the early 2000s, Timms later opened Mojos just steps away from Pecos on Brigade Road in 2005. Three years later, he opened Stones in the commercial and residential Indiranagar neighbourhood. And in 2010, he launched Pecos-R&B on Church Street, just a short walk away from the original.
Investments galore
Its enduring popularity in Bengaluru apart, Pecos' decision to go public is also a reflection of the growth in India's food service industry, which is expected to grow at by 11% to Rs4.08 lakh crore ($64.12 billion) by 2018, according to the National Restaurant Association of India.
According to Vineet Toshniwal, managing director of Equirus Capital, an investment bank, investors are betting on a rise in consumption.
"Going forward, we may see an increased M&A activity in the restaurants segment followed by some IPOs," he told Quartz.
Between 2012 and June 2015, according to data provided to Quartz by Venture Intelligence, a deal database, PE funds have invested $324.84 million in the restaurant segment in India. In this year alone, up to June, they have pumped in $38.39 million in five separate deals.
Funds including India Value Fund, New Silk Route, CX Partners and Aditya Birla Private Equity already have made investments in the restaurant sector.
The data for 2015 includes investments made up to June.
"One factor for the attractiveness of the sector is that out-of-home consumption in India is increasing by leaps and bounds. And people have seen that if you give a consistent product it will work. So we should see some more IPOs from this sector in the coming years" Harish HV, partner at Grant Thornton, a consulting firm, told Quartz.