The Patels have a reputation that extends far beyond their home in the western Indian state of Gujarat.
From motel chains across the US to corner stores in the UK, from the diamond business in Europe to trading in Africa, this pioneering Gujarati clan has often been at the forefront of the Indian diaspora's expansion.
Despite this global fame and wealth, about a million Patels—a mainly Hindu community, also known as the Patidars—are rallying in Gujarat's commercial capital of Ahmedabad demanding an "other backward class" status for their community.
For long, India has attempted at counteracting the impact of its ancient caste system through quota-based affirmative action for economically weaker communities. The "other backward class" (OBC) is a term coined by the Indian government to refer to groups that have historically been disadvantaged.
The status would make it easier for the Patels—who account for between 15% and 20% of Gujarat's population of more than 63 million—to access education, government jobs and other facilities, thanks to India's reservation system.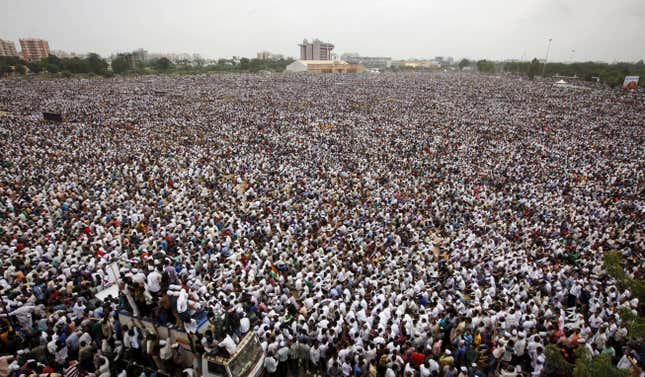 Hardik Patel, a 22-year-old graduate, is leading the movement and is on an indefinite hunger strike until the state government relents. So far, Gujarat chief minister Anandiben Patel—also a member of the community—has declined the demand.
"We want reservation to preserve our dignity and our heritage. We have the right to reservation, and so do our children," Hardik Patel said at the rally on Aug. 25.
India's reservation system allows for 15% reservation for scheduled castes, 7.5 % for scheduled tribes and 27% for OBC across government institutions. As many as 146 communities fall under the OBC category now.
"It's laughable," Aakar Patel, a political commentator and head of Amnesty International's India office, told the LA Times. "They have had access to modernity and capital for a century and a half. Almost every person in central Gujarat, where Patels dominate, has family members in the US and UK."
The Patels have a history of mounting large agitations. In the 1980s, ironically, they protested vociferously against reservations for other communities. But things have changed, as NDTV's Shika Trivedi writes:
One reason the Patels want to be OBCs, believes social scientist Achyut Yagnik, who is based in Ahmedabad, is to get their children into medical and engineering colleges or institutions providing technical education which could make it easier for them to migrate abroad, as well as find jobs locally. The fact that they are poorly represented in these sectors is because the Patels have traditionally chosen to go into business at a young age, instead of pursuing higher studies. Now they are looking for a change. Because somewhere the Vibrant Gujarat story has disappointed even the most ardent BJP (Bharatiya Janata Party) fans in the community, particularly amongst the youth.
The protest by the Patel community is also a threat to the ruling BJP and India's prime minister Narendra Modi who, as the chief minister of Gujarat, ruled the state for 13 years with the staunch backing of the influential group.
Made in the USA
Traditionally a farming community, the Patels have found great success as entrepreneurs, gradually moving into lucrative businesses than span everything from diamonds to textiles. A large number of them have also emigrated to the US, the UK and parts of Africa. 

In the mid-1970s, the community began migrating from Africa and Asia to North America. Today, the US alone is home to as many as 145,000 Patels, who have come to dominate the country's motel business.
In his 2012 book Life Behind The Lobby, Pawan Dhingra reckons that one out of two motels in the US is now owned by Indian Americans. Of this, 70% are owned by Gujaratis—and among them, three-fourths share the last name Patel. There are some 22,000 hotels and motels owned by Indians across the US, together valued at $128 billion.
A decade-and-a-half ago, the New York Times described the first generation of Indian hotel owners as businessmen who "scrimped, went without, darned old socks and never took a holiday."
In Ahmedabad on Aug. 25, however, thousands upon thousands of Patels left work to come out in protest.